You've Been Wearing The Wrong Leggings All Along: 7 Under-$25 Cult Brands
7 Things To Buy At American Apparel Before It Closes Forever
American Apparel Is Closing All Of Its U.S. Stores
Celebrities Are Obsessed With This $45 Black One-Piece
The one bathing suit that celebrities could not stop wearing this summer is the American Apparel Nylon Tricot High-Cut One-Piece ($45). The black suit is anything but basic with a low-cut back and high-cut leg openings (legit made to show off your thighbrows). https://www.instagram.com/p/BJWNbX2AogN/?taken-by=emrata https://www.instagram.com/p/6lKJSOBRoK/?taken-by=khloekardashian https://www.instagram.com/p/6X-MkGnGnv/ So, whether you still have some beach days left or are already planning for Summer Seventeen (can we make that a thing?), definitely consider adding this cheap, celeb-approved one-piece to your swimsuit rotation. American Apparel The Nylon Tricot High-Cut One-Piece ($45) Don't forget to check out: the under-$90 top "it" girls love and the cheap shoe brand celebs are obsessed with [Photos: Instagram]
Love Kourtney Kardashian's Recent Selfies? Steal Her Look With Her $24 American Apparel Tee
Kourtney Kardashian is taking her sexy single status to new selfie levels this winter. The mother of three is killing it on Instagram with her well-styled selfies, like the recent one she posted in this American Apparel Knitted Carmen Top ($24, down from $34). Oh yes, even Kardashians know how to shop affordable pieces (surprise). Kourt chose a natural ochre color in the off-shoulder piece, but there are plenty of colors to choose from. Show a little skin and get a lot of likes in this top. Snag it below! American Apparel Knitted Carmen Top ($24, down from $34) Don't forget to shop Emily Ratajkowski's Jeans and Karlie Kloss's "It" boot. [Photo: Instagram]
7 Crazy Things You Never Knew About American Apparel
American Apparel Just Filed For Bankruptcy
American Apparel, the made-in-America edgy-cool retail store, filed for bankruptcy protection early this morning. The reason for filing for bankruptcy is due to the brand's huge debt and a continuous decrease in sales, on top of the employee conflicts and drawn out legal battle over sexual harassment in the workplace regarding ousted founder, Dov Charney. American Apparel filed the Chapter 11 petition, which was approved by the board, in federal bankruptcy court in Delaware. Under the Chapter 11 petition, AA's secured lenders will help reduce the retailer's debt through a process known as a debt-for-equity conversion. This means bondholders will swap their debt for shares in the company. This deal also includes extra financing from the participating bondholders, which would then allow American Apparel to keep open its manufacturing operations in Los Angeles and 130 stores across the United States. The retailer's overseas operations are expected to be complete within the next six months. Fortunately, these locations will not be affected by this reconstruction process. However, this bankruptcy will wipe out the current stakeholders and then replace them with the company's creditors to be put in full control, such as Standard General, the fund that is also responsible for the turnaround at RadioShack, which went bankrupt back in February. Don't forget to check out: Here Are The Clips Worth Watching From Miley's Saturday Night Live, 11 Facts You Never Knew About Vogue, and You Need Urban Decay's Vice4 Palette In Your Life ASAP. [Photo: Shutterstock]
American Apparel Fires Dov Charney (Again), Hires Woman CEO
News broke back in June that American Apparel founder and CEO Dov Charney was on his way out. His history of misconduct and sexual harassment charges has seriously tainted the brand. He was officially terminated as of yesterday, and his new successor was announced: Paula Schneider. "This company needs a permanent CEO who can bring stability and strong leadership in this time of transition, and we believe Ms. Schneider fits the bill perfectly," said David Danziger, Co-Chairman of the Board. Schneider doesn't fully take over until January 5th, but it looks like the label is already getting back on track. Have you met Brendan? Why didn't HE get the job? Someone explain. Don't forget to check out: freebies from Bloomingdale's, shop Beyonce's Instagram and the top-searched designer of 2014 [Photo: Flickr]
Bow Down Other Brands, This Clutch Puts Your Basic Ones To Shame
If you need a new clutch, you can stop looking, because we just found the perfect clutch for you. (You're welcome.) While we were browsing the ASOS site last week (by the way, they're having a really great sale right now), we came across the best clutch we've ever seen. American Apparel's Leather Clutch ($80.03) comes in seven different colors including orange sherbert, charcoal, lavendar, cool aqua (in the photo above), brick, purple, and metallic silver. Basically, they have a clutch to match ANY outfit, which means you need more than one. Usually clutches are only used for nights out which is sooo basic, but this one has sooo many more uses. It is perfect for for a summer getaway. Just look at its size. It can hold sooo much stuff that it can be used as a makeup case or a travel case to carry toiletries, it can separate things in your purse, and it can even be an iPad case. Forget two-for-one specials, this clutch has at least five purposes, which makes spending $80 on a real-leather clutch a huge bargain. Can you think of anything else you would use it for? Let us know in the comments below. And don't forget to check out all the great colors in our slideshow! Beware, you're going to want one! GET THE AMERICAN APPAREL LEATHER CLUTCH NOW For more great accessories, check out the Shopbop 25% off sale, Nordstrom 60% off Designer Sale, and 75% off at Kate Spade Saturday.
American Apparel Finally Fires Founder and CEO Dov Charney–What Took So Long?
We are aware that American Apparel founder and CEO Dov Charney isn't quite on his best behavior during office hours. Not only has there been an ongoing investigation of his "alleged misconduct," but Charney has gotten away with multiple lawsuits of misbehavior and sexual harassment for years, so we think it's about time he got the boot. Last night the company's board of directors voted unanimously to strip Charney of his title because of new-found information in the case. Allan Meyer, the company's new co-chair, said it was in American Apparel's best interest for them to terminate Mr. Charney, reports LA Times. Apparently, Charney is going to do everything in his power to get back to his company. Though this may be true, we think that'll be kind of difficult seeing that the entire board voted to terminate him, but better luck next time Dov! Do you think firing him was right? Comment below! Be sure to check out: Alessandra Ambrosio's chambray bomber, Lupita Nyong'o's Mara Hoffman dress, and Nina Dobrev's crossbody bag. [Photo Credit: Splash News]
Did These Brands Really Just Knock Off American Apparel's Shorts?
American Apparel better watch out, because apparently, it is very easy to get ahold of their printed denim and knock-off their shorts. I've actually been eyeing a pair of the American Apparel Sunflower Print Stretch Bull Denim High-Waist Cuff Shorts ($60) for over a year, but I just can't justify spending that much money on festival clothes. But now I don't have to! Three retailers, SheInside, Choies, and Forever 21 are selling look-alikes of AA's most popular high-waisted shorts for under half the price. Come on, American Apparel. Step up your game. Why should we buy your $60 shorts when the cheaper ones are exactly the same? These knock-offs are actually so good, that we can't even tell the difference. Can you? Click through our slideshow to find out which pair is real and which is the AA knock-off. If you guessed right, let us know the comments. For more knock-offs, check out: Karl Lagerfeld knocked off New Balance, pearl chokers, and studded pumps.
Why Are These American Apparel Mannequins Rocking A Bush?
Thanks to Gothamist, pubic hair is in the news yet again. First it was Cameron Diaz who said that women shouldn't have to shave down there, and now American Apparel is bringing that idea to life for all of us to see. In a recent window display on East Houston St. in New York City, the store decided to tape on, or glue on (we're not exactly sure what they did), a big patch of hair to the female mannequins. Then they put skimpy, white lingerie on top, so there was NO way to miss it. No one really knows why this particular American Apparel decided to go au natural, but it definitely got people interested. Houston is quite a busy street in the city, and many people were stopping to take a closer look. Two older women spotted the bushes and immediately fell over laughing. When I took my pictures of the display and went inside to ask about them, the associate said to me, "What, you don't like the display?" Everyone is taking about spring trends right now, and it looks like pubic hair will be one of them. Who knows, maybe other stores will start following suit! Could you see J.Crew showing off a bikini with some hair peaking through? Yeah, probably not. We hope this look just stays at American Apparel. Don't forget to check out the Oscar nominations, tech gloves, and best-dressed celebrity kids
NEWS: Jessica Chastain For YSL, Harvey Nichols Models Pee Themselves & More
Brazilian invasion. Melissa will collaborate with Pedro Lourenço on two pairs of shoes. [Elle] Pride Month. American Apparel partnered with GLAAD on "Pride" tees. [Fashionista] In the name of publicity. Harvey Nichols ad shows models peeing themselves with excitement. Ew. [The Cut] Beauty Spot. See who Tony Awards' first beauty sponsor is. [Birchbox Blog] Jessica Chastain is the face of the new Yves Saint Laurent fragrance launching this August [WWD] Check out more breaking news, this week's sales and deals and best find of the day picks.
The Denim Scarf: A Canadian's Response To Winter Or The Next Hipster Accessory?
I can tolerate denim dresses, chambray shirts, and jean jackets, but a denim scarf?!? I'm sorry American Apparel, but this will never, ever be a "thing." It's honestly borderline offensive. The $27 scarf (which is apparently "out of stock" at their factory and thus can only be shipped from retail stores) literally looks like it was cut from a scrap of your loser ex-boyfriend's denim duvet cover circa 1989. Can't seem to cough up the cash? You could always DIY a version of this scarf with an actual pair of jeans---which might be perfect for a road trip, the morning after, or any other situation where you'd need a spare change of clothes. (more…)
The 6 Shopping Sites That Could Get You Fired
While shopping at work is already kind of dangerous as is (unless you're lucky enough to work for a fashion blog #sorryimnotsorry), you'd be surprised at some of the images you'd find on you're favorite shopping sites. Now just make sure your boss isn't around when you click through this post: (more…)
Things That Dov Charney Should Never Produce: This Shirt
Conversation tees, by principle, are fairly horrible. But this $24 American Apparel "Teenagers Do It Better" tee is a whole other ball game---especially given Dov Charney's countless sexual harassment allegations and purported pedophilia. I can only pray that American Apparel is selling the shipping information to the people behind 'To Catch A Predator.' (more…)
First Came Little Red Riding Hood, Then Lady Gaga, And Now, BAM: The Unnecessary Hood Is Officially A Trend
From left: American Apparel's $48 Hooded Swimsuit and Nanarami's $149 Hooded Shrug I will be the first to say that I actually own this American Apparel Hooded Swimsuit (pictured left). And while I initially purchased it for my Lady Gaga Halloween costume, I decided to test out the waters---literally---by wearing it in Las Vegas last year (c'mon, it was Wet Republic, I expected things to get weird). The result was precisely as awkward as I expected: I didn't want to leave the hood down for fear of the creepy wet upper back feeling and weird tan lines, but yet I didn't want to put it on because, well, it made my hair both wet and seemingly dreadlocked. But then again, the whole experience did make me look at the bigger picture, in pondering one of the great life questions: what purpose do hoods really even serve? They hardly protect your 'do from the elements---as any girl will know, hood hair is right up there with hat hair. So in the spirit of futility, I present to you a collection of completely unnecessary hoods: (more…)
8 Riveting & Strange Pieces of Gossip To Start Your Weekend Off Right
Happy Friday! It's been a long week, which means there's bound to be news you've missed.  In case you find yourself tongue-tied with nothing to say, be sure to take a peek at our conversation starters from the week below: In case you thought you missed Lauren Conrad's new show, you didn't. The reality TV star's newest project isn't making the MTV lineup this time around. Have an extra $75 laying around? Pick up this new perfume, Surplus, which is made from actual human poop. Bring on the pink eye. Not only is tennis season coming up, but so is the Catherine Malandrino line for Lacoste. Makes us kind of want to pick up a racket. For all of your die-hard Rocky Balboa fans, be sure to shop Sylvester Stallone's new clothing line for your boyfriend. Or more realistically, your dad. (more…)
Kind Of Amazing Bridesmaids Dresses From An Unlikely Source: American Apparel
I noticed last week that American Apparel (one of my favorite places on earth) has a lot of great bridesmaid dress options, especially for destination beach weddings. And with endless convertible styles and colors available - you'll find a solution for any color scheme (or pregnant bridesmaid) problems: (more…)
Would You Rather Have These Ugly $500 Rodarte Socks Or A New Handbag?
$500 dollar socks have become a reality, folks, and you can thank Rodarte for that. Despite their Juarez makeup fiasco, we love Rodarte, but we just can't wrap our heads around this one. Not only are these ugly socks rather hole-y, but they are non-washable (spot clean only), too. No wonder so many New Yorkers have deemed them ridiculous. Oh well, let's hope Rodarte redeems themselves with their limited edition Opening Ceremony limited edition collection next Spring. Don't worry - we've got great options so you can get in on the bold hosiery trend without emptying your your bank account. These J. Crew Herringbone Tights ($22.50) add texture and interest to your legs, without adding bulk. We like these gray Club Monaco Wool Thigh Highs ($24) with a skirt and flats. These Gap Cableknit Tights ($14.50) will look great with your over the knee boots. Shop our guides for more of the best tights, patterned stockings, and slimming Spanx.
Week In Review: More Drama Over Fakes (This Time It's Burberry), Target Collabs On Gilt, More
Must-Reads: Burberry sued an upscale boutique for selling - gasp - fakes. You read it here first. We are loving Simon Doonan's non-hoochie Halloween costumes for Target. We went behind the scenes at the SINE offices. Maybe these bad decisions are to blame for American Apparel's bankruptcy. Shop Target collaborations on Gilt 30 days early. (If you missed today's Tucker sale, don't worry, we have options for you). Michelle Obama's Banana Republic top is still available - act fast if you want one. Taste Tests: Can you tell which oversize green sweater costs $185 more? Can you tell which gray skinny jeans are Vince? Or which printed ballet flats cost $50 less? Sale Alert: Marc by Marc Jacobs is 70% off at Saks. The perfect pair of jeggings we've ever tried is on-sale and from Paige Denim. Jonathan Aston tights are $5 - stock up. Celebrity Style: Molly Sims wants to give Britney Spears a much-needed makeover. We helped. We want what Lo Bosworth has. Guess which Gossip Girl shuts it down in street clothes. Beauty: Get the new fall lipsticks straight from the runway. Screw $300 face creams, Jennifer Aniston's secret weapon is $2. Check out our weather-proof, portable solutions. Guides to Check Out: We tracked down the best leather handbags, earrings, and vests.
American Apparel Is Broke: We Blame Bad Taste And These 6 Awful Decisions
With news of American Apparel's uncertain future and mega-debt (it's up to $120 million), one has to wonder how such a hugely popular brand got into such a financial pickle. Some might chalk it up to their skeezy CEO. We think this summer's "Butt" towel of a naked man, and a bevvy of other bad choices, might be to blame. Decide for yourself: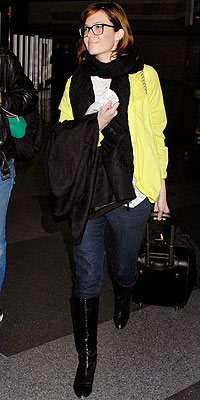 Stars Airport Style: Do's and Do Not's
The three-hour, weather induced delay that stranded me in the Minneapolis airport this weekend gave me plenty of time to evaluate my fellow travelers' airport style. And before you say, "Of course there were tons of don'ts, you were in Minnesota!" just remember it's the holidays, so there were plenty of stylistas passing through on there way back to the fashion meccas. Who not to imitate: Mandy Moore. Sure, she's cute, usually chic and probably going a little incognito in this photo. But too many of you were adopting sloppy comfortable styles like hers, rather than a low-fuss put-together look, which can be achieved just as easily. Actually, with the high boots, skinny jeans and sleek pashmina, it takes effort to imitate Mandy.   Who to be: Rosario Dawson. Her flat tan boots, trench coat, aviators and oversize purse are the perfect blend of comfort and practicality. She won't get cold on the plane, she has enough space for all of her carry on stuff and she still looks good.   Ready to shop? Start with this Robert Rodriguez slouch trench, a Burberry woven tote and tall riding boots, like these from Frye. All that's left is to toss on your favorite t, pack your gossip mags and slip into your designer shades.   Ok, now that you know what to do, we've got all kinds of ideas for you in our SheFinds Travel Guide and our friendly sky favorites that we highlighted in our SheFinds Travel Week posts.
Sponsored Post: Static Guard Your Hair, And Pretend You've Never Heard Of Hat Head
This super annoying thing always happens to my fine, mid-length hair during the winter: Every time I wear a hat my hair becomes a static-y mess when I pull it off.Here's the trick I learned. Spray Static Guard on your brush, and brush hair as usual. This ensures the stuff gets distributed evenly throughout your hair, so you don't look like you've been licking a light socket.Have you discovered how to Static Guard your life? Find even more static-fighting tips and tricks here. And don't forget to enter for your chance to win a prize pack of fashion fixes from Static Guard!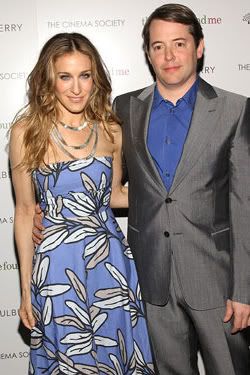 Celeb Style on the Move: SJP looking for a new home for Bitten
Steve & Barry's is sunk deep in the economic woes that have begun to plague retailers as shoppers stay home, but what does that mean for their celebrity designed lines? Sarah Jessica Parker, Amanda Bynes, Venus Williams and Stephon Marbury (y'know, the basketball player) all have put their names on affordable and fashionable lines for the store. NYMag.com caught up with the Sex & the City star, who admitted that she's looking for a new home for her line, Bitten. She also said that she's had plenty of offers, but is looking for a retailer who will make sure the customers is first and is as committed to affordable fashion as she is— much of her line sells for $20 or less. And SJP doesn't just talk the talk... she wears it too. Remember the little blue dress she donned with red shoes for a movie premiere this summer? It was from her line, which is (sadly) only available in Steve and Barry's stores, at least right now.Maybe she'll be heading to Kohl's to join Vera Wang's Simply Vera? Or become a regular line at Target more like Mossimo than a GO International? What do you think of her line and where it should be housed? Tell us in the comments section below! I know I'm voting for it to become available online!
Sponsored Post: Static Guard Your Tights And Avoid Sticky Skirt Syndrome
The busy gal knows that walking from the office to lunch to meetings to cocktails during winter means wearing lots of layers. But all that fabric and all that friction can make skirts and dresses cling mercilessly to tights – not the effortlessly elegant look you were going for.To prevent the problem altogether, spray Static Guard on tights or leggings before piling on the other layers. Voila, your separates stay separate.Have you discovered how to Static Guard your life? Find more static-fighting tips and tricks here. And don't forget to enter for your chance to win a prize pack of fashion fixes from Static Guard!
Sponsored Post: De-Pet-Hair Your Stuff With Static Guard
With most pets, it's inevitable that fur will show up on something – your newly upholstered sofa, your navy carpet, your black cashmere sweater – and eventually, you'll have to get rid of it. But static is part of what keeps those hairs clinging to carpet, cashmere, and the like. An easy solution: spray Static Guard on the area, and use your lint brush or vacuum as usual. The hair will come away more easily, and you'll be fur-free, at least until cat comes back into the living room.Have you discovered how to Static Guard your life? Visit mystaticguard.com for more static-fighting tips and tricks. And don't forget to enter for your chance to win a prize pack of fashion fixes from Static Guard!
Fashion Top Five: New Year's Eve Clutches That Look Like A Party
These bags are a quick, one-accessory way to make your outfit pop. Add minimal (or no) jewelry, and make sure to master the under-arm hold so you can manage a champagne and communicative it's-too-loud-I-can't-hear-you hand gestures, too. This Abas clutch ($198) looks vintage-inspired, and has lots of inner compartments for coins, cards and your ID. If the beading/ruffles/fringe you're wearing call for clean-lined simplicity, look for an inexpensive bag in a bright or metallic color, like La Regale's Jersey Clutch ($25). This satin clutch costs $10, and is only available online. Deciding between the colors is a perfect, guilt-free break from reading online news and cleaning your desk. I'm surprised and impressed that this Shiny Pill Box Clutch ($56.25, was $75) comes from Jessica McClintock, of poufy prom dress fame. I'd wear it this dress in navy. A classic black clutch gets the special-occasion treatment with silver detail and shimmery fabric. The bag ($285) also comes with a removable strap.
Shipping Deadlines For Stores You Care About
To ensure your annual gift-ordering procrastination doesn't actually hinder the gift giving, we've compiled a list of order-by dates for the holidays. Here are the dates by which you'll need to place your order to receive, for example, pretty red boxes from Red Envelope by December 25th. These dates apply to orders inside the continental US, and times are Eastern Standard unless otherwise noted.7 For All Mankind 12/17 with FedEx ground 12/ 23 by noon with premium shippingAmazon 12/18 with standard shipping12/22 by 6 PM with expedited shipping12/23 by 6 PM with fastest shippingAnn Taylor LOFT 12/19 by noon with 2nd day air12/22 by noon with next day airArden B 12/16 with standard shipping12/22 with premium shippingArmani Exchange 12/18 with standard shipping12/22 with premium shipping Bare Necessities12/19 by noon with standard shipping12/23 by noon with UPS Next DayBarnes & Noble 12/22 with premium shippingBloomingdales The following dates are for in-stock merchandise12/19 by 11:59 PM with standard shipping12/21 by 11:59 PM with premium shipping12/22 by 11:59 PM with express deliveryBrooks Brothers 12/16 by 12 PM with standard shipping12/23 by 12 PM with fastest shippingFAO Schwartz 12/17 with standard shipping12/21 with premium shippingKmart 12/18 by 11:59 PM with standard shipping12/23 by 9 AM with premium shippingKohls 12/17 by midnight with standard shipping12/19 by 3 PM with premium shippingMacy's The following dates are for in-stock merchandise12/19 by 11:59 PM with standard shipping12/21 by 11:59 PM with premium shipping12/22 by 11:59 PM with express shippingNordstrom 12/19 by 12 PM with standard shipping12/22 by 12 PM with expedited shipping12/23 by 12 PM with fastest shippingNew York & Company 12/20 with free upgrade to FedEx Ground12/22 with 2-day FedEx12/23 with 1-day FedExRalph Lauren 12/18 by midnight with standard shipping12/22 by midnight with premium shippingRedEnvelope 12/19 with premium shippingSaks Fifth Avenue 12/19 by 1 PM with Saturday delivery12/23 by 1 PM with rush deliverySears 12/18 by 11:59 PM with standard shipping12/23 by 9 AM with premium shippingSephora 12/18 by 12 AM PST with standard shippingShoes.com 12/19 with standard shipping12/22 by 12 PM with expedited shipping12/23 by 12 PM with fastest shippingShopbop 12/22 by 11 AM with expedited shippingSinger22 12/17 by midnight with standard ground 12/22 by midnight with UPS 2 day 12/23 by midnight with next day air Sur La Table 12/18 by 9 AM with standard shipping12/23 by 3 PM with premium shippingTarget 12/18 with standard shipping12/22 with premium shippingThe Container Store 12/18Urban Outfitters 12/22 by 10 AM with 2-day12/23 by 10 AM with overnightVictoria's Secret 12/18 by 1 PM with standard shipping12/22 by 1 PM with expedited shipping12/23 by 1 PM with fastest shipping
Jewelry From Green Karat For Your Tree-Hugging Loved One
Last week, we shared a few green gifts you could buy instead of non-eco items. This time around, we'd like to show you some jewelry that'd be ideal for your environmentally aware friend, spouse, or famly member. What: Green Karat Recycled Titanium Sylph Earrings, $250Why: Green Karat makes exquisitely hand-carved jewelry that's so lovely we don't really need to mention its green credentials to sell you on it. But we will, because it will really be the icing on the cake for your tree-hugging loved one. All GK products are created from 100% recycled post-consumer materials. We love these modern titanium Sylph Earrings, whose price includes a voluntary carbon offset tax. Or opt for the 18-karat gold Lobe earrings ($175) - a careful and delicate rendition of a natural shape. And Green Karat offers second day shipping, so you're guaranteed to receive in time for the holidays. Get Yours: greenkarat.comCheck out our Jewelry Staples Guide for pieces that every stylish woman should own.
Tell Your Cat to Behave Or It Might Wind Up A Purse
We have covered some strange things for SheFinds, but this one might take the cake. According to the clip above, you can now stop wondering what happens to your Persian cat's fur when they shave it down at the vet. A creative little soul decided to spin the fur into yarn and turn it into handbags. We would go into more detail but the clip really says it all.Does it hiss if you get it near water? Is it self-cleaning? Would it scratch someone if they tried to steal your wallet? How sturdy can a bag made of your cat's downy fur really be, never mind that it's just icky? Can we please (please!) offer some suggestions for those who are seeking a woven bag look without having to recycle your pet's unwanted fur? How about this cute Urban Outfitters Sweater Weather Hobo Bag ($30) or for some additional bank, this gorgeous Rafe New York Dark Taupe Knit Frame Shoulder Bag ($189)? Whatever you choose to do with your cat's hair is totally up to you, we know. But don't expect us to like it.
Taste Test: Which Sequin Dress Is More Costly?
A sequin dress is more than appropriate for this festive December - especially when the sequins stay dark and mysterious. Either of these dresses are perfect for parties, but one is nearly four times more expensive than the other. Can you guess which is which?Test your fashion IQ with our other Taste Tests. And check out what to pair with a sequin skirt for your next holiday get-together.
Sponsored Post: With Fruit Of The Loom, Wear A Cute Outfit Under Your Cute Outfit
It's cold, you're bundled in six layers, and it's tempting to just throw on a beige bra and plain white panties under your weekend outfit. But there's a comfortable and attractive answer here: find a Fruit of the Loom matching intimates set, like this heart-patterned Fresh Collection Incredible Push-Up bra and panty. You'll get Fruit of the Loom comfort, plus that added bounce in your step that comes from wearing a matching intimates ensemble.
Taste Test: Which Is The Costlier Brown Bag?
'Tis the season for a new bag in rich chocolate brown, with shoulder straps large enough to fit over the gargantuan sleeves of our warmest outerwear options. One of these chic satchels costs almost 12 times more than the other. Can you guess which is which?Click over to our Taste Test archives for more bargain brain teasers.
Let Google Do The Shopping — And The Saving—For You
Looking for the perfect gift for those friends who refuse to create gift lists? Totally clueless as to what the heck a Bakugan is? The Google Elves are here to help. Google's crack team has sifted through millions of online searches to determine what people are looking for—and most likely including on their wish lists—this year. The result is Google Holiday Shopping, where you can click on any of the top gift ideas, categorized by Video Games & Toys, Cold Weather Wear, Specialty Foods, and General, and get an instant breakdown of where you can buy—and where you can save. Some of top items on the Google lists include the Nintendo DS Lite, trendy houndstooth outerwear , and UGGs (of course). After you do a little comparison shopping to find the best online deals, stay on the savings track by clicking over to Google Holiday Shopping's Special Offers tab. There, you can save on shipping by shopping stores that participate in Google Checkout, and you can even get $5 to $20 cash back on your purchases when you spend a certain amount. Google Holiday Shopping is offering all deals through December 17, so get to clicking. Peruse our latest guides for that ideal holiday gift. Pick up a personalized token in our Custom-Made Guide, or score those hard-to-come-by items in our Sold Out Guide.
Latest Blog Posts From MomFinds
MomFinds 12 Days of Giveaways Starts Today!MomFinds is kicking off the holiday season with a bang! Starting today, we're launching our Second Annual 12 Days of Giveaways, where we'll be giving away some of our favorite finds from 2008. Think stylish baby shoes, chic diaper bags, hot holiday toys and an awesome stroller. Today's prize is a P'Kolino Book Buggee ($45; two winners). Hot Holiday Toy: Tiny Love's Follow Me FredAs seen in our Hot Holiday Toy Guide and on the Today Show, Tiny Love's Follow Me Fred is a big hit with the little ones. Jewelry Find: Janna Conner Gold Oval Initial Charm NecklaceIf you are looking to make your best friend, sister or favorite mom happy this holiday season, here is an affordable gift that's truly unique and personal.
Taste Test: Which Toggle Coat Is The Ultimate Bargain Find?
Although it's already December, it's never too late to pick up another cozy winter coat. Either of these toggles would spruce up your wardrobe, but only one will leave you with extra cash. Can you guess which coat costs almost $800 more than the other?Test your skills with our other Taste Tests.
Step Into Modelville And Get Addicted To Carol's Daughter
For those of us who watch America's Next Top Model and peek in on The Tyra Banks Show every once in a while, the drama can be completely addictive, which is why Tyra created her little reality series within her show called Modelville, where former ANTM contestants compete for a $50,000 "Spokeslady" contract with hot beauty line, Carol's Daughter.  With stars like Mary J. Blige and Jada Pinkett Smith representing the brand, these models are in great company. Want to see who wins? Tune in tonight for the season finale! Even better, grab yourself some Carol's Daughter products. The products are formulated to create a luxurious experience in the bath or shower. Plus the price is right. If you're looking for a great gift set for someone who could use some hair rehab, grab the Carol's Daughter Love Your Hair Gift Set ($49), which includes the full 8 oz. shampoo, hair smoothie, leave-in conditioner, and a great wooden comb. If it's bath relief you seek, the Carol's Daughter Sweet Honey Dip Chocolate Brown Sugah Scrub ($34) smells like heaven without the calories.  A treat for your holiday distressing, it also makes a great stocking stuffer or inexpensive gift for your bath nut friend. The Carol's Daughter Lip Butter ($7) goes on smoothly and moisturizes your lips all day with its almond and vanilla oils. I may never be America's Next Top Model but I am well on my way to becoming a Carol's Daughter addict.
Danskin Offers Modern Workout Gear For That Post-Thanksgiving Jog
What: Danskin X-Training Satin Surface Half-Zip Hoodie, $60 Why: My first leotard was a Danskin. It was a perfect ballerina pink and I used to wear it around the house, styling it with a tutu, black slippers, and a tight bun. Needless to say, I was surprised when I discovered Danskin's X-Training gear for runners. And I love it as much as my old leotard! The half-zip hoodie is water-repellant and shelters me from the wind, but still breathes thanks to the mesh insets. The back stash pocket and kangaroo pocket are perfect for my ID, key, and money. And the mesh thumb loops keep the sleeves pulled down over my hands. Genius. Get Yours: danskin.com
You Can Afford More Stuff Than Usual Today. Happy Cyber Monday!
It's Cyber Monday, which basically means the whole internet is on sale – including, of course, some of our favorite stores. Check out the deals below and get shopping. 20% off today at Piperlime with promo code MONDAY. Get a new pair of party shoes, like this suede and patent pair. 20% off full-price items at Singer 22 until midnight, with coupon code TURKEY20. Buy a discounted LoveQuotes scarf for someone you love. A bunch of dresses from BCBG, Tracy Reese, Nicole Miller and more go on sale today at eDressme – for $75 or less. We know it's not quite summer dress time, but this silk Shoshanna dress is too pretty not to consider. Save 20% at Steve Madden with coupon code MADDEN20. We think we'd get a new pair of flat boots. Save 20% on your order at Victoria's Secret – treat yourself to something pretty like a Dream Angels Demi Bra . And check out our Cyber Monday newsletter for more great sales, including special deals for SheFinds readers: Get an extra 20% off clearance styles at Bare Necessities. Save 25% on holiday clutches at Tucker Paisley with coupon code SHEFINDS. Save 20% on gifts and home décor at Burke Décor with coupon code SHEFINDS. Get 40% off clothes, jewelry, accessories and more at Manhattanite with code CyberMonday. Save 20% on KimMarie Designs jewelry with coupon code SHEFINDS. 40% off outerwear at active wear purveyor lucy. Get 20% off at Luxal Boutique with coupon code SHEFINDS.See Cyber Monday offers from the entrepreneurs in Collective-E.
News: Marc Jacobs Strips Down, Paints It On For LV, H&M Home Is Here Yet Unavailable, And More…
1. Marc Jacobs appears in the buff for a new ad campaign for Louis Vuitton. The campaign promotes the revisited collaboration with artist Stephen Sprouse. [WWD]2. H&M has debuted a budget-friendly home collection which, unfortunately, only sells in Europe. And we were really looking forward to a Matthew Williamson throw. [Racked]3. Some think they can tell what kind of mood Madonna's in based on her latest sartorial decisions. (Hint: it's not a good one, just look at those gun heels). [DailyMailUK] 4. Shop designs for Count Me In and support women entrepreneurs. Pick up a headwrap scarf from Jaybird Designs or crystal earrings from Sophisticated Beads.
Put On Your Game Face: Black Friday Is Upon Us
It's finally Friday, and if you're not already out and about, we suggest taking it easy today and brushing up on your online shopping skills with these amazing Black Friday deals. This way, you can run to the fridge to replenish your Thanksgiving leftover plate as many times as your little stomach desires. At the Endless Cashmere Sale at Martin+Osa, all cashmere is $79 with free shipping and free returns. This cashmere v neck sweater ($79, was $140) looks, and feels, delightful in any color. Saks is having a mega-huge Designer Sale with 70% off Marc Jacobs, Moschino, Thakoon, and Zac Posen, among others. This sophisticated MaxMara dress is marked down from $560 to 335.90. Take home the coveted Foley+Corinna Mid City Tote in Cranberry ($260.10, was $444) during the Shopbop sale. This style was featured in our latest Sold Out Guide and is sure to remain a hot commodity for Xmas. Enter THANKS2U at checkout and receive better discounts the more you spend. Score a sleek Jawbone 2 Bluetooth Headset for 25% off its original price ($120, was $160) at AccessoryGeeks. And, as always, free shipping. At J. Crew, spend $150 and get 20% off (or 25% off $200, 30% off $250) when you enter TURKEY at checkout. Their jewelry section never disappoints, which is where we found this elegant flower pearl bracelet (now $120). Bare Necessities has a sale on a variety of brand name bras, undies, camis, and men's for up to 70% off - which means this Hanky Panky Bra is marked down from $50 to $15. With your $85 purchase at Kérastase, receive one of four deluxe sample collections (a $24-$27 value) absolutely free. At A Little Something, receive 20% off items like this Caroline Tote ($56, was $70) when you use code shefinds20. Score another discount of 20% at Luxual Boutique with code SHEFINDS. This long sweater ($100, was $125) would make an ideal holiday gift. Treat yourself to a pair of CC Skye Bamboo Hoop Earrings ($92, were $132) from Manhattanite. 20% off when you enter BlackFriday at checkout. Get 40% off all outerwear at Lucy, where you'll find puffy coats like this one ($108, was $180) that certainly don't make you look fat . Find that unique cocktail dress ($106.40, was $152) you've been looking for at Velvet Maven. And take it home at a discount when you use code MAVEN. You can never own too much denim, and now with Anonymous Venice offering a discount with code SHEFINDS, there's no reason not to stock up on some classy trouser jeans ($88, were $110). Get 20% off the highly entertaining Games For Dames when you enter promo code SHEFINDS at checkout.Peruse our special Black Friday mailer to find exclusive deals for SheFinds readers, and make sure to check the amazing sales we posted about yesterday - many of the discounts are good through December 1st.
Even Oprah Feels The Pinch With This Year's Favorite Things For The Thrifty
Oprah's much-anticipated Favorite Things episode premiered this afternoon, just in time for the upcoming shopping frenzy. Unfortunately, it was re-named 'How to Have the Thriftiest Holiday Ever' and nobody took home obscene amounts of gifts and gadgets, thanks to Oprah's decision to remain sensitive to our economic climate. Although we understand her reasoning, we'd still feel secretly miffed if we were a member of that audience. Our new Queen of Thrift showcased swapping parties as an excellent and savvy way to score gently used clothing by exchanging unwanted items with friends. We already know what a stellar idea this is, having mentioned it a month ago. In terms of gift-giving, Oprah was big on personalizing your present. She suggested a box of endearing letters, but we think a special necklace from our guide would be much more fashionable. Although they weren't featured on the show, The Jo Malone bath oil set ($85) and Philosophy's Hope In A Jar ($15-$60) made Oprah's list of great gifts under $100 in O Magazine.
News: Rogan Back At The Bullseye, Economy's Down So Why Not Dress Up, And More..
1. Barneys sweetheart Rogan Gregory will return to Target to launch a discount, eco-friendly Loomstate line. We weren't disappointed the first time around, so we're excited to see this one. [WWD]2. Despite the struggling economy, party-goers are busting out their fanciest frocks, as witnessed by the crowd's sartorial choices at a CFDA party on Monday. Buy your party dress at Macy's Early Thanksgiving Sale. [NYTimes] 3. Although there will most likely be a drop in sales of gift cards this holiday season, Kohl's has not seen a slowdown. We say, forget the gift card and buy your loved one a coveted item from our Sold Out Guide. [WSJ] 4. Shop designs for Count Me In and support women entrepreneurs. Pick up a pillowcase from Comfy Cozy or a notebook from Jayda.
Two-Tone Tights: Chanel Looks To The Court Jester For Style Inspiration
Don't get me wrong, I love tights and have a growing collection of funky knit types, but this crazy two-tone trend that SJP showed off last month reminds me of a bad joker's costume that is being worn waaaaay past Halloween. But maybe I'm alone in my opinion, given the fact that Chanel's matte ones sold out when they debuted. If you're willing to shell out upwards of $300, you can still score a pair on eBay. And Urban Outfitters has their own penny-friendly version for $14. What do you think? Is this trend the best of both worlds or simply for people who can't make up their minds? Tell us in the comments section below!
Liquid Leggings: Good For Skinny Thighs, But What About The Rest Of Us?
Those of us who remember this trend from the 80's are in a full-on fashion flashback now that we're seeing leggings all over again. Originally paired with baggy sweatshirts, today's celebs are bringing the style back with leggings in unique styles, fabrics, and cuts. Stars like Rihanna are rocking liquid leggings on the street and we're all thinking they actually look somewhat decent...on her. Question is, if you're not a size zero, how do you make this trend your own? Well, you can wear them like tights under a longer sweater, with a dress or skirt, or pair them with a long jacket. The idea is to keep tops simple and longer to elongate the line. Keep the color of the leggings complementary to your top half to create a streamlined effect. For those of you who wouldn't dare try the actual liquid look (we hear you--anything that reflects light off your thighs should be approached with great caution), you can try a slightly more muted version of the trend with these Plush Faux Leather Liquid Leggings ($70).
Another Disenchanted With The DVF Wrap … Do You Look Good In It?
Thank you, thank you Sadie at Jezebel for airing your grievances over an issue I've kept mum about for years. The DVF wrap dress is not that flattering! At least not on me (and one other woman out there). Ever since I could dress myself in decent-looking clothes, I have tried to make the DVF wrap work. But I could never find one that complemented my figure. First, the front V always gaped too low, and separated my bust. And worse than that, the skirt fabric clung to my curves in all the wrong places, and revealed way too much upon sitting. My salvation? Faux wrap dresses. These lifesavers give the illusion of the wrap - v front, full skirt, draped jersey, defined waist - without the tricky maneuvering. Problem solved. The Donna Morgan Faux Wrap Dress ($98) in simple black will become a new closet staple. The sashes tie in the back, creating an elegant, lean look in front. For a slightly deeper V, the Lauren by Ralph Lauren Matte Jersey Dress ($140) in vibrant red is a perfect party dress. And the fabric won't cling to your bottom half. The retro chain-link print on this Faux Wrap ($56, was $148) is reminiscent of a true DVF. Wear it to work with tights and your new favorite boots.How about you? Are you a devout follower of the DVF wrap? Or does the dress not flatter your figure either? Let us know your thoughts in the comments section below.
Only 1 Day Left To Win A $150 Shopping Spree At Kolobags.com
As women who carry around our laptops all day, we know the importance of well-made, roomy laptop bags that are stylish enough to wear out and about. So we're particularly excited to be giving away a $150 shopping spree at kolobags.com this week, since they stock a ton of totes, messenger bags, backpacks and more, that you can use to carry your computer – plus accessories, like earphones and camera cases, and even some very cute luggage.Hurry up and enter to win now; the contest ends tomorrow at 11:59 AM.It's simple: just read the rules then go to kolobags.com and pick out what you'd buy with your prize. Then come back to this post on SheFinds and tell us all about it. We can't wait to see what you choose!
Deal Of The Day: Get Your Extravagant Jimmy Choo Fix For 40% Off At Net-a-Porter
Yes, they're still expensive shoes. But they're 40% less expensive than they were before, and an almost guaranteed way to put some extra bounce in your step (if you can bounce in five-inch heels)These classic gold leather sandals ($351, were $585) are an evergreen style in a color we always find ourselves reaching for when the weather's warm. These platform slingbacks ($465, were $775) are completely and utterly glamorous – with a big-night outfit or to dress up jeans and a blazer. The perfect neutral patent pump ($408, were $680) to complete a work outfit that you could never find shoes to match. More sales and deals on the web:As seen in the SheFinds forum: 20% off your SKN totes order at getskn.com. Save 30% at Ralph Lauren until December 8 with coupon code HOL2008. Today only, take an extra 25% off sale items at Bluefly. The sample sale scoop – shop these sales today for huge savings:7 For All Mankind at Rue La La Cynthia Vincent and Adina Reyter at Hautelook Hype bags at ideeli. Use invite code shefinds.com. Walter and Casadei at Gilt Groupe
"New Research" Shows Diamonds Will Be A Hot Commodity For The Holidays…. Yeah Right
Here's a marketing strategy that's out of touch: Diamond retailer De Beers has announced it's more than doubling its marketing spending this holiday season because they have "new research showing diamond jewelry will be the number one gift for the holidays in 2008." Aren't we in a recession? I'm betting their research involved the Dear Santa lists of hopeful girls everywhere, and not interviews with their husbands and boyfriends. You know, the guys who are supposedly going to be buying all of these diamonds. Personally, I've given up hope that I'm going to get the diamond studs I've been dropping hints about. If you're not lucky enough to find a diamond in your stocking this year, make yourself feel better with a flashy bauble that's actually affordable. Emitations has fantastic cubic zirconia jewelry that look like several popular celeb styles. This pave CZ cocktail ring ($315) would be the perfect bling with your holiday LBD. J.Crew's affordable and elegant jewelry is classy and versatile. This fireball necklace ($98) is an eye-catching mix of semi-precious beads and shimmery crystals. Lee Angel's shoulder duster earrings ($94) with light-reflecting stones shine (almost) like the real thing and leave something in your wallet. Shop our Sold Out Guide for what will truly be flying off shelves this season.