Make A Statement In Blake Lively's Subtle, Yet Sexy Metallic Sandals
For all your cocktail events, there is only one strappy sandal you need will ever need - weather aside. And Blake Lively modeled them beautifully. She wore the Stuart Weitzman Ankle Strap Sandals Nudist High Heel in Metallic ($398) with her off-the-shoulder cream-colored embellished dress at the Deadpool premiere. Slip it on under your black tie gowns, teeter around in your cocktail dresses with some bling, or hey, pair with jeans for a little oomph on date night. The Nudist is everything we ever dreamed of in a dressy sandal. Shop it below! Stuart Weitzman Ankle Strap Sandals Nudist High Heel in Metallic ($398) Don't miss out on Kendall Jenner's sweatshirt or Bella Hadid's chic leggings. [Photo Credit: Splash News]
Net Proceeds From Blake Lively's Beautiful Scarf Will Be Donated To Nepal's Earthquake Relief Fund
With chillier temps in the forecast, chances are you're probably on the hunt for a gorgeous new scarf to pair with your fall jackets and winter coats. Our pick? Blake Lively's Theodora & Callum Nepal Wearable Art Lightweight Scarf ($155), which she wore for a snap on Instagram. Not only is Blake's blue scarf stunning, it also benefits a great cause. Theodora & Callum will be donating net proceeds from the sale of scarf to the Shikshya Foundation Nepal and it's relief efforts following the devastating earthquake. Fashion that feels good? What's not to love? Theodora & Callum Nepal Wearable Art Lightweight Scarf ($155) For more celebrity style, check out Hilary Duff's black booties, Jennifer Garner's graphic tee and Emma Roberts' tassel bag. [Photo: Instagram]
Blake Lively Has Decided To Shut Down Preserve
Blake Lively is shutting down her lifestyle website, Preserve, after being in operation for a little over a year. She spoke with Vogue about her decision and what led her to make the difficult choice. "We have an incredible team of people who do beautiful work, but we launched the site before it was ready, and it never caught up to its original mission: It's not making a difference in people's lives, whether superficially or in a meaningful way," she told Vogue. "And that's the whole reason I started this company, not just to fluff myself, like, 'I'm a celebrity! People will care what I have to say!' It was so never meant to be that, and that kind of became the crutch because it was already up and already running, and it's hard to build a brand when you're running full steam ahead—how do you catch up?" Preserve will be shutting down on October 9, and, in the meantime, is hosting a crazy sale on clothing, home decor and more. "I know what it'll look like, what I'm facing publicly, that people are just going to have a heyday with this. But it's so much worse to continue to put something out there—to ask my team to put something out there—that isn't the best we can do," she said. "I'm going to take this hit, and the only way I can prove all the negative reactions wrong is to come back with a plan that will rock people. And I have that plan. And I'm so excited about it, and that's what gave me the courage to do this, to say, 'You know what, I'm going to give myself one more shot at this, and I really have to do it as well as I can do it this time.' And that is the only thing that will impact people. And that's what I'm doing. And I'm totally terrified out of my mind!" As far as her next steps? Lively is keeping that private. However, she did share the Preserve philosophy. "Our goal has always been to touch millennials through storytelling, and the idea is to create a shoppable lifestyle. And that's not to say to turn everything into commerce, but to make things easier: This is a thing that I created with my own two hands and this is how you can do it, or this is something that I found on my adventures and travels and this is how you can have it. It's about creating a level of ease for the people who identify with us. We've focused in so much that it's actually very simple, it's very clean, it's very direct." Kudos to her for letting go of something that wasn't fulfilling her dream! Don't miss Naya Rivera gave birth to a baby boy and Amanda Seyfried is a single woman! [Photo: Splash News]
VIDEO: Ryan Reynolds Reveals Baby James' First Word
Ryan Reynolds stopped by Conan last night and he was gushing about his baby girl James. He revealed that James calls Blake "mama" and gives insight into what it was like in the delivery room. "I was there in the delivery room. I mean, I was there for the conception of the child, so I thought the least I could do is be there in the delivery room," Ryan joked. "I was just a terrible coach." Watch part of his interview below. Don't miss Zooey Deschanel had a baby girl and shop Jessica Alba's maxi dress for under $100! [Photo: Splash News]
Blake Lively's Teva Sandals Are On Sale For $59.99–Will You Buy A Pair?
Well, Blake Lively made a shocking announcement on Instagram (she went brunette), but we barely noticed after spotting her shoes. She was wearing, what for it...TEVAS. I imagine many of you just choked on your coffee/water (or wine). Tevas have such a negative connotation--90s children, old men with socks, really, really uncool people. But Blake is well, really cool. So what is she doing wearing these Women's Teva's Original Unisex Lux ($59.99, down from $69.95)? Perhaps they are making a comeback or new Mom Blake is just embracing her earthy-crunchy side. What do you think? Are you going to try them out? For $60, we are thinking about it. Shop them below if you dare. Women's Teva's Original Unisex Lux ($59.99, down from $69.95) Don't miss Christina Milian's dress, Kendall Jenner's chambray shirt, and Jessica Alba's trouser jeans. [Photo: Instagram]
Blake Lively's Perfect Spring Handbag Is Shockingly Not All That Expensive
Between her new baby and her new movie, Blake Lively is killing it these days. Her fashion choices are always spot-on, but this handbag she was recently photographed carrying in L.A. It's perfection! The colors are perfect for spring/summer, plus it's roomy enough to carry everything you could need throughout the day. The best part, though? It's not a four-digit designer handbag--it's actually part of Henri Bendel's spring collection and it's less than $500! Love it? It's available for pre-order, so put in your order ASAP. Henri Bendel Rivington Canvas Tote ($498) For more celebrity style, check out Jessica Alba's wide leg pants, SJP's cool sweatshirt and Gigi Hadid's cool bib necklace. [Photo: Startraks]
Ryan Reynolds Finally Revealed His Daughter's Name!
Blake Lively and Ryan Reynolds welcomed their first child three months ago, and ever since, the name has been a mystery.  First, there was drama when a nurse who worked at the hospital where Blake gave birth tweeted out the name and gender of the kid (gotta love the Internet). Then, we kind of sort of confirmed that the genetically blessed couple did have a girl, and that her name is James. Well, Ryan Reynolds officially revealed that the name of his daughter is in fact James. #CaseClosed. [Photo: Splash News]
Blake Lively And Ryan Reynolds Welcome Their First Child!
Blake Lively and Ryan Reynolds are officially parents! The couple welcomed their first child over the holidays, according to Us Weekly. "The baby came early but everyone is happy and healthy," a source tells the magazine. No word yet on whether it's a boy or girl, and we also don't know the name, but check back here for updates. Congrats to the fam! [Photo: Splash News]
The Preserve Gift Guide Includes Blake Lively's Maternity Clothes, A Teepee, More
Blake Lively's lifestyle website, Preserve, dropped its first-ever gift guide on Friday. As expected, it has all the items that everyone on your shopping list NEEDS: Blake's best maternity clothes (like a $1,350 coat), a tree swing for one (only one) and a teepee. You know, for "an impromptu overnight outdoors." But that's not all--the lifestyle blog also has the exclusive on $65 paper lanterns. Thank god. CHECK OUT THE ENTIRE GUIDE HERE How does it compare to Gwyneth Paltrow's goop gift guide? Let us know in the comments below! For more gift ideas, check out: what the "cool mom" wants, quirky mugs and what to get a dude who wants socks and underwear [Photo: Splash News]
It's Official–Blake Lively & Ryan Reynolds Are Having A Baby!
Early this morning, US Weekly broke the news that baby Reynolds is coming to Hollywood. Yep, Blake Lively and Ryan Reynolds are having a baby! The couple announced Blake's pregnancy on the Preserve, the actress' new website, by posting a picture of Blake's baby bump. I guess she just couldn't hide it anymore. A pregnancy has actually been in the couple's plans for a while now. Back in September of 2012, Blake told Marie Claire, "I gotta get started,"and we've been waiting for a beautiful Reynolds baby ever since. But, it looks like we won't have to wait much longer, because judging by the picture, Blake is already into her second trimester. Keep checking in on our celebrity news section. We'll let you know when baby Reynolds makes his or her debut. UPDATE: Looks like Blake's site is currently down because of everyone wanting to see pics of her pregnant. Click through the slideshow to see Blake's baby bump, plus to shop her outfit from her announcement photo! And don't forget to check out: Kate Spade, Kim Kardashian and pumpkin spice everything.
Blake Lively Just Launched Her Lifestyle Website 2 Days Early
It feels like Blake Lively's lifestyle website has been in the works for years. Then about 10 days ago, we finally got an official launch date. Then a name. And finally, the website is now live. You can visit preserve.us and find out how to achieve a very one-of-a-kind, curated life, courtesy of the Gossip Girl actress. We checked out the website and here's what's on there so far. An Editor's Letter, in which Blake says that the "cornerstone" of her website is that "Everyone has a story to tell." Therefore, it's not going to just be Blake telling us what we should like or what to buy, but a whole group of people. But here's where the site starts to sound less goop-y. Within Preserve's first year, 5% of every purchase in the three shopping categories (Taste, Style & Home) will go to the Covenant House, which is an organization that protects homeless and abused youth. Okay, now we know you want to know what kinds of things Blake is pushing on us. The most expensive piece rings in at $2,000 and is a World Marquee lights display. While the least expensive thing is...$7 ketchup. So still kind of absurd, but, you know. Is this goop 2.0? Let us know what you think in the comments below! CHECK OUT PRESERVE NOW [Photo: Splash News]
Blake Lively's Lifestyle Website Officially Has A Launch Date
Following in the footsteps of many celebs, like Gwyneth Paltrow and GOOP, Blake Lively announced that she would be creating a lifestyle and e-commerce site in the near future. Page Six reported it will launch July 23rd, so soon! The website will focus on, "artisans and products chosen by the actress," according to the Telegraph. Finally, The Cut reported what Lively will name her website: Preserve. In an interview with Vogue, Lively said that the main theme of her website will be to live, "a very one-of-a-kind, curated life, and how to achieve that." Maybe that's why she chose her weird website name? She went on to say that outside of acting, she has many other passions. Well, we will definitely see some of those through her website. With the launch date so soon, we can't wait to shop and live a 'curated life' like Lively does. Maybe it will help us find a hottie like Ryan Reynolds? Are you excited for Blake Lively's new website? Do you like the name? Comment below! Be sure to check out how to rent a wedding dress from Borrowing Magnolia, 6 drinks for your next girls night, and 11 items you really don't need for your wedding. [Photo: Splash News]
Got Perfect Pins Like Blake Lively? Score Her Almost-Sold-Out Printed Jeans Now!
We're not sure Blake Lively has ever had a fashion misstep, but these floral print MOTHER The looker skinny jeans ($275) certainly made us look twice. The large, seemingly handpainted floral print is quite the departure from the tiny patterns we're used to seeing come spring. Initially, we had our doubts about these printed pants, but they're actually growing (ha!) on us. You like 'em? Better hurry and snatch them up stat! They're already sold out at Shopbop and Nordstrom, but we found a store that still has them in several sizes. Shop Blake's jeans below. MOTHER The looker skinny jean ($275) Check out Zooey Deschanel's dress, Kristin Cavallari's maxi dress,Rihanna's denim look, and Kourtney Kardashian's chevron dress. [Photo: Splash News]
We Can't Give You Blake Lively's Incredible Legs, But How About Her Red Mini Dress?
Although she has kept her married life under wraps, Blake Lively can still work a red carpet like no other. With her blond locks, megawatt smile and killer legs, we can't help but wonder how she does it. Her latest knockout look? This Isabel Marant Dreamy Studded Stretch Leather Mini Dress ($3,295), which she recently wore to a concert. There are two reasons why this dress is worth it. First, Isabel Marant designed it and every celebrity--and non-celeb--knows this is the designer to covet. Second, it's leather, which in case you didn't get the memo, is all the rage this spring. Convinced? Shop Blake's dress below! Isabel Marant Dreamy Studded Stretch Leather Mini Dress ($3,295) Not looking to spend three grand on a dress? No worries, we understand so we found a cheap (and cute) option from Urban Outfitters: Staring at Stars Crepe Studed Shoulder Dress ($59). You may lose the leather, but you get the studs! [Photo: Splash News] More red carpet style right this way! Shop looks such as Olivia Munn's maxi dress, Ashley Tisdale's eyelet dress and Kourtney Kardashian's chevron dress.
Newlywed Blake Lively Is Still Loyal To Those Theodora & Callum Scarves
Newlywed and Gossip Girl star Blake Lively has become an unofficial spokesperson for Theodora and Callum scarves. First introduced on Oprah as one of Julia Roberts' "favorite things," these eclectic, printed scarves have also become a favorite of the newly-minted Mrs. Reynolds. She's worn them on and off the set of Gossip Girl, and you can get her most recent pick -- this Teal Multi Ombre Leopard Wearable Art Infinity Scarf ($165) -- online now. Sorry to be an enabler, but you can never own too many scarves. Theodora and Callum Teal Multi Ombre Leopard Wearable Art Infinity Scarf  ($165) [Photo Credit: Splash News] Shop more celebrity style such as Jessica Alba's sweatpants, Gwen Stefani's graphic trench and oxblood boots, and Kristen Cavallari's post-baby outfit.
Is Serena A Villain On Gossip Girl Next Season? Because Her Wardrobe Is Killer
Caught filming scenes for the upcoming season of Gossip Girl, Blake Lively, or Serena Van Der Woodsen for the die-hard fans, donned another winning on-set look: a floral skirt, snake pumps and bright yellow satchel. A mixture of prints and textures, Blake shows how to pull it all together like the mastered fashion icon she is. Starting with a Haute Hippie 'love her madly' embellished skirt ($795) then adding a little funk with Pour La Victoire Zimmer pumps in Yellow Snake ($250). And for the final touch? A pop of yellow color with the 3.1 Philip Lim Lark Small Duffel ($875). Browse all, invest in one or more and feel like Serena as she promenades down Park Avenue. Get it: Haute Hippie Love Her Madly Embellished Skirt ($795)  Get it: Pour La Victoire Zimmer Pump in Yellow Snake ($250) Get it: 3.1 Phillip Lim Lark Small Duffel ($875) Shop more celebrity styles: Rihanna's MinkPink dress, Pippa Middleton's Temperley Dress, and look alikes of Natalie Portman's wedding dress.
Serena, Er, Blake Lively Likes Her Tops Cropped & Her Pumps Embellished
The final season of Gossip Girl started taping this month, which means tons of "spotted" occasions of Blake Lively/Serena Van Der Woodsen. In a few months, you'll soon spot the starlet in an Alice + Olivia Mandy Chain Crop Top ($165, on sale from $330) and a pair of Christian Louboutin Bollywoody Suede Pump ($2,795), which boasts beads, sequins, and gems like it's nobody business. While the idea of each item put together as a whole can come off as "a lot of look," the entire ensemble goes perfectly together. Wear each piece separately to make a total statement. Alice + Olivia Mandy Chain Crop Top ($165, on sale from $330) Christian Louboutin Bollywoody Suede Pump ($2,795) We love how Lively paired her crazy-embellished top and shoes with a long and flowy printed maxi skirt—in prints, no less. Shop a similar style worn by the actress with a Haute Hippie Printed Silk-Chiffon Maxi Skirt ($425). Haute Hippie Printed Silk-Chiffon Maxi Skirt ($425) Shop more celebrity style finds: Miranda Kerr's dress and sunglasses, Jessica Alba's bikini, and Anna Paquin's dress.
These Christian Louboutin Pumps Bring New Meaning To The Word "Catwalk"
Sarah Jessica Parker, Blake Lively in Christian Louboutin' "Alex" Pumps Forget bear-arm jackets: looks like lion-claw stilettos are the latest animalistic fashion trend to be embraced by the celebrity circuit. Both Sarah Jessica Parker and Blake Lively were recently spotted sporting the Christian Louboutin "Alex" pumps, which feature a lion claw-shaped toe, embellished crystal heel, and Louboutin's signature red sole. (more…)
Now You Look As Cute As Blake Lively–Even Without The Pumpkin
Just a normal afternoon for Blake Lively--hailing a cab with pumpkin in tow. Blake Lively got festive this week with a pumpkin in hand while she hailed a cab in New York City. But we're obsessing over the Gossip Girl star's leopard print Theodora and Callum Wedges (which she's recently been spotted---pun intended---wearing all around town). And guess what? We found our own pair... (more…)
Blake Lively's Bargains: $67 Sandals, $85 Denim Jacket, $118 Maxi Dress – Snag Them Now!
Blake Lively's exact Cocobelle sandals ($67) at Endless, her denim jacket ($85) at Topshop, and her Free People maxi dress ($118) at Free People. We've gotten used to seeing Blake Lively in sky-high Louboutins, so we were surprised when we spotted this Gossip Girl in flats...and even more surprised to find out that her Cocobelle sandals are on sale for just $67. What's better is that her Free People maxi ($118) and Topshop denim jacket ($85) are bargains too! Who knew she was a bargain shopper?
August. Love, SHEfinds.
August is the only month without an official holiday, but that doesn't mean there's nothing to celebrate - see what's happening this month. August 1: Couturier Yves Saint Laurent would be turning 75 today. (more…)
Spotted: Blake Lively In Rag & Bone – Get Her Exact Look Now
First we couldn't get enough of Rachel Bilson in her Topshop maxi skirt, but now we're obsessing over this Rag & Bone version ($395, above) that Blake Lively sported on the set of Gossip Girl. (more…)
Blake Lively's Eyelet Tibi Dress Is On Sale Now At Shopbop…Finally!
You can get Blake Lively's exact eyelet Tibi dress in white on sale at Shopbop for $539, down from $770 We can't get enough of this Gossip Girl's style.  Whether it's palazzo pants or floppy hats - Blake Lively always gets it right. We've been coveting her Tibi eyelet cap sleeve dress ever since she was spotted in it a few weeks ago...but covet no longer: this straight-from-the-runway frock is finally on sale at Shopbop for $539, down from $770. Granted, the dress is no longer available in blue like Lively sported, but the white version is just as cute - maybe cuter! After all, things are always cuter when they're on sale, right? Stay up to date on sales & deals and celebrity style by signing up for our newsletter.
Blake Lively Isn't Going To The Beach Or The Derby, But She Rocks The Floppy Hat Like A Pro
Get Blake Lively's floppy hat look (center) with the OndadeMar Large Brim Sunhat, on sale for $72.80 at Shopbop Sure you bought that floppy, straw hat for your beach vacay, but that doesn't mean you can only sport it waterside. In fact, the floppy hat can be one of the most versatile accessories in your wardrobe. For Kim Kardashian (above, right), her black wide-brimmed hat lends panache to a shorts-and-tank ensemble; for Blake Lively (above, center) the tan, straw hat makes her flouncy dress a little more casual, and for floppy hat queen Vanessa Hudgens (above, left) it completes her signature bohemian look. Our favorite part of this 70's throwback trend? It's affordable! Our favorite floppy hats range in price from $20-$78...see them all in the slideshow after the jump. (more…)
Piperlime's Final Sale: Elizabeth and James, Rag and Bone, And More…Because Paying Full Price Really Sucks
Cameron Diaz, Nicky Hilton and Blake Lively all in James Jeans Twiggy jeans--get your pair on the cheap While it's true summer is almost here, don't forget when the sun goes down, you're going to need a great pair of jeans and a light sweater or jacket--especially if you're going on vacation--don't make this crucial mistake in forgetting these pieces. No worries, though, no need to splurge--Piperlime's final sale has got you covered--quite literally. (more…)
Tired Of Ankle-Suffocating Skinny Jeans? Try Olivia Palermo-Approved Palazzo Pants Instead
Looks like we have a trend here, ladies. Palazzo pants come from the Italian word "palazzo," which means "palace"---perhaps to indicate how palatially wide the leg is.  I first fell in love with the style last year on the pivotal Paris episode of Gossip Girl when Blake Lively wore the high-waisted pink pair (pictured far left), which Olivia Palermo mimicked at this year's New York Fashion Week (3rd from left). However, last week Annalyne McCord (2nd from left) stole a page from Ms. Palermo's book, pairing a cream top with her camel palazzo pants. Though camel and peach seem to be the tones to wear them in, we found plenty of other adorable palazzo pants that just beg to be taken on an Italian getaway: (more…)
Prepster Blake Lively Teaches Us That Boat Shoes Aren't Just For Sea Captains
It's anchors away for this Gossip Girl come spring. Instead of the usual ballet flat, we have officially been encouraged to slip into a pair of boat shoes (or top-siders, to each her own). And Blake shows us exactly how to pull them off so we don't look like we've borrowed our dad's shoes. With tons of cool brands like Tory Burch and Steve Madden making their own boat shoes, we're definitely aboard this trend. (more…)
Spotted: Over The Knee Heeled Boots For 70% Off At Shopbop
Isn't there something about over the knee boots that just screams Gossip Girl's Serena Van Der Woodsen? Just when we thought we were ready for sandal season, it starts pouring and made us reach back into our winter wardrobes for some of our favorite pairs.  Luckily, there's a whole slew of heeled over the knee boots on sale for 70% off on Shopbop, to help us get through these first few dismal weeks of "spring." And don't be dissuaded by "over the knee" and "heels" both being descriptors: all of these boots are lunch with Grandma appropriate. No one wants to work the corner in this weather, anyway. (more…)
Ask The Expert: Celebrity Stylist Matt Fugate's Tips For Gorgeous Wedding Day Hair
My hair has been perfectly styled for 4.5 years now, and I'm here to share my secret weapon: celebrity stylist Matt Fugate of Sally Hershberger Downtown New York and Los Angeles Salons. He's perfected the locks of Claire Danes, Brooke Shields and our favorite Gossip Girl Blake Lively, and is now dishing to BRIDEfinds on how to achieve fabulous wedding day hair: (more…)
Top 10 Of 2010: The Worst Dressed Celebs (GaGa, Lohan, More)
As much as we love to look back on the year's best dressed celebs, we figured we'd round-up the worst dressed ones too: Jessica Simpson: Repeat Offender Come on, Jess, printed tents and picnic blankets do not make maxi dresses. Too bad you didn't learn that the first time. Lady Gaga: Most Likely To Get Stopped In Security Whether its 7 inch platforms or a white lace bra, neither of which are quite airplane appropriate. Britney Spears: Lifetime Achievement Award Yikes - we think a Dr. Phil "What Were You Thinking?" intervention is the only cure for Britney's poor fashion choices. Madonna: Head-To-Toe Hot Mess The queen of pop really has no other excuse as to why she combined swishy pants, argyle socks, and a fedora. And if she does, she should lie. Dancing With The Stars: Worst Of Prime Time Although we love see Kate Gosselin make a fool or herself, these 16 worse DWTS outfits were hard to watch. Christina Aguilera: Worst Coffee Run It looks like Christina is hiding more than just a genie in a bottle under her extremely baggy sweats. Lindsay Lohan: Most In Need Of Fashion Rehab Lilo's beyond ugly outfits might have something to do with why she's isn't Hollwood's next It Girl. Miley Cyrus: You Can Take The Girl Out Of The Country... Miley, we get it - you have nice legs. Stop dressing like a hooker to show them off. Gossip Girls: When Good Girls Do Bad Things Blake and Leighton are going to start their own gossip in these dresses, which should have been left in the bedroom. Katherine Heigl: Worst Cupcake-Like Confection The brown hair aside, we'd rather see Heigl's ruffled cupcake dress at a birthday party than on the red carpet. For more holiday must-haves, check our Sold Out list, more Going Going Gone posts, and then head over to our guides of the best cocktail rings, party dresses, earrings, party shoes.
The Gossip Girls Ditch The Bare Legs Look For Warm DKNY Knit Tights This Week
If you live for the fashion on Gossip Girl, you probably want to nail Serena, Blair and Jenny's looks all the way down to the legwear. Luckily, this Monday's episode was taken over by DKNY hosiery - actually affordable pieces you can buy straight off the set. If you were in the market for textured, warm winter tights, look no further: Serena wore these DKNY Hosiery Chevron Knit Tights ($22) which much more opaque on Blake Lively than this Bloomies model (apologies for those fug boots). You will love these textured, warm knits - pair them with Oxfords a la Serena for a school girl look. Ms. Leighton Meester wore these sexy DKNY: Sheer Baroque Lace Tights ($18) as Blair. Pair these with a tweed skirt for work or LBD for Friday night - you're golden either way. Taylor Momsen cleans up nice as Jenny Humphrey in these DKNY Knit Piercing Tights ($15). Wear them with pretty much anything - they look good with daytime looks like little black skirts and boots or silk parties dresses for all those friggin' holiday parties. Check out more hot trends in legwear, from opaque tights to patterned stockings and tights. For more holiday must-haves, check our guides to the best cocktail rings, party dresses, earrings, party shoes. Follow the author of this post on Twitter @bridefinds.
Have The Gossip Girls Gone Mad? A Sheer Dress Does Not A Red Carpet Outfit Make
There's a right and a wrong way to pull of black lace. Pearl Lowe's $72 lace dress is the right way. Gossip Girl stars Blake Lively and Leighton Meester showed the wrong way this week lookin' a big old hot mess in too-sheer lace dresses on the red carpet. What they did wrong: Lace is hot for fall, but only as overlay or in ruffle or sleeve details. Not alone (doesn't leave much to the imagination, eh?). In Blake's case, the sheer stomach area is completely gratuitous; a lacy hemline would have been sexy enough. Don't even get me started on Leighton. What they should have done: Check out our index of hot messes, our Red Carpet Re-Do series. For more holiday must-haves, check our guides to the best cocktail rings, party dresses, earrings, party shoes. Follow the author of this post on Twitter @bridefinds.
Blake Lively Finds Another Use For Her Leather Jacket
Leather jackets are known for their day jobs: as a cool coat alternative that goes with everything from skinny jeans to black pants. They are rarely seen on red carpets, or over pink party dresses. Or so we thought. Blake Lively paired hers with a pink ruffled dress, black tights and booties - and we love it. Try the look here: Start with a great fold-over leather jacket like this under-$130 GUESS Knit Inset Pleather Jacket ($128). It will do double duty as a daytime piece (over gray t-shirts and  dark skinny jeans) and your new favorite nighttime staple (over party dresses and skirts). This Gabriella Rocha Pioos Pink Dress ($67, down from $79), which nails Blake's look and is perfect for parties and special occasions, is also marked down. Cha-ching. Tights with texture - like these Commando Ribbed Tights ($34) - are huge this year. Look for a pair with a rib, or a subtle pattern like houndstooth, this season. A black bootie with a sexy front dip like this Ash Isa High Heel Booties ($195) is perfect for pairing with tights and dresses for a sexy nighttime look. For more sexy nighttime styling tricks, check out our guides to the best black dresses, lace-up booties and blazers.
Week In Review: Lady Gaga Halloween Madness, $700 Leather Boots, More
Must-Reads: Lady Gaga Halloween costumes are hand-made and over-the-top on Etsy. Are these Loeffler Randal boots worth $700? You decide. There's 31 days in October and SHEfinds has a calendar of events to help you get through the month in style. As if we didn't already love the Marc Jacobs handbag prodigy, now Jessica Stam's collaboration with Rachel Roy gives us something else to rejoice about. SHEfinds has brought you the 5 best pant styles for fall that we know you'll love. Is splurging worth one handbag or an entire wardrobe? We let you be the judge. Taste Tests: Can you tell which buckle boots cost $165 more than the other? Can you tell which stretch corduroy pants $140 more than the other? Can you tell which black peep toe pumps are $700 more than the other? Sale Alert: Paige Premium Denim Jeans for $60? Okay! Madewell tanks are 65% off - can you say guilt free spending?! Oprah's favorite J. Crew shoes are 60% off: sensible and oh-so affordable. Celebrity Style: Katherine Heigl knows fall is all about being cool, comfortable, and chic . It's banana's that you can look like Rachel Zoe with this costume idea. Blake Lively is all glitter and sparkles in her LBD at Letterman. Rachel Bilson shows us that leather shorts are a total do. Beauty: Marchesa makes...makeup?! Grab this limited edition collection while you can. Guides to Check Out: You've been wading through the mess of department stores for too long - we've got the best rain boots, fall handbags, fall jackets, and fall tops right here. Don't miss out on the best sales and deals from around the web, plus all of this week's online sample sales. Subscribe to SHEfinds to receive our exclusive email newsletter.
Blake Lively Shines In A Sparkly, Cut-Out Little Black Dress
Usually, we're drooling over her Gossip Girl wardrobe, but this time Blake Lively (the person, not the character) is doing the jaw-dropping. Outside of the David Letterman show, Blake wow-ed in the old little black dress formula revised: just add subtle cut-outs and little glitz, and you have a girl's new best friend. Get a piece of the cut-out trend with this sexy Donna Mizani One Shoulder Cut Out dress ($194). Blake Lively legs not included. If it's sparkle you're after, this LaROK LUXE Double-Sided Sequin dress ($298) will light up the night. For an even sexier, under-$100 version, look no further than this French Connection Samara Stretch Dress Cutout bodice ($98.70, down from $188). Another best bet for the little black dress look? This Nicole Miller Cut-Out Pleated Tank dress ($310). And last but not least - this Alice + Olivia Nika Zip Back Sequin dress ($484) definitely delivers the dress drama - and we like it. For more fail-proof dress options, check our guides to the best black dresses, sheath dresses and maxi dresses.
Camel Coats Are Huge For Fall–But These Prices Aren't
Classic camel coats are one of this fall's best trends--Blake Lively and Alexa Chung pull it off brilliantly, above. Completely classic, and way more interesting than your boring black one you've been wearing for 3 seasons: try it out without committing fully--these 4 are all under $200. This ASOS Wool Hooded Duffle coat ($126.38) is fall perfection, with tons of pockets. Or go more streamlined with the BB Dakota Riberton coat ($120) that resembles Alexa's, above. Be super warm and on trend with a faux fur collar, a la this B Dakota Lamarr coat ($120), or try an empire waist Michael Michael Kors babydoll coat ($177, from $295) with a hood for added warmth. Check out celebrity sunglasses, celebrity handbags, plus the best hats and gloves to wear with it, so by the time the cool weather shows up, you're completely prepared.
The Toe Cleavage Debate, Revisited: Hot, Or Not?
The last time we polled our readers about toe cleavage, the results were split. Some shoe-obsessed readers think the look is a hit, while those with foot phobias find it a major miss. What do you think about toe cleavage? Is it best saved for nights out, or is it okay at all times of the day? While we're still split on the matter, what we can agree on is that it's a trend reserved for the well-pedicured (freakish feet need not apply). Can you guess from the photos below which celebrities are fans of toe cleavage? The answers below: (Clockwise from top left: Blake Lively, Kim Kardashian, Gwen Stefani, Taylor Swift). What do you think?  Let us know in the comments whether you'd: a) wear shoes with toe cleavage to work, or any other time, for that matter b) strictly reserve it for nights out on the town c) can't stand it and would never, ever wear shoes that reveal your toe cleavage Then check out our guides to the best flat sandals, the best nude shoes, and comfortable heels to wear all day--toe cleavage or not.
Daily Links: Blake Lively's Disappearing Cleavage, A $6,000 Alexander McQueen Dress Sells Out, More
1. The Cut speculates Vogue may have photoshopped Blake Lively's cleavage. Maybe Anna Wintour finds breasts offensive.  [The Cut] 2. The Frisky reports that Net-a-Porter sold out of its $6,000 Alexander McQueen dress. The recession must be over. See dresses you can actually afford in our guides to the best summer dresses and the best black dresses. [The Frisky] 3. We never could master applying false eyelashes, but Betty Confidential just made it easier with these five simple steps. Check out our guide to the best mascara, too. [Betty Confidential] 4. Fab Sugar put together a gallery of Carrie Bradshaw's 60 best outfits. That's a lot of clothes. Check out our Sex and The City 2 page for more movie madness. [FabSugar] See more of our daily links, and then check out our guides to the best Spanx swimwear, and the best swimsuits for your shape.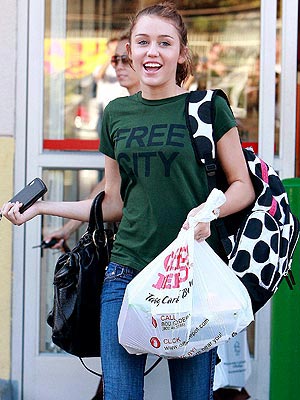 Celeb Fashion: She's Just Being Miley
I confess, I know all the words to the Miley Cyrus hit, "See You Again," and I really want the jeans she was wearing as she shops for school supplies. They're a great medium wash, a flattering low rise and slimming narrow boot cut leg. Her pair of Frankie B's jeans ($173) are dyed just right, fit just right, and would pretty much make anyone want to see me again! Or at least that's what I tell myself, ignoring the fact that I'm at least four inches taller, 20 pounds heavier and a decade older. So here are my picks for similar jeans… that are probably a little easier to wear (and afford!) for us non-celebs.These Roxy Night Owl jeans ($84) are affordable and on-trend for this fall. The legs are a balance between skinny and cigarette, and the rise is a little higher than the whale-tail-low of season's past. The little bit of spandex keeps them fitted without being too tight, which means you can eat!If you thought $84 was good for jeans... you'll love these GByGuess Naomi boot cuts ($49.50) The 33.5" inseam ensures these are ready to be paired with heels, and the narrow boot cut is flattering on everyone, not just Hollywood size 2's.
On Better TV: Geek Chic Accessories For Your Professional Self
Recently on Better.tv, SheFinds showed you some stellar tech-y finds for staying stylishly organized and connected – even if you're not a technology fiend. Data and computing accessories are nearly endless. These are four of our favorites, and we swear they're not that complicated. The DataTraveler Mini Slim ($11-19) is a really, really small USB flash drive that comes with a 2-year warranty and tech support, just in case you need some USB hand-holding. Carry your flash drive around in this Peanut USB Holder ($7) From Built NY, which makes all sorts of other useful things – like laptop cases and wine totes – out of the same cushy, colorful neoprene. The Dane-Elec Digital ZPen ($90) allows you to take notes on nothing, and stores the info you scribble down into the pen, so you can upload it onto your computer later. Way lighter than a laptop when you're traveling to meetings. One definite hurdle to being uber-connected: staying that way on the go. The Tonic Universal USB AC Wall Charger ($30) is only about the size of a box of tic tacs, and can charge BlackBerrys and any other device that uses USB power. When you're all charged up, hook a Jawbone ($130) on your ear to talk hands-free. And if you're working from your laptop off-site, the Q-Link Nimbus ($170), which plugs into your computer, claims to increase energy, stamina and concentration by reducing electromagnetic fields. Of course, staying stylish and sane amidst all the gadgets is always on our mind. Coby Electronics's Digital Photo Frame ($51) lets you gaze at whomever or whatever you want without constantly switching your pictures by hand. If you're a card-carrying corporate American, show some style by using cute BooJee beads ($10-$20) to hold your ID card. And keep all your gadgets clean and sparkly with Weiman E-tronic Wipes ($6), which are quick-drying, streak-free and safe to use on electronics.
Fashion Top Five: Shooties
This shoe-bootie hybrid was really just the next logical step after the ever-shrinking boot shaft hit below the ankle. Shooties work well with skinny jeans or pants and can add a hit of toughness to a sheath dress. But if you're feeling too tame to show off your shooties, slip them under a pair of trousers and no one will be the wiser. This top five wouldn't be complete without at least one peep-toe shootie: I do find the peep-toe bootie/shootie odd, but this STEVEN by Steve Madden pair ($150) might be cool enough to sway me. A big elasticized panel is surprisingly sleek on these Miu Miu patent shoe-boots ($530). These faux-snakeskin shooties ($66) look rich – and even office-appropriate – in dark brown. A graduated heel and streamline styling give this Kenneth Cole pair ($225) retro appeal. These Botique 9 shooties ($150) are entirely season-appropriate in dark grey suede.
Solution: Fuller Lashes Without Having To Whip Out The Falsies
I have eyelash envy-- my boyfriend has beautiful eyelashes that are thick and full. His are the kind that I'm always striving for because I have long, thin lashes that disappear without multiple coats of mascara. But I recently discovered a couple of new products that are making my lashes look like his: Revitalash Eyelash Conditioner ($75)I was very skeptical that this product would actually work, but after applying it nightly for about a week, my lashes did indeed look fuller. However, it contains the non-FDA approved lash-plumping drug latanoprost, so be aware. The product was created by an opthamologist for his wife whose lashes were damaged by chemotherapy and a portion of all of the proceeds to go breast cancer research. Benefit Get Bent Mascara ($19)If dropping $75 on questionable lash drugs isn't for you, this mascara is a miracle worker. It's like a push-up bra for your lashes - plumping, curling, and lengthening all at once. Gotta love a product that works that hard all for you. And check out our bargain mascara picks -- great products that work well but won't cost you much.
The His Is Hers Shirt Makes More Sense Than Taking His
What: Clairidge + King His Is Hers Shirt, $89 Why: Is there anything sexier (for a man, anyway) than a woman wearing his collared dress shirt, padding around the apartment barefoot, too-long sleeves casually rolled up and too-long shirttail just barely covering her bum? Claridge + King thinks not. In fact, they've built an entire business on that supposition. Their foundational product, a made-for-her dress shirt, looks like his, but is modified for her: a softened collar, an additional mid-sleeve button to keep rolled-up cuffs in place, and an extra-long cut to flatter the female form.Get Yours: clairidgeandking.com And check out our suggestions on what to pair with another menswear fave: the boyfriend cardigan.
What to Wear to the Gym: SheFinds Gets in Shape for Fall
Everyone talks about getting in shape for the Summer, but today I had a revelation: if I keep myself fit right now, I won't have to work so hard to get that bikini body back come April. Plus, the beach isn't the only place a gal hopes to look good; there's also the bedroom, where you want to feel confident there all year 'round. And what about winter getaways to Caribbean countries? To inspire myself for my all-Fall-long, three-times-weekly workout plan, I went shopping for athletic gear that is both functional and cool (because as a particluarly image-conscious ex-boyfriend of mine once so wisely declared, "You gotta have style, baby--even at the gym."). So here are my recommendations for anyone who's ready to get/keep her herself in shape.First you gotta stop the jiggle. This Nike Revolutionary sports bra ($49) may be more expensive than their original Determination model ($35), but its innovative new support system (there's a strap between the cups that increases motion control) keeps me comfortable even at a sprint. For anyone who runs or uses an eliptical machine, this is a must. Save cash and trust these Champion activewear tanks from Target ($9.99). As long as you're not a marathoner or tri-athelete, you don't need any of that high-tech wickaway stuff they try to sell you. A lightweight loose-fitting top will do. These Adidas Essentials capri workout pants ($49.99) will keep you cool throughout your workout, whether in the weight room or on the track. And they're cuter than athletic shorts--you won't look half bad on your way home, either. After I sprained my ankle for a third time back in high school, the kind folks at my local runners' store recommended a superb, little-known brand of sneaker that I've used ever since. Unlike some major companies, Brooks actually takes the particular build of female bodies and joints into account when designing their women's line. My current favorite for jogging is the Axiom 3 ($90), which are lightweight, flexible, and cushy; but for athletes with low arches or a tendency toward rolling ankles, the Adiction ($100) is the sturdy sneaker that finally kept me on my feet as a kid.
Week Of Denim Problem Solving: Obliterating Muffin-Top
The dreaded muffin top is one of the most common – and most obvious – wardrobe faux pas, and it seems to plague just about everyone from time to time. Slightly-too-tight jeans and a clingy top and a dash of compromised judgment are all it takes.But the right jeans or a strategically chosen shapewear item can make all the difference. Jeans that combat this problem simply have higher rises, sitting closer to your natural waist, which tends to be narrower and less cushy than the hips. For a classic-looking pair with a higher waist, try 7 For All Mankind's High Waist Bootcut Jean ($165), which has a 9" rise. A fancier option, Rich & Skinny's Lush jeans ($93, were $187) have a dark wash and a trouser fit, along with an 8" rise. And if you're set on wearing jeans that hit at the hip but want a sleeker look, shapewear can work wonders. For this particular problem, SPANX Hide & Sleek Camisole ($44) is perfect if you have a short- to normal-length torso so it's long enough to tuck in. SPANX High-Waisted Power Panty ($36) is a good choice if you're looking for leaner thighs, too. And peruse our Guide to Your Favorite Denim for other comfortable and stylish options - that you picked out.
Where Can I Find A Monogrammed Tote?
SheFinds Reader Question: I am looking into maid of honor gifts, and I am interested in finding a monogrammed tote. The only ones I've seen and liked are what is featured at Lands End, but I want something a little more stylish than what is offered there (more glamorous than preppy). Do you happen to have any recommendations? Lillian Vernon monograms their totes ($25) for no extra cost, and these leather bags--particularly the black version--are quite sophisticated. If you're looking for something a little more fun, Pottery Barn will personalize their leopard or zebra-striped tote bags ($49) for no additional cost. But here's another idea: pick a stylish tote you love, like this Stella McCartney LeSportsac Everyday tote ($350), and get it monogrammed. It really doesn't matter whether the design includes a special spot for monogrammed initials. You can be creative! Embroidery companies across the country specialize in monogrammed initials onto everything from sheets to bags. I'm sure there's one near your hometown, but just in case, here are a few services to get you started: The Monogram Shop (East Hampton, NY), Amazing Monogramming (Wheatland, WY), A Little Bit of This (Chicago, IL), and Michelle's Monogramming (Cypress, TX).
Contestants Endure Stereotypical Magazine Editor Stares On Stylista
Last night, Stylista premiered on the CW where the contestants compete for a junior editor spot at Elle magazine. In order to achieve that, they will live together, sleep in bunk beds (or on the couch as resident evil girl Megan decided to do), avoid sabotage, endure challenges that would make any temp quit, and see if they can make a good impression on Devil Wears Prada-esque Anne Slowey, the Fashion News Editor of Elle.This show is so over the top, it's hilarious. The contestants' fashion choices are so funny, I almost dropped a glass of wine on the floor watching them. But what makes this a great show is the portrayal of the Elle staff with their withering stares and lack of smiling. When Anne was judging the first challenge where the contestants had to make her breakfast, they were so scared of Anne you could actually hear the trays rattling as she walked by. I do enjoy Anne's wardrobe, though. She had on a YSL necklace with a cluster of stars that I thought was great for her, but a little much for most of us. I would suggest stealing her style with this Graduated Star Bead Necklace ($15) or this Gold and Silver Star Necklace ($38).
Week Of Denim Problem Solving: Levi's Remembers We Have Waists
I am a curvy and tall woman. Any of you out there with this body type knows that it's almost impossible for me to find a pair of jeans. My issue is that my hourglass figure makes it hard to find jeans that fit in the waist. Last week, my prayers were answered when I attended a Glam Media event at the Levi's store in Manhattan. I have to admit that I've been a fan of Levi's all my life but wasn't sure that without my straight and thin figure of my 20's that I could fit into a pair of cute skinny Levi's. Boy was I wrong. Ladies, here's a tip for those of us with those tiny waists and fabulous hips: purchase denim with stretch and a tilted waist, but get the next size down so they will naturally settle in the right place when they relax. I love these Levi's Eco Low Skinny 531 jeans (yes, they're skinny and yes, they look amazing) for a lovely $69.50. I also picked up a pair of Levi's Eco Tab Trouser Jeans in Clean Air (a darker, office-friendly rinse) for $78. Not only does each waistline remain put, but the denim is eco-friendly, made from 100% organic and recycled cotton.Have more burning denim questions or want to peruse some other styles? Check out our Guide to Your Favorite Denim.
Solution: If You're Saving Money By Doing Your Own Nails, At Least Do Them Right
Maybe you're a DIY diva or you're simply looking for ways to save a few dollars. Whatever the reason, doing your own French manicures doesn't have to be a time consuming chore. In fact, with a few simple tricks, you may never head back to the nail salon again. Nail tip guides ($3.50) make a DIY Frenchie super easy. After your base coat has completely dried, apply the sticker like guides so the tip of each nail is still exposed. Brush the white polish on the exposed tips, let it dry and then take off the guides. Top your entire nail with a pale pink, like my favorite OPI Sweet Heart, and everyone will be oohing over your salon perfect nails. And just in case you got a little polish where it wasn't supposed to be, this ingenious polish corrector pen ($12) easily removes it. Filled with polish remover, it works like a paint pen, allowing you to wipe away stray smudges without ruining your entire nail. It even comes with extra tips and is refillable.
Week Of Denim Problem Solving: Jeans That Don't Stretch Out
My pet peeve is finding the perfect pair of jeans— flattering waist, great wash, right amount of flare in the leg— and then discovering they stretch out after about 10 minutes. Sure, you can mist them and pop 'em in the dryer to tighten them back up, but what if you want to wear them out for dinner and plan on sitting down? The solution is finding jeans that are a blend of cotton and lycra. Straight cotton jeans are guaranteed to bag and sag after a short time, but with just a hint of lycra, jeans will stay fitted for multiple wearings. My favorite brand is Citizens of Humanity. They are a perfect blend of elastane (the stretchy stuff) and cotton so they're comfy and fitted all day long. Citizens of Humanity's Ingrid Stretch Jean ($158) provides a slim fit through the hips and thighs with a small flare in the leg. These jeans are sure to keep their shape and fit every time you wear them. And peruse our Guide to Your Favorite Denim for great styles to flatter your figure.