You Have To See These See-Through Lace Shorts For Men
GuyFinds: A Tee That Doesn't Involve A Sports Team Or John Belushi's Face
What: Uppity T-shirts, $25Why: Just when we're so over the t-shirt phenomenon, along comes a breath of fresh air. Original. Mildly sarcastic. And something to make you smile. Uppity is a new line of stylish t-shirts with smart and witty words or phrases. Using quality American Apparel shirts, you might already be familiar with their soft feel and true-to-size fit. And at $25, a very recession-friendly splurge that will lighten your mood.Get Yours: Uppityshirts.com
Guy Friday: Help Your Man Get A Job By Making Him Look Presentable
With 11.1 million people unemployed, it's safe to say that making a positive, memorable impression during an interview is even more essential today. So we have five, recession-friendly (inexpensive) style tips to help your guy look more polished when he walks into the room to meet his future boss. Black or brown shoes? The Nordstrom Reversible Leather Belt ($49.50) will allow him to match either pair. It's two belts in one! Speaking of shoes, use the Kiwi Shoe Shine Sponge ($4.75) if there's no time for a proper polish. Keep those collars crisp and in place with Macy's Brass Collar Stays ($18). If your guy is over 30, it's time to have "the talk"—clip that nasty nose and ear hair with the Target Nose & Ear Trimmer ($10). Interview lunch? Bring along some old school Binaca ($11) - it refreshes instantly and discreetly. And one final suggestion, bring the suit and shirt to an experienced tailor to ensure they properly fit. Many off-the-rack clothes need to be tweaked here and there to make them look like they were made for him. Good luck!
Guy Friday: The Tumi T-Tech Adventure Is Sleek, Professional, And Incredibly Comfortable
What: Tumi T-Tech Adventure Computer Backpack, $250Why: As a New Yorker without a car, I find myself carrying things all the time. It's pretty much been that way since I was a kid in elementary school. But now that I am grown up, I need a grown up travel bag. Recently, Tumi has introduced their new line of backpacks called the T-Tech Adventure. This bag is perfect for the man who needs to carry things to the office and to the gym. The T-Tech Adventure is incredibly comfortable when carrying many items and does a great job of distributing weight to avoid back and shoulder injury. It has a separate space for a laptop and another huge space for folders, gym clothes, shoes, etc. There are many small pockets to carry items along with small zippered pouches along the straps of the bag - perfect to keep keys or an iPod. This backpack is stylish (I went with black), well-made, and apparently on trend. Get Yours: luggageonline.com
Guy Friday: Keep Him Fancy With J. Crew's Cashmere Tie
What: J. Crew Cashmere Knit Tie, $98Why: It's time for ties to lose their stigma as only a business dress accessory. They look great with a casual blazer and button-down shirt or even under a v-neck sweater…both with denim. Keep it simple (with a touch of luxe) with the J. Crew cashmere knit tie. From the brand's new Liquor Store concept, the tie is part of a recent collaboration between J. Crew and Andy Spade, designer for Jack Spade and yes, husband of Kate. Made in Italy using deliciously soft cashmere, you'll add something special to his wardrobe for a night on the town. We love the heather grey color, but it's also available in black. Get Yours: jcrew.com
Guy Friday: Bobby Jones Makes A Quality Watch Sans The Obscene Price Tag
What: Bobby Jones Swiss Black Leather Strap, $275Why: There is something about a nice watch that makes the man. I've always had an appreciation for all of the different styles and brands that I see in magazines, but those were often at least a thousand dollars – sometimes a lot more. As the holidays approach, I'd suggest looking at the assortment of Bobby Jones watches. They're classy, stylish and affordable. One that caught my eye is the Swiss Black Leather Strap. This watch has a solid frame and feels very comfortable on the wrist. The color is great – a blue that changes subtly depending on the light. Along with Italian leather straps and an old fashioned seconds sub-dial, this unique timepiece could be a perfect item for your man's arm (aside from you).Get Yours: BobbyJonesShop.comAnd check out our guide on how to Hippify Your Guy for more ways to make your man stylish.
Props To HeFindsAdam For Letting Three Women Make Him Over
This week, HeFindsAdam exhibited tremendous courage by allowing three women to come into his home and re-vamp his entire look. Our pro stylists helped him put together a sophisticated, grown-up, and pared-down wardrobe. Below is a round-up of the week's looks: I helped Adam exorcise his closet of any duplicates and unworn clothes. We also went shopping for a laid-back outfit he could wear for a night out charming the ladies. Amy Salinger showed Adam there's more to daytime casual than gym shorts and a sweatshirt. She combined a retro pair of Adidas with some light corduroys for the perfect weekend ensemble. Kalyn Johnson yanked Adam out of his routine of plain shirts and tired ties when dressing formally. She created unique tie and shirt combos and showed him how to pick the perfect suit.Which outfit do you think brought out the true essence of Adam? Was it the laid-back for a night out, the daytime casual, or the evening formal? Let us know your favorite in the comments section below.
HeFindsAdam Realizes Casual Means More Than Gym Shorts And A Hoodie
What a pleasure it was to meet the incredibly upbeat and personable Amy Salinger, my second stylist of the week. Amy's a professional stylist who has been on every TV network and magazine including MTV and The Today Show, and has worked with several celebrities. She was also a cast member on the reality show The Cut. I was excited to spend time with her to come up with a casual daytime ensemble. Amy first tackled my shoes. She pulled out a pair of blue Adidas (similar to the ones above) that she thought were great. Amy showed me a ton of different items to wear with them and suggested getting additional casual and "dress casual" shoes at DSW or Zappos. Once we got the shoes sorted out, we focused on a casual outfit for day. Amy really liked a Cordarounds pair of pants that I owned (and reviewed for GuyFriday) and suggested matching them up with a dark blue casual fleece and grey undershirt. She brought out my Adidas shoes and we were good to go. I would have never put this outfit together myself, and I think Amy did a great job of taking me to a place that I would never have gone on my own. I highly suggest learning more about Amy on her website at www.amysalinger.net!Here are her stylist tips:Mixing patterns: Subtle with subtle always works. Subtle with bold is more daring. Save the bold with bold for when you are a pro!Add an unexpected color. The key is to have everything match and then throw it off with one surprise color. This is what sets you apart from the crowd!Layer it up! T-shirts, button-downs, sweaters, and blazers. This is the order from which to layer. Think options... Layers one and four. Layers two, three and four... And check out our guide on how to Hippify Your Guy for more ways to make your man stylish.
HeFindsAdam Cleans Up Nicely, Sees How Checks And Stripes Can Be Friends
On Day 3, the wonderful Kalyn Johnson came to my door to prepare an outfit for a more formal evening. Kalyn's work is featured in countless magazines, and she has a number of NYC clients who all rave about her, including Ryan Smith, the co-host of BET's My Two Cents. She has created a "Little Purple Book of Style" that everyone should get their hands on – focusing on the essentials of building a better wardrobe. Kalyn's first suggestion was to go shopping and accessorize. Combinations of ties, cuff links, and shoes can really make an outfit extra special. She also felt I needed a great pair of black dress shoes from Johnston and Murphy as a staple to my wardrobe. Kalyn showed me ways to put together patterned dress shirts and ties – combinations that I would have never thought of myself. She combined a striped blue tie similar to the one above with a white and blue checked button-down to create a unique and modern look. Another great suggestion was to replace plastic shirt collar stays with stainless steel versions for the most important shirts in my wardrobe. Kalyn provided me with a full evaluation of my formal wardrobe after our meeting and I highly recommend learning more about this fantastic stylist at www.kalynjohnson.com.Here are Kalyn's stylist tips:Suits: A charcoal grey suit will look great on you and will work with most of the dress shirts you own. Once you find the right charcoal grey suit, you will be able to use it in place of your black suit. Go for an all-weather fabric, a 2-button jacket and flat-front pants with pant legs that narrow towards the ankle.Shoes: One way to update or elevate your look is to invest in new shoes. Plan to spend at least $250 on one pair – over the course of time, you will get your money's worth. Break down the cost of the shoes by number of times you will likely wear them (or number of years you will wear them). Don't let the dollar amount scare you off, focus on maximizing your investment over the long-haul. Accessorize, accessorize, accessorize: Accessories can make or break an outfit; I cannot emphasize this enough. For your formal wardrobe, that really means ties and cuff links. Consider adding a pop of color to your tie collection. And for the bling at the wrist, find a pair that make your heart leap. Check out Paul Smith, Century 21, Saks, Bergdorfs, and Steve Alan.And check out our guide on how to Hippify Your Guy for more ways to make your man stylish.
HeFindsAdam Cleans Out His Closet, Helps The Salvation Army Fill Their Racks For Christmas
Always up for a challenge, our incredibly brave Guy Friday writer, Adam, agreed to a closet overhaul and makeover by three different stylists who helped him create specific looks for his busy lifestyle. This week, he'll share his experiences with us, and (hopefully) reflect fondly upon his transformation. Here's Adam's account of Day One:Most men I know seem to have 2 problems – throwing things away and spending time going shopping for new clothes. I fall into both worlds and our first stylist, Bryn Taylor, came to my rescue. Bryn is currently the Managing Editor of SheFinds with a ton of stylist experience. We started by emptying every item in my closets onto my bed in huge piles. We went through each item and anything I hadn't worn in over 8 months or so was put in the adios pile. There were other items that I had worn recently that Bryn told me either made me look like an old man, a gay man, or a young boy. And since I am none of those, they had to go. A lot of duplicates also hit the charity pile. Ultimately, 75% of my clothes ended up going to a good cause. Now it was time to buy some clothes. We started with jeans. In the past, the most I had spent for jeans was $60, so you can imagine my surprise when the first pair was almost $200 by Diesel. But we discussed how often I wear jeans and how this investment would be well worth it. After trying them on, they felt great and the darker color blue really worked. The second pair by 7 For All Mankind was a bit long, but could be shortened. I had no idea jeans could be tailored – keeping the same original bottoms on (which I got done a week later by a local tailor, which every stylist said you need to have). I've always wanted a cool blazer, but never really was able to find the right one. Bryn handed me a charcoal blazer by William Rast that truly had its own personality. It was very versatile and worked with the jeans I bought and almost every button-down I own. I could wear it to work or out at night with jeans or with slacks (and I have already done both). All in all a great first step towards upgrading my closet.Bryn offered me some tips I can use when left to my own devices:When maintaining your closet, the less clothes the better. If you have less to look at or choose from, your choices will be easier and you will take less time getting dressed.Opt for a slimmer, darker fit when buying jeans. It will make you look more polished and pulled together. And probably a few pounds lighter. A blazer goes a long way. Invest in a nice, neutral blazer and you'll find yourself wearing it to the office with a button-down, out at night with a t-shirt, and even on the weekends over a light sweater. And check out our Hippify Your Guy Guide for more ways to make your man more stylish this holiday season.
Guy Friday: It's Not Brown, It's Chocolate. And Banana Republic Knows The Difference
What: Banana Republic Cashmere V-neck Sweater, $180Why: I absolutely love chocolate brown, especially when paired with a color like blue or orange. I almost bought a chocolate Lab instead of a black Lab, just so I could put a smart, colorful collar on her. Much to my excitement, chocolate returned this fall with a vengeance in just about everything. Give your guy some chocolate in the Banana Republic cashmere v-neck sweater. Rich and luxurious, he can wear it day or night, with a tee or button-down. Get Yours: BananaRepublic.com
Guy Friday: Upgrade His Old Gym Bag To The True Wind Navigator Duffel
What: True Wind Navigator Duffel Bag, $165Why: The duffel is a unique accessory that is defined (according to Wikipedia) as a large cylindrical bag made of cloth with the closure at the top. A unique word I like saying over and over (you should try it) who's origins come from a small town in Belgium with the same name. The evolution of the duffel bag is represented beautifully in True Wind's Navigator Duffel Bag.This bag is the perfect gift for those men who love to be in and around the water. The nautical theme is simply classic and a great accessory for your active man. The True Wind Navigator Duffel is made (in the USA) of some of the finest materials – including real sailcloth (the same used in high-end sailboats) and very solid brass buckles. One of the coolest differentiators with this duffel is the unique stripe design inspired by the colors and patterns found on maritime signal flags. The bags come in two sizes and the colors on all of them are bright and vibrant. All hands on deck - it's duffel time. Bonus: Have his initials embroidered directly on the bag! Get Yours: truewindusa.com
Guy Friday: Pierre Hardy's New, Elusive Man Bag (And A Few You Can Actually Find for Him)
I know we all get annoyed when guys ask us to stow their wallets, keys, books, and other items in our purses--and I also know it's near impossible to convince them that they should just carry a bag themselves. But I spotted something today that gave me hope --hope that YES WE CAN change the tepid relationship between man and bag.What: Pierre Hardy Fall 2008 Bags for Men Why: The City bag (left) and Sport bag (right) are simple, sophisticated, and, most importantly, masculine without being at all athletic. The leather is of superb quality, and you can tell just by looking that it is soft and supple to the touch, yet because hasn't been distressed in any way, the look is still clean. And not only are they handsome, but they'll give your man a place other than your purse to put his iPod, magazine and other brawny man-on-the-go items. Unfortunately, though, according to his representatives, Pierre Hardy's hot bags will likely not be sold online. You'll have to find your way to the designer's Paris showroom, or make the trek to your nearest Nordstrom, which just got them in stock. Like many dreams, this one--of a world where men don't feel like ladies just because they carry a purse--too, is elusive.But there is good news. While Hardy is the only guy we know desgning men's bags with such innovative shapes, more familiar alternatives do exist. If you're determined to make your man realize the joys of mobile storage space, try one of these great options: Christian Dior makes a mean messenger bag ($900). And the worn leather of Dolce & Gabbana's version ($708) is reminiscent of Hardy's bags. While this dark brown Cole Haan duffel ($273) offers a different--and far more affordable--take on the murse.
HeFinds Guy Friday: How To Get The Perfect Shave
Check out these tips from Anthony Sosnick, the grooming guru behind Anthony Logistics for Men, on what every guy needs to know about how to achieve the perfect shave. 1. Start with a clean face. Apply Glycolic Facial Cleanser ($18) or Algae Facial Cleanser ($20) to damp skin. Use warm water soften the beard and prepare the skin for shaving. Both cleansers buff away dirt and oil, which allows your razor to glide more easily against the skin. Rinse with warm water and leave wet.2. Apply a thin layer of the Pre Shave Oil ($18) to soften the beard and add more glide to the razor. The Shave Cream ($15) or Shave Gel($14) is applied over the oil in an even thin layer.3. Shave in the direction of the beard growth. Shaving in the shower or applying a warm towel prior to shaving will help soften the beard.4. Rinse your face with cool water and gently pat your face dry. Do not rub.5. Finish your shave by applying Aftershave Balm ($18) to keep your skin soft and hydrated, or Razor Burn Repair ($22) to soothe and calm razor burn. Your girlfriend will thank you. Make Life Easy: Get The Perfect Shave Kit that includes everything you need for the perfect shave for just $50.
Guy Friday: Havaianas Are Not Another Pair Of Flip-Flops. Well, They Are But They're Really Great
What: Havaianas Men's Flip-Flops, $16Why: I know that everyone on this planet probably owns a few pairs of flip-flops, but unless your guy has some Havaianas, he's missing out. Made from Brazilian rubber using a top secret "recipe," these flip-flops are super soft, comfortable from the first step, and most importantly, durable. The toe thong doesn't irritate (no Band-Aids required as you break 'em in). And you won't even feel the hard bump of where the thong attaches to the sole—unlike many others that can hurt your feet. I paid close to $75 for some fancy designer rubber flip-flops three years ago that still hurt my feet (and yes, I still wear them because they're by a fancy designer, yet I practically limp around the pool deck). For under $20 and available in countess colors and patterns, these are a STEAL.Get Yours: havaianas.com
First Murses, Now Mantyhose. What Do You Think Of Pantyhose For Men?
When I was in high school, a boy who wore a skirt to class one day was sent home to change into more "appropriate" clothing. The next day, in protest of this arbitrary decision, every forward-minded man in the school came to class in a skirt. Their logic: if women can wear jeans in public, why can't men wear skirts? The result of the mini-movement was more than a few suspensions, as well as an interesting array of outfits: men wearing kilts, wraps, miniskirts, dresses, all with an inherently masculine aura around these traditionally female garments.I tried to keep this experience in mind when I saw that lingerie companies were starting to aim some shapewear products at men. I wanted to feel as progressive as I was back then, willing to embrace garments as gender-neutral. But now it's come to this: Yes, pantyhose for men. This is a trend Buzzfeed turned us on to (if it can even be considered a trend) that I can't even begin to understand. For why do women wear hose? To hide hairy legs, keep bare ones warm in winter, or make wearing a skirt at work an utterly non-sexual act. So what reason to men have to sport nylons? According to Comfilon, one retailer, "This is NOT your mother's panty hose! ACTIVSKIN tights for men and pantyhose for men are designed for male dimensions and anatomy. In sports they will help increase your lower body power and stamina, making them ideal for running, biking, skiing, football, soccer, and golf." But...aren't there already sports products for that kind of stuff? I gotta say, this trend has nothing to do with gender equality in clothing or open-mindedness about gender roles. It's a marketing ploy, pure and simple--trying to sell men one of the few products they've never been a buying public for. And I'm not a fan.What about you? Are there any redeeming qualities to men wearing pantyhose? Would you want your man stealing your No Nonsense?
Guy Friday: Cool Summer Cords From Cordarounds
What: Cordarounds Summer Cords, $85Why: Summer is always a challenge for men. While it is easy to throw on shorts, t-shirt, and flip flops, it's a bit more difficult to dress up and look good. The Cordarounds summer cords solve that problem. Extremely lightweight, these great looking cords have a unique style to them - the inside layer of the cords and pockets are lined with a very cool check pattern. And while you may be surprised to see cords in the summer - Cordarounds use a fabric that is lighter than most twill and seersucker pants! Extremely comfortable and versatile, your man will appreciate this unique summer surprise.Bonus: Summer Cords come in Tan, Navy, Leaf and Orange.Get Yours: Cordarounds.com
Guy Friday: Make Him A Do-Gooder With This Tiny Revolutionary Tee
What: This Shirt Saved a Life T-shirt, $42 Why: If you read my posts and articles, you know that I am not a fan of "expression" t-shirts—they're so 2006. But I'm making an exception for This Shirt Saved a Life tees from Tiny Revolutionary™. Twenty dollars (nearly half the price!) of each shirt sold provides a child in the Buduburam Refugee Settlement in Ghana one nutritious meal every single day for a year. Amazing when you consider my lunch today cost me $9.97. These shirts are made from super soft cotton and use eco-friendly printing materials. My favorite part is the number you'll find on the inside of your shirt, so you know where you stand in supporting this amazing effort. So help your guy look and feel great! Get Yours: tinyrevolutionary.comP.S. Baby sizes are also available, which make wonderful gifts!
Guy Friday: A Great Item For A Great Cause – LIVESTRONG Packable Men's Jacket
What: LIVESTRONG Ultralight Packable Men's Jacket, $60Why: This could be the perfect gift for your active man. Just recently, athlete extraordinaire Lance Armstrong and Nike launched a new line of clothing and accessories for men, women, and children. One of my favorite items is the LIVESTRONG Ultralight Packable Men's Jacket. Perfect for walking or running in cool weather, this jacket features a cool half zipper with the words LIVESTRONG proudly beaming across the chest. It's extremely comfortable and is made of 86% polyester and 14% spandex. The best thing about this jacket - 100% of the profits go to the Lance Armstrong Foundation to help fight cancer. You'll feel good buying this jacket and your man will look good wearing it. Potential Bonus: This jacket also comes in bright yellow. Get Yours: NikeTown.com
Guy Friday: Kenneth Cole For Your Stylish Working Man
What: Kenneth Cole Flap Messenger Bag, $150 Why: So here is a practical idea for your man. If he is one of those guys who needs to bring things from home to the office - isn't it important that he do it with a little bit of style? The Kenneth Cole messenger bag is the perfect accessory to keep your man organized and looking good at the same time. This messenger bag, with an adjustable shoulder strap, can be worn over the shoulder or across the chest without being too bulky. There is a large section for a computer, folders and papers as well as two zipper pouches for those smaller items like keys or phones. The bag also has slots for business cards and pens which can be clutch when on the move. The color is also very sleek - a deep dark brown leather that adds a hint of sophistication. Bonus: Kenneth Cole has an assortment of styles if your man is picky about his accessories! Get Yours: Kennethcole.com
GuyFinds: Bluefly Appeases Your Male Label Snob
What: Bluefly Launches The Tailor Why: I'm a total label snob—from shoes and suits to eyewear and underwear. Even my black Lab, Larkin, has a Louis Vuitton dog collar. So when I heard that Bluefly launched The Tailor, an online boutique within their site for men interested in only designer labels, I was hooked. The selection is well curated and only includes dress attire from head to toe, and, like Bluefly, availability of sizes and colors can be limited. There are many terrific deals up to 40 percent off retail prices on current styles. To get you started, here's a great deal on a versatile, casual blazer by John Varvatos .Get Yours: Bluefly.com
Would You Want Your Man Sporting Shapewear?
Generally, we love shapewear. But every shapewear devotee knows that there's always the risk of that awkward moment when you disrobe to reveal to that special someone that your fantastic cleavage was in fact the work of floppy silicone bra inserts. Still, much as a torso trimmer may make you look like you're stuffed into a tiny tube sans clothing, the other eighty people who saw you that day will be none the wiser – and probably think that shapely silhouette is the result of a strict kale and pilates regimen.So, in the name of gender equality, I should not have a problem with this One-Piece Side Trimmer or Padded Butt Boxer Brief. But I do. The website claims these products will give you a "sleek, lean silhouette under tight-fitting fashions." Personally, I'm not too enthusiastic about the idea of my man slinking around in a silk jersey dress that clings to everything. But maybe I shouldn't be so judgmental. If a guy wants to wear a one-piece tank top and brief combo with a tummy-flattening panel, I suppose he should have that choice. Unless he's my boyfriend.What's your take? Would you buy your guy a slimming tank to match your Spanx cami?For some shapewear options for you, check out our ladies-only Shapewear Guide.
Perfect For Your Guy: An Umbrella That'll Last A Lifetime (And Not Whack Everyone On The Sidewalk)
Though I'm happy that Spring is here (please, please no more snow!), the season is marked by it's own brand of crappy weather. Namely, pouring rain. I hate rainy days; not just because my hair gets frizzy and I get wet no matter what I do, but because walking down the street means dodging people (usually guys) with huge golf umbrellas that take up the whole sidewalk. When the umbrella extends four feet in every direction, you're taking up too much space!Still, I completely understand the impulse. As a friend of mine once put it, I do not have the Umbrella Gene that allows me to put a regular-size umbrella over my head and stay dry in any way. I'm content with the snow globe-looking Nubrella, but I don't imagine too many guys being caught dead with that thing. The solution: Davek's Duet.This amazing device is only 14" long when collapsed, but unfolds to 55" in diameter--a respectable size, though not humongous. There's even enough room for your guy to be chivalrous and share with you as long as you get cozy. When closed, it's small enough to fit in a bag or umbrella pouch, which is almost unheard of for larger umbrellas. It keeps me dry, is easy to keep track of, yet isn't big enough to elicit dirty looks from other people.Other features include push-button open and close, one-button correction if it ever inverts, and a lifetime guarantee against distortion or breakage. Davek prides themselves on making a nearly indestructible product, perfect for those windy days when all of the elements are against you. If you ever lose it, you're entitled to one replacement at 50% of the retail price. If you do happen to have the umbrella gene, check out Davek's Solo model. Just shy of a foot long when closed, it opens up to a comfortable 43" canopy. The handle features a clip for attaching it to your belt or bag.Find the Davek Duet ($149) and Solo ($100) at Saks.com and buy one for you or your man today. Because inevitably it will rain tomorrow, and the next day.
HeFinds Guy Friday: Toasty Toes
What: UGG® Australia Scuff Slippers Why: With another month of winter to look forward to, your guy will get a lot of use out of a pair of UGG® Men's Slippers. Available in a variety of styles, we especially love the Scuff Slippers. The rich suede upper comes in several earth tone colors, while the lining is a super soft fleece to keep his entire foot toasty (don't let the slip-on style fool you – they've been keeping us warm all season). Our favorite part is the hard sole, which allows for a quick run outside to grab the morning paper. Price: $55 Get Yours: UGGAustralia.com Check out more ways to keep your man in tip top condition with SheFinds guide to Hippify your Guy, and Groom Your Guy. Check out SheFinds UGG® guide for all your UGG® related news.
Guy Friday: Pocket Squares Add Panache
What: Ermenegildo Zegna Geometric Silk Pocket Square, $36Why: New York Fashion Week recently ended and we noticed a number of designers showing pocket square accents on the models. But this isn't your grandfather's boring, dubiously clean snot rag. From mild to wild, the traditional handkerchief has been upgraded—and updated—to the pocket square. It's another example of the trend back to a more sophisticated look with an emphasis on individual style. We love Ermenegildo Zegna's pocket square because its geometric pattern is modern, understated, and versatile for several suit colors and tie styles.Here are a few tips for pairing pocket squares with ties and suits:• If wearing an abstract patterned tie with many colors, keep the square simple with two colors (one of which is in the tie) and a subdued, repetitive pattern.• With patterned suits, like houndstooth or windowpane, stick with a solid square in a bright color.• For patterns, keep the square fresh with stripes, geometric shapes, and tight floral prints (no paisley, please!).• And absolutely no tie/pocket square sets—it does not communicate confidence.Get Yours: saks.com
HeFinds Pick: Revolutionize Your Man With The iPod Nike Sport Kit
What: Apple Nike and iPod Sport Kit, $28.50 Why: This may be one of the best things you ever buy your guy (V-day gift - hint, hint). Trust me. He will love you forever as you tap into one of the coolest new gadgets that is revolutionizing the fitness world. Apple and Nike have come together to make working out an entirely new experience. Here is what you need - the new Apple Nano 3.0 edition (it is square with a video window) and the Nike and iPod Sport Kit. The Nike Sport Kit comes with 2 pieces - one piece is a receiver that connects to the Nano and the second piece is a sensor that you put on your shoe. After a very easy setup, your man will be ready to roll. While you run, the sensor in your shoe is able to calibrate your running time, distance, pace, and calories burned. It then transmits that information to the receiver attached to your ipod and stores all of the information. When you get home, you plug your ipod into your computer and all of your detailed information is transferred to www.Nikeplus.com - an incredible website that becomes your fitness hub. At Nikeplus.com you can challenge friends or complete strangers to see who can run more miles over any amount of time you wish. This gift will keep your man healthy and make the experience incredibly fun. Special Note: It's recommended to purchase a cheap shoe pouch to hold sensor - or better yet- you can buy him a custom Nike Shoe that has a space for the sensor built in! Bonus: The Nikeplus website allows you to download songs that include inspirational coaching mixes that tell you when you should walk, jog, or run as fast as you can. Some of the current coaches include Lance Armstrong and Serena Williams. You can also choose a 'powersong' that allows you to play your most motivational workout song like 'Eye of the Tiger' with just the push of one button. Get Yours: Amazon.com
GuyFriday: Simple, Versatile "Little Black" Men's Shirt
What: Solid Black Shirt by Theory, $265Why: There was a fantastic article in The New York Times, Sunday Styles on February 3rd discussing the trend for men to dress in an understated, more refined style. This sexy, masculine look communicates confidence and cool with little effort. And we couldn't agree more. To achieve this look, we think every guy should add a straightforward, well-cut black button-down shirt in his wardrobe. The Theory Black Shirt is one my favorites because it's made with luxurious cotton and a little nylon for stretch, has a slim (not fitted) silhouette, and uses quality stitching and buttons. Dress it up with a suit and tie, or pair it with dark denim and sneakers. Guys will get a lot of use out of this fashion essential. For the casual ensemble, leave the shirt untucked and keep an extra top button undone for a relaxed, cool look. Get Yours: barneys.com
News Updates: Hathaway Pairs Up With Lancome, Natalie Portman Gets Shoe Happy, And More
Anne Hathaway has been named the spokesperson of Lancôme's new fragrance, which will debut in September of this year. [Eonline] Natalie Portman launches a vegan shoe collection in collaboration with Té Casan. [JustJared] Winners of the coveted Ecco Domani Fashion Foundation Awards have been announced. Seven emerging fashion designers claimed the honors. [WWD] Harry Winston and Kay Jewelers report an increase in sales of men's jewelry. Pearl necklaces and diamond rings are among the gentlemen's favorites. [WSJ]
Footwear News Names Tory Burch and Miuccia Prada Fashion Winners
Footwear News recently named Tory Burch its 2007 Brand of the Year for taking her "modest retail concept" to the uber-trendy brand it is today. And why wouldn't they? Tory Burch's signature cross has practically become the symbol of chic – worn proudly by the fashion-elite and celebrities alike. If you've been contemplating buying a pair of Tory Burch flats but are worried about dolling out nearly $200 dollars for a "trend," now is your time to invest—this designer isn't going anywhere.Neiman Marcus, Shopbop, and Saks Fifth Avenue all have a great selection of Tory Burch shoes, but the popular sizes tend to disappear as quickly as they're stocked, so buy quickly if you'd like a pair before Christmas. We're still in love with the popular Reva flat (especially the metallic version, $195), but we also adore the Uma Embossed boots ($595). Meanwhile, Miuccia Prada was the recipient of FN's Designer of the Year award. Prada was honored for "push[ing] the footwear envelope" with funky styles that resulted in two blockbuster collections. You can pick up a pair of her fabulous shoes at Saks Fifth Avenue (FN's Retailer of the Year for 2007).Additionally, Timberland was granted FN's first-ever Green Award for their efforts in the environment including posting a "nutritional label" on all their shoe boxes and their "Reboot" program which allows customers to turn in their worn-out boots to stores. You can purchase a pair, such as these Wodehouse Wing Tip Oxfords ($225) for the fella in your life at Nordstrom.com.
Guy Friday: Pants That Feel As Good As Pajamas But Are Acceptable On A Date
What: Bonobos Pants, $100-$160Why: Okay, guys--listens up. Just because you don't have the slim physique of Orlando Bloom or the super skinny hipsters that just moved in on your block doesn't mean you shouldn't have your pick of cool pants. We women can't figure out why slyish men's clothes seem to be cut for dudes with no butt (hello, we're not interested in dating someone with a teenager's body), but the alternative for guys with a more athletic figure seems to be baggy, badly-made designs that make skin-tight seem preferable.So we couldn't be any happier with the discover of Bonobos, a small web-only site launched by two Stanford Business School grads with an eye for fashion and real men, not European runway models, could wear. The results? Fashionable trousers that are just as appropriate for Saturday night on the town as they are lounging around the house Sunday morning. Fun details include patterned pocket trim and bright color options plus a variety of styles in lightweight corduroy, cotton twill, and even a wool version for battling the cold weather in style. Cuts are true to size, so if you know your waist and inseam, you can order without concern for finding the correct fit. But remember--pants are made in limited quantities, so if you see one you really like, get it quickly. When it's gone, it's truly gone. Get Yours: Bonobospants.com
News Updates: Versace Gets McDreamy, Kathy Hilton Gets Some Shoes, And More
McDreamy's scrubs get an update: Patrick Dempsey will be the new face of Versace. [FWD] Rumor has it that the Hiltons will buy bankrupt footwear brand Charles Jourdan for use as a launching pad for Kathy Hilton's first line of designs. [WWD]Tom Ford announces the opening of two Moscow stores. [Bloomberg] Los Angeles police seize $8 million worth of counterfeit clothing, jewelry, and accessories. Guess those designers are right about the copyright infringement problems. [Apparel News]
Runway Recap: Menswear? What A Snooze
The latest installment from SheFinds reader Casey: Sorry kids for the delay in writing, we fell asleep during the show... literally. Menswear?? Snooze.Yes yes yes, our boy Jack was the winner and that made us happy. We also thought Kit did a great job -- his fleece and chenille combo proved both practical and innovative. Kevin's outfit was well done, too, but it reminded us of something from a period film--maybe the new Sweeney Todd. And truth be told, we liked kooky Elisa's casual outdoorsy outfit as well.The two worst outfits were in a word: HILARIOUS. Sweet P's collar looked like perhaps it was sewn on backwards, and the tie was just plain silly. Carmen's combination of an 80s jacket with beret (???) and no shirt was laughable. Ricky's was the third in the loser pile, and, while it was dull and unfinished, it was nowhere near as bad as the other two. As for the elimination, we think Sweet P has more to offer, so we were relieved to see Carmen go. (Editor's note: if you want your guy looking like Jack not Carmen dressed him, check out our guide to the best menswear styles.) A word to future designers: When one is selected to be on Project Runway, practice the following: 1. Creating outfits out of paper clips, live snakes, potatoes, and salt shakers, Macgyver-style. 2. The art of saying clever, snarky comments with a wink to the camera. 3. Time management 4. Making menswear. Future contestants be warned! Now let's get back to the womenswear, Tim.
GuyFriday: Cheeky Tees for Gay Boyfriends
What: Pervartistry "Pitcher/Catcher" T-Shirt, $24.99Why: Show your gay boyfriend some love by surprising him with a fabulously witty (and slightly naughty) tee from Pervartistry. We especially like the "Pitcher/Catcher" message, and, speaking from experience, it'll put your GBF at the center of attention (in a very good way). Made from super soft, 100% cotton, these tees run true to size with negligible shrinkage. I'm picky about t-shirts, and I've found these to be excellent—comfortable, perfect fit at the shoulders, arms, and hips, plus no pilling. How's that for a "snap, snap?" Get Yours: Pervartistry.com
News Updates: Harajuku Style Explained, Shaq Designs Watches, And More
Confused by Tokyo fashions? A new book examines the world's wildest street style. [FWD]Shaquille O'Neil teams with watchmakers Audermars Piguet to create his own timepiece. [WWD] Wired doles out shopping advice for the holiday season. [Wired]Venus Williams launches EleVen, an affordable fashion line with no piece retailing above $19.98. [Chicago Sun-Times]Events: If you're in New York today, check out the Rebecca Taylor sample sale from 10 am-6 pm at 145 West 18th Street. Only happening on November 12th!
News Updates: Beckham Drops His Drawers For Armani, Diesel Gets 3-D, and More
Armani drafts soccer hottie David Beckham to rep his new line of men's underwear. [WWD]Diesel looks at e-commerce in a new way with their three-dimensional online shopping site. [Style.com] Ben Affleck's new flick shines a spotlight on a small t-shirt company. [Boston Globe]Unfortunately, it's true--stress makes you uglier. [Science Daily]
HeFinds Guy Friday: Get Grown Up Girls With Prep School Sweaters
What: Cotton-blend Argyle Sweater, $88Why: Here at SheFinds, there's very we miss about high school, least of all the guys. But when we tune in for our weekly Gossip Girl session, we have to admit that the fellas aren't looking half bad. Don't get us wrong--we want real, adult men in our lives not 20-somethings playing teenagers--but we can't get enough of Chuck Bass' good-boy-gone-bad look.To bring a little prep school flava into our mens' lives, we turn to Banana Republic's cozy argyle sweater. The soft blend of cotton, cashmere, and angora won't rub anyone the wrong way (if only we could say that of teenagers), while the argyle pattern adds just the right amount of country club style. Just remember, guys: you don't want to over-do the look, so make sure you match your preppy pattern with some cool jeans and mussed hair. We're looking for a good guy with an edge not the debate team captain.Get Yours: Banana Republic
HeFinds Guy Friday: Yee Haw! Giddy Up with Ginch Gonch!
What: Ginch Gonch Western Star Brief UnderwearWhy: Saddle up, stud! These sexy, sassy Western-inspired briefs are part Underoo for big boys and part cowboy for the metrosexual. Fun, fabulous and most importantly, comfortable."These are definitely the most fun pair of underwear I've ever seen -- very retro. But they're not just stylish looking; they're actually comfortable, easy to move in, not too sweaty and they're also pretty sexy. They definitely got my partner interested!" Price: $27 Get Yours: BareNecessities.com
HeFinds Guy Friday: Classic, Comfy and Toasty Boxers from Tommy Hilfiger
What: Tommy Hilfiger Rayburn Stripe Boxer Brief UnderwearWhy: These 100% cotton boxer briefs offer all-American style and the everyday comfort expected from a no-fuss pair of underwear. Here's what our tester had to say:"They're comfortable and all cotton, so that's a big plus. The only thing is that they're kind of long. I can't see wearing them in the middle of summer or while playing sports because they're too hot and constricting, but they'll be perfect in winter to stay warm. As for the style, they're your basic boxers. Simple style and average support. They're like your everyday, wear-to-work underwear, not like your gotta-look-hot-for-a-girl underwear." Price: $18Get Yours: BareNecessities.com
HeFinds Guy Friday: The Best Boxers Ever?
What: Calvin Klein Steel Cotton Gripper Trunk UnderwearWhy: Lightly elasticized cotton boxer briefs are cut short to offer extra mobility and a sexy look. The chic silver band is stylish and emblazoned with the namesake that my boyfriend, for one, calls "the best boxers ever, hands down." Calvin Klein's name aside, these boxers were given five stars and the top rating amongst others tested. The biggest advantages? Comfort and style."If I could only own one type of boxers, these would be my choice. They're reasonably priced and comfy. I wouldn't wear them any other way." Price: $22Get Yours: BareNecessities.com
HeFinds Guy Friday: Eco-Hunky Boxer Briefs
What: C-IN2 Bamboo Army Trunk with Trophy Shelf UnderwearWhy: One of the most versatile and exciting new fabrics on the market is bamboo. While most guys will vouch for 100% cotton being the most comfortable fabric they own, bamboo is not only sustainable, but it's more comfortable, naturally anti-microbial and moisture-wicking. When we asked our tester if the fabric felt better than the rest of the underwear he owned, he vouched for these being "really comfy and soft, probably more than any other pair I own." So how about that "trophy shelf?" I guess we can compare these trunks to a push-up bra for women. It's meant to keep things in place and offer support, plus enhance a man's assets via special seams. "Oh yeah, they keep my, er, 'jewels' in place. And it makes my, you know, 'package' look pretty good, if I do say so myself." And there you have it: sexy, comfortable and functional. Sounds like a winner!Price: $24Get Yours: BareNecessities.com
HeFinds Guy Friday Celebrity Style: Mr. Big Is Back!
According to Variety, Chris Noth is set to reprise his role as our favorite shoe-obsessed columnist's favorite accessory in the upcoming "Sex and the City" movie. The mind boggles: will we now call him "John" as his name was released during the series finale? Will Big and Carrie finally tie the knot? Filming starts in September with the film due to be released in 2008.We all know that the movie has four main actresses but it also has two additional stars: the city of Manhattan and the amazing wardrobe. Big is a mogul, with an impeccable Donald Trump-esque wardrobe that's impeccable, conservative and screams quality. What better way to start building a similar wardrobe than with a nice wallet? Coach has plenty of great styles, the leather is backed by their famous warranty and it weathers beautifully. Try the Legacy Slim Billfold Wallet in Whiskey (a lighter boot-leather camel brown) or Mahogany (a darker, weathered saddle-leather color). Just be sure he takes it out at the end of the dinner. Get him this present and there's no going Dutch, ladies. Get Yours: Coach.com
HeFinds Guy Friday: "He Wears (not so) Short Shorts"
What: Modern Amusement Washed Cotton Poplin Bermuda Shorts Why: Stores may be filled with their Fall collections, but we still have two more months of shorts weather and now is the time to buy. For men, gone are the days of boxy, relaxed-fit shorts for all occasions. And do we even need to discuss pleats? Tailored, straight-legged shorts that extend to the knee are all the rage in a variety of patterns and colors. We really got into these Washed Cotton Poplin Bermuda Shorts this year; stylish, casually dressy and a great price. We found a few options on sale at Nordstrom, plus a few "extended season" (i.e., not on sale) pairs that your guy should have. We think this style will be even more popular next summer, so hurry and get them now.Price: $51.90 - $78Get Yours: Nordstrom.com
HeFinds Guy Friday: A Woodsy Scrub for "Real" Men
What: Lather Bamboo Lemongrass Foaming Body Scrub Why: Have you noticed that it's all about bamboo these days? From floors and clothes to towels and sheets, bamboo has now found its way into a body scrub. Lather Bamboo Lemongrass Foaming Body Scrub is made with powdered bamboo (from India, no less) to slough away callus and dried skin. It looks and feels like sand, giving you a non-abrasive exfoliating experience. And because of the foaming action, we found it washes away easier than other scrubs. You'll feel smooth and smell fresh.Price: 8 oz. $38, 16 oz. $68Get Yours: Lather.com
SheFinds News: Gmail Loves Threadless
Now really, who doesn't love a good tee? Sure it is easy to run down to the mall and pick up any old cotton short-sleeved Abercrombie-ish top with distressed lettering and not so subtle propaganda like "Sexy is Always in Style, A&F" (oh, how clever), but with so many creative talents and forward thinkers living in the world today, I truly believe that we can do better. Enter Threadless, a community oriented online T-shirt store where users can submit their own designs, which are then put to a public vote. A few of the best submissions are selected to be printed and sold in the online shop, while the winners receive a prize of cash and a store gift certificate. In addition, there are special "Love Threadless" competitions where a theme is given to inspire designs and on top of the money awarded, the sponsor, (in this case Google), will gift something a little extra. So, if you just happen to be interested in winning an Apple iPhone or some JetBlue airfare, get those creative juices flowing and submit your design over at Threadless. The current theme is "Connect." Go ahead… live beyond the mall, I know you can do it. Be sure to check out our Tee Guide, where you'll find all of our favorite tees, from the super soft to the most flattering fits for your body type.
Eco Find: Earth Friendly Fashion from Signorelli
What: OmniPeace Tees Why: OmniPeace embodies the concept of fashion with a mission, pursuing the honorable goal of ending extreme poverty worldwide by 2025. Among the avid supporters of the cause are Courteney Cox (who recently hosted the OmniPeace launch party) and husband David Arquette, as well as the unlikely pair of Angelina Jolie and Jennifer Anniston. Jolie has become a great supporter for the cause, and has visited the first Millenium Promise village in Sauri, Kenya. Aniston has been spotted wearing the OmniPeace tank in yellow, an act that can only be described as selfless given her history, and the cause's association with, Jolie. It's positively refreshing to see celebrities uniting for such an important cause in spite of personal differences. The shirts come in different colors and cuts with the most popular being the Tanks in Black or White as well as the Black Tee. For trendier designs by Signorelli that are popular among celebrities check out the selection at Shopkitson.com. Price: $25-65 Get Yours: CoutureCandy.com and Shopkitson.com
HeFinds Guy Friday: Fabulous Fedoras
It's the influx of fedoras! The NY Times confirms that it is again a dapper dude who will don his fedora -- slightly raised and tilted to one side. We loved it on Justin Timberlake, who made it part of his trademark look, but we think it would look just as dashing on you debonair gentlemen out to rock a stylish summer getup. It's the instant fashion piece that will add charm, experience and class. We're loving the classic straw Panama Hat from Brooks Brothers, which is perfect for summer, however, at $328 it might feel more stifling than freeing. Get the Guess White Linen Fedora at a discount (it's only $28) and it'll be smooth style sailing from here on out. As fall approaches, switch over to a heavier print and warmer fabric like that of this BRIXTON Plaid Stroll fedora ($50), much like the ones you see Justin wearing.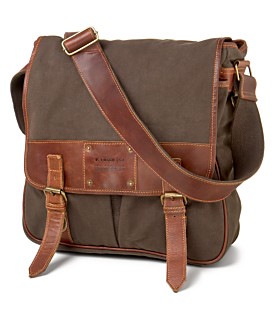 HeFinds Guy Friday: Watch Out for Those Dangerous Man Bags
So you finally went against what you thought was your better judgement and broke down and bought yourself a "man bag." Well, watch out misters: that bag could be as bad for you as the two-ton-oversize handbags your girlfriend carries around with her like a ball and chain.According to some recent research done in the UK, men have a propensity for carrying around fancy iPhones, iPods, cameras, $100 headphones, PSPs and laptops, not including cash. Make that a Gucci bag and the value of that "murse" (as Fashionista calls it) can be worth a pretty penny. To thieves, that bulging man bag translates to walking dollar signs, as one bag along could carry up to $500 worth of stuff or more.The solution? First thing: check with your insurance provider to see how much they'll cover of personal possession theft away from home and decide if it's worth putting out extra cash to protect your valuables when you're on the go. The next thing: keep cash in your pants instead of in your bag. Pickpockets rarely try and lift cash buried deep in a front pocket, but if you lose your bag, that cash is history. Finally, buy bags that safeguard your stuff a bit better like these stylish murses. Our top pick is this Fossil Recon North/South Messenger Bag ($88 @ Macys.com).
SheFinds Preview: Puma Goes "Starck Naked"
What: Starck Naked Bodywear Why: Puma has taken it upon itself to dub Adam and Eve the latest fashion icons. In a second collaboration with quirky French designer, Philippe Starck, Puma has decided that it would be better if everyone walked around naked… well not completely naked, but in a new collection of seamless lycra "second skin" called Starck Naked Bodywear. This new line for Summer '07 features fifteen functional, stylish and body freeing pieces for both men and women, available only in the simple colors of bone white and a chalky black. To ensure the feeling of nakedness, this new hi-tech fitted underwear is extra revealing with perfectly designed transparent cutouts in all the right places. Check out this funny little story about the evolution of the new line. Who knew half-upright monkey men had so much style? When: Available at select store locations already and coming soon to Puma.com.
HeFinds Guy Friday: Transform and Rollout!
What: T-shirts to transform your weekend wardrobe. Why: You know you love it; the '80s just couldn't have been the same without Transformers. Now that Steven Spielberg has whipped up a new version of the cult classic, it's time to pay hommage to the original with kick ass T-shirts from Urban Outfitters. End your hunger to destroy the planet with this wicked Decepticon T-Shirt in dark grey, or if you're rolling with the good guys, consider the totally rad, blue faded Optimus Prime Tee. Either way, you can get your fill of the coolest cartoon ever with these dope tees perfect for brining back memories of the good ol' days. Price: $28Get Yours: Classic Tees for him at UrbanOutfitters.com.
HeFinds Guy Friday: La Loop Necklaces for Eyewear
What: La LOOP -- The world's first necklace for eyewear. Why: Debuting in 2000, la LOOP necklaces for eyewear were the first to combine luxury, fashion and function. Seen on A-listers like Brad Pitt and Adrian Grenier, La LOOP chains feature a patented 360-degree swiveling loop that hangs at the center of each necklace, so you can rest assured that your sunglasses will stay out of harms way. No more losing your aviators or squishing your Tom Fords. Just take a moment to peruse the selection, and you'll find they have a wide variety of "loops" for both guys and gals in all sorts of colors and materials. From leather and precious metals to gemstones and more, there's a la LOOP for everyone. The Snake Silver la LOOP necklace is shown here; a sexy, sleek, contemporary necklace that serves the manly man and his need for a practical sunglasses holder perfectly. Price: $225 Get Yours: laLOOP.com