What Bride Doesn't Need A Personal Assistant? Get One For $1/Day On FancyHands.com
Wedding planners are an indispensable part of the wedding industry - but that extra set of helpful hands can come at a steep hourly rate. If you don't need a wedding planner as much as you need a magical little wedding elf that magically appears whenever you need him most, check out Fancy Hands. Fancy Hands is a team of highly professional, US-based personal assistants waiting to do your beck and call. For as little as $25 a month, you can turn over tedious and time-consuming tasks to the pros at Fancy Hands. Here's a few of the requests Fancy Hands has recently fulfilled for busy brides... (more…)
All Your Guests Have Smart Phones, So Skip The Wedding Website & Make An App Instead
Wedding websites? Très passé. If you want to share info about your big event with your tech-savvy nearest and dearest, wedding apps like Appy Couple are the way to go! Appy Couple is so popular, the waiting list has surpassed 7K - even though the app is still in beta mode! So what's so great about Appy Couple, you ask? Appy Couple's CEO Sharmeen Mitha-Sehgal weighs in: "Appy Couple is mobile, and gives you the wedding information you need right when you need it—directions while you're on the way, registry shopping when you're out and about, travel info, dress code and more." Also, have we mentioned it's currently FREE? (more…)
A Virtual Ring Finder & Online Dressing Room: Take Your Cyber-Obsessing To The Next Level
Let's face it, you spend most of your workday cyber-obsessing over inspiration boards and gowns you can't afford. We're not knocking it -- there are tons of online wedding tools to help you save money, and plan your dream wedding. We've told you about different eTools and apps in the past, and today we bring you 2 new f-amazing ones: (more…)
Manage RSVPs, Practice Your First Dance, And Change Your Name – All Online
When it comes to planning your wedding, don't neglect the technology that makes planning (and life) easier. We've already told you about some of the best wedding apps out there, and now we bring you helpful websites, too. If a website can change your name, write your wedding speech, and manage guests RSVPs, you'll have more time for wedding shoe shopping. Score! Get a wedding planner - for less than $25: Weddings Kit: ($24.95) offers a one-stop wedding planning resource: from choosing the right date, hiring vendors, managing your budget, and maintaining your guest list, the website does it all. Change your name - without standing in line at the DMV: Miss Now Mrs ($29.95): Getting married is worth it, but changing your name can be a pain. Change your driver's license, social security, passport, and IRS on this on-stop shop. Send invitations - sans the postage fee: Nearly Weds: $14.99 per month/$99 per year) offers website designs from favorites like Wedding Paper Divas, and lets guests RSVP online - which means you save on postage and printing. Practice your first dance -  while lying on the couch. Waltz, Your Wedding Dance (Free): If you've got two left feet and no money to pay a dance teacher, watch free dance demos on this app by the Ballroom Dance Channel. Write a thoughtful wedding speech - whether or not you're really into it. Your guests aren't the only one making speeches--the Wedding Speeches for the Bride ($1.18) Android app  is designed to help you write the perfect, thoughtful wedding speech. Build a wedding website - that suggests music for your wedding: With features like Youtube videos, online RSVP, and music suggestions WedSimple.com ($40 for six months) is not your average wedding website site. Know what else makes wedding planning easier? Sticking to your budget. Visit our guides to inexpensive wedding dresses, cheap wedding invitations, or inexpensive wedding shoes.
Foolproof: Lindsay Price's Ridiculously Chic Cocktail Party Look
It's that time of year when all of our winter clothes start to feel boring, and we're on the lookout for cute party dresses that don't require a ton of effort. Cheers to Lindsay Price looked amazing in her party dress at the opening of Laguna champagne bar in Las Vegas, and for that, she gets our Foolproof stamp of approval. And now, of course, we want to copy it--but not quite on a champagne budget.  Here goes: We've got to admit, the lace trend can be hard to pull off, but this Free People t-shirt dress is made to feel comfortable, with lace just at the top, so you get the look--without worrying about a see-through dress.  Because even if the paparazzi isn't snapping, you know there's always someone with a camera ready to upload to Facebook, and it's kind of like the same thing. Dare we say it? We actually like this Robert Rodriguez ribbon necklace a whole lot more than the one Lindsay's wearing, as it's unexpected, and kind of looks like a scarf and necklace all in one. If you don't have a studded cuff already, get in on the trend. You'll be surprised how many times you'll want to wear this ABS by Allen Schwartz one a week--and we can't blame you--from blazers to flirty dresses, this piece is like that girl at the office who gets along with all of the work clothes, er, colleagues, famously. This is a good candidate for a Taste Test--looks just like Lindsay Price's cocktail ring, but it's only $50, with a ton of  detail that inexpensive rings usually lack. Get all the celebrity fashions you can handle--plus super pretty party dresses that will get you in the mood to go out and celebrate.
Fish Pedicures Cross The Ocean: Would You Let A Pirhanna Nibble On Your Toes?
What: Doctor Fish Spas Why: Not so long ago I heard about pedicures that employed buckets of flesh-eating fish for exfoliating tootsies of dead skin and callouses. Now we hear that the trend is moving up the body. According to Trend Hunter, man-eating fish spas have long been a popular staple in places like Turkey, Japan, China and Korea, but the trend is increasing in popularity. And why not? As you bathe in the hot water where these Garra Rufa fish naturally dwell, swarms of the tiny swimmers pick away the dead skin leaving behind healthy, soft skin. Just think -- we would never have to buy a scrub again! It's completely safe (since the fish only feed on dead skin) and users claim it's not painful, but that you feel a "tingling sensation." Plus, it's particularly useful for those who suffer from psoriasis. Fish pedicures have now hit the states, sort of - one DC area salon claims to be the only one in the country to offer the nibbling pedicure. It costs $35 for 15 minutes and $50 for 30 minutes. And this morning, Good Morning America's Diane Sawyer tried it out on the show. Check out Jezebel's take on the fearless act. I would be the first to offer my body as a guinea pig! How about you? Would you dig a doctor fish spa? Leave us a comment and let us know. And if you wouldn't be caught dead (and bitten) going in for this fishy treatment, consider some safe alternatives that don't conjure images of missing toes.
Taste Test: Which New Year's Party Dress Leaves Money Left For Champagne?
Both of these black sequin minidresses would looking dazzling at any New Year's Eve party. The only difference? One's price tag won't leave you much money for the bubbly. Can you guess which frock will set you back the most? Check out more of our Taste Tests
Sponsored Post: Spanx Shapewear at BareNecessities.com!
What: Thanks, Spanx! Spanx shapewear at BareNecessities.com Why: Party season is right around the corner... why diet when you can get SPANX? Trust us, it's the fashion accessory you must have right now! Great Find: All-Over Shapewear like this Higher Power High-Waisted Power Panty by Spanx ($34) at BareNecessities.com trims your thighs, whittles your waist - it shapes you high, it shapes you low - it shapes you and no one ever has to know! Deal Alert: Get Free Shipping on all US orders over $100 at BareNecessities.com!
SheFinds Examines the Evolution of Girly Fanwear
As a member of the fashion loving community, I am always maxing out my style mojo putting my best manicured foot forward in every aspect of my life and daily routine. I have somehow managed to successfully and stylishly dress each of my many personas -- Work Me, Gym Me, Casual Me, Hot Date Me, etc. Yet, despite my great efforts, there is still one part of me that is sadly neglected: the Sports Fan. I am sure other lady sports enthusiasts will attest that when it comes to fashionable game-attending attire, the pickings are quite slim. (Try leaving your house in a potato sack-like "medium" sized jersey that is down to your knees and see how attractive you feel). For a while, "girl fan attire" just meant taking any of the men's apparel items -- same sizes, styles and everything -- and manufacturing them in a stock, pale bubblegum pink. That was about as much as the boys were willing to concede to us...until now. It seems like they've finally realized that we, too, are dedicated fans and deserve better. We actually go to games for fun and not because our boyfriends have dragged us along. We turn on SportsCenter every night instead of watching E! News and we can banter with the best of them about who is a better Cy Young candidate and which teams will clinch a spot in this year's Fall Classic (um, the Yankees). Given all this, we deserve our own apparel that actually fits and, Babe Ruth forbid, looks cute. In all fairness, some strides have been taken recently as Alyssa Milano debuted her own celeb fashion line of girly baseball fanwear back in April and the NFL in collaboration with Reebok has now jumped on board with a line of clothing designed just for women, as seen in this commercial: So in honor of Monday Night Football and another great postseason to look forward to in the MLB, here are some of the best girly fanwear items we could find. And don't worry, you can still get the brightest pink Tom Brady jersey your heart desires. Order soon, though, because they are flying off of the virtual shelves. Click on any item to purchase:
Trend Alert: Get Wise to Owl Overload
Gone are the sweet swallows and sparrows of spring. For fall, stoic owls are the birds gracing graphic tees and dangling from gold jewelry. Maybe it's back to school time that's inspiring this knowledgeable trend or maybe it's Harry Potter mania taken one chic step further. Add a little whimsy to your wardrobe with pretty indie-vibe tees from J. Crew ($33) and Dittos ($85 @ Intermix). Keds' Eleanor skimmers ($20 @ Delia's), which feature a kicky owl silhouette pattern, will prove a smart shoe choice for comfort seekers.If subtlety is what you're going for, add owls to your accessories collection in the form of Anthropologie's golden Repose ring ($138) and Danielle Stevens Jewelry's slightly boho owl necklace ($106 @ Couture Candy). Or add a little cheeky charm, like Juicy Couture's ($48 @ Nordstrom), to your bag or keychain for some fun.Think the owl trend's a hoot? Check out more of these wise wears.
Trend Alert: All-Over Sequins
Next time you pack your going-out bag, don't forget to leave room for sunglasses. You're gonna need 'em to beat the glare of all the sequins you'll be seeing. That's right: sheets of shiny sequins are in for fall and that's good news if you like versatile, dress-up or dress-down pieces with lots of sparkle. As reported in our Hot List, Blake Lively's Serena Van der Woodsen rocked Tory Burch's Kylie shift ($750 @ Bloomingdales.com) in the pilot of Gossip Girl. Paired with a jean jacket, tights and a scarf, she made it the perfect first-date outfit. Looking to dress things up a bit more? Go all out with Betsey Johnson's magenta v-neck dress ($216 @ Bluefly). The notice-me color and spaghetti straps make it the ideal dress for a cocktail party.The sequin trend isn't about subtlety, but a hint of glint will do the trick if you're not up to taking a full-on fashion risk. Wear a little sheen with your jeans by picking a shiny top like Arden B.'s sequined racerback tunic in sunny yellow ($68) or INC's baby-doll top with shimmery silver sequins above the empire waistline ($49 @ Macy's). This look is ultra-versatile, but there is a right way to wear sequins. When shopping for dresses, avoid looking like a walking disco ball by opting for short styles that show lots of skin. And remember to pick lots of tiny sequins over randomly-placed pailettes (big circular sequins) — those can be unflattering in the wrong light.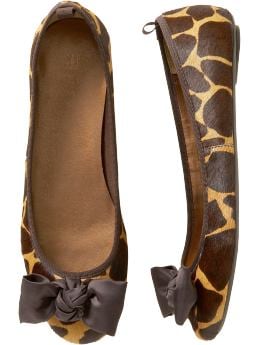 Deal of the Day: Up to 50% Off at Gap.com
DEAL OF THE DAY: Everyone's favorite store for must-have basics has slashed their already reasonable prices - some almost in half! Animal-print bow ballet flat (was $40, now $30): Everyone woman should own a pair of ballet flats. We like this pair because the animal print is so of-the-moment and the price can't be beat. Striped wrap hoodie cardigan (was $80, now $50): This striped hoodie is perfect for lazy weekends. Wear it with a pair of jeans for a laid-back look that's still pulled together. Striped ruffled shirt dress (was $70, now $30): The menswear craze isn't all vests and wide-leg trousers. This shirtdress is a nice, feminine take on the trend. MORE DEALS Prescriptives.com: Free standard shipping with every order of $50 or more Bloomingdales.com: Receive 20% off Bloomingdale's Classic Collection. Use code SV926. LuckyJeans.com: Free ground shipping on orders of $125 or more
Do You Heart SheFinds? Prove It! Vote for us in the Blogger's Choice Awards
It's not often that we ask for help. We like to pride ourselves on helping others navigate the shopping-sphere, but alas, there comes a time when we all need a little support. And so, loyal SheFinds readers, we need you!It's voting season for the Blogger's Choice Awards and naturally, we want you to vote for us. Why? Well for one, we happen to think we're doing a pretty amazing service, but more importantly so we can make the blog even better. (Gasp! Yes, even better.)So show your love for SheFinds - the blog that brought you the Bosom Button, Zakkerz, and countless shopping guides and we promise to continue to shop the web so you don't have to. Voting is easy, just click here.Love,SheFindsPS: To show our appreciation in advance for your vote, we pulled together these hot sale items for your viewing (and purchasing) pleasure.
Would you wear chalk on your lips?
Okay, not chalk exactly, but what about chalky lipstick? One step past the nude lip is the growing trend of chalky lips as seen on stars such as Rebecca Romijn, Vanessa Williams and Debra Messing. The look is a little mod, but also a little morbid. I guess I'm just not used to seeing lips so devoid of color and shine. The verdict is still out for me. I don't think it looks bad on these ladies - but not everyone has a professional makeup artist to perfect the look on them. The key is to compensate in other areas for what you're lacking on the lips. Notice how Debra Messing worked smoky eyes, Vanessa Williams an allover bronze glow, and Rebecca Romijn bright pink cheeks and full dark lashes. If you want to avoid looking like a corpse (which you do), incorporating color and life into the rest of the face is crucial. For those of you feeling adventurous enough to try this trend - I'll admit I'm still not there yet - here are a few good lipstick options available in colors for most skin tones: Clarins Le Rouge Sheer Lipstick (left); Lorac Cream Lipstick (center); Laura Mercier Lip Color Creme (right) What about you? Would you chalk it up on your lips?
A Hot Accessories Find: Gerard Darel Handbags
It's our job to keep you up on the hottest trends and we have a designer whose items are so now and on-trend that the stars are calling Paris to place orders because stock flies off the shelf every time the US supplier makes an order. So who's the hot designer on everyone's lips and speed dial?We give you Gerard Darel. A staple for stylish Europeans, the man and his scorching hot accessories are overtaking Hollywood. Who's carrying it? Who isn't?!? Angelina Jolie, Eva Longoria (who used to make special trips into his store to stock up on items while she was in Paris), Hayden Panettiere, Katherine Heigl, Heidi Montag of The Hills, Jessica Alba, Kate Hudson, Mischa Barton, Beyonce, Halle Berry...they're all carrying the hot bags from the new collections, which are now available (and going fast) here in the US. Fans of Grey's Anatomy and the CW's Gossip Girl and will also spot the hot new designs on the arms of cast members in this season's new episodes. We also happen to be obsessed with these bags and we've chosen our two favorites that are still available stateside: The Dublin "24" bag with pom-poms in Blush and its rocker counterpart, the Fringe "24" bag in Black.So don't waste any more time. These bags are going as fast as the fabulous LA boutique Rumor can order them, so get yours now!Get yours: shoprumor.com
Should celebs just stick to what they're good at?
I can't think of many celebrities who are content with doing just one thing. Models try their hand at acting, actors put out records and singers attempt to be designers. Some happen to do it better than others, but there are those (and we won't name any names) who really should just stick to what they're good at. Lucky for Jennifer Lopez, she falls into the former category. Yes, Jenny acts, sings, and dances quite well, but we have to admit we're still on the fence as to whether we should add designing to her list of strong suits. Ms. Lopez recently showed her latest collection, Just Sweet, at NYC Fashion Week and while we appreciated the sentiment - flirty, feminine pieces that are actually affordable - we're still questioning the execution.Of course, the collection has some sweet selects. This cropped cardigan sweater is great as is this leather bomber style jacket.There are also a few pieces, however, that made us go hmm. The cinched front leggings with foil look as bizarre as they sound and the cut out mock neck top isn't one of our faves either.So what do you think of Just Sweet? And what about celebrity lines in general? Should they just leave the designing to the trained professionals?We happen to think some celebs do actually pull off clothing lines quite successfully. Check out who gets our seal of approval.
Ethnic Sneakers, Trailer Chic and Why Women (Will) Rule
Tailor-Made: Nike designs new sneaker especially for American Indians [Seattle Post-Intelligencer] Special Delivery: Shopping in the comfort of a traveling trailer? [Styledash] Girl Power: Women positioning themselves for a fashion coup [WWD] Say What: Proenza Schouler taking the reigns at Valentino? Not exactly. [Portfolio] Business Matters: How much would you pay for a piece of Prada? [IHT] Copy Cat: The one brand all others simply imitate [WSJ]
Deal of the Day: Up to 50% Off at Barneys.com
DEAL OF THE DAY: Peruse the designer selection and stock up on your favorite fall styles. Kate Moss for Topshop Kaftan (was $120, now $59): We're simply in awe of the detailing and embroidery on this piece. Wear it over jeans or with leggings, just keep it simple -- the kaftan is the standout. Bonus: Want more Kate Moss for Topshop? Check out this peplum jacket on sale for $79. Mayle April Sweater (was $199, now $139): Everyone loves a comfy, cozy sweater, but this one if even better because it's a bit dressy. We love the sleeve detailing and the belt is key. Bonus: We couldn't decide which chunky sweater we liked best, so be sure to check out this sequin style on sale as well. Vince Short Sleeve Cardigan (was $220, now $139): This lightweight cotton-cashmere cardigan is a wardrobe staple because it works well with laid-back looks and polished ensembles alike. Bonus: Double your Vince pleasure with this oversized vest. MORE DEALSMaxandChloe.com: $10 off any purchase over $100. Use code: T7PR8Piperlime.com: Free shipping and free returns.Figleaves.com: Save 15% off orders of $100 or more. Use code: LS010602
SheFinds Solution: One Up the Moths — Save Your Sweaters!
Though we still have a few warm days left, there was chill in the NYC air this weekend that signaled the time had come: time to unpack my cool weather clothes. Facing the arrival of fall also means facing the unsettling sight of how many of my wool and cashmere sweaters now have holes in them from being stored away. Moths are no friend of mine and it never fails (no matter how many moth balls I use) that they manage to ruin one of my faves. Or so I thought. Instead of taking the loss to the moths this year and tossing holey garments, try taking your sweaters to a tailor or professional knitter for reweaving. Basically, he/she will mend the sweater by hand-weaving the hole closed with your sweater's material. It sounds simple, but it's actually quite intense (check out the picture). So you know when you buy a sweater and it comes with that little packet of extra thread? Save it! This is what the tailor/knitter will use to fix holes and snags. If you've already thrown it out, though, don't worry - most places that reweave should be able to come close to matching the fabric. After sorting through my bins, I took two of my sweaters in to be rewoven at $30 a piece. Now I know that seems pricey - especially in comparison to other tailoring jobs - but you have to keep in mind how meticulous reweaving is. Chances are your sweater was machine knit or woven and now the knitter has to match that pattern by hand. It's money well spent in my mind for saving a few of my favorite sweaters, not to mention still cheaper than buying new replacements. And hey, with the money you save why not treat yourself to something new?
SheFinds Asks You: Yikes! Would You Devein Your Hands?
We've brought you all sorts of odd beauty regimens: press-on toenails, removing toes so your shoes look better, pedicure by piranha pool, but we seriously think we've seen it all now. According to the Daily Mail, women in the UK are having veins removed from the tops of their hands for a smoother, younger look. The article goes into great detail about the reasoning behind the surgery: women are afraid of being judged harshly and are so afraid of appearing older that they're having plastic surgeons remove seemingly offensive (read: visible) surface veins right out of their hands. A couple of shots of anesthetic, some pricks and pulls, one or two weeks of swelling and voila!, no more large veins on the tops of your hands.Did you just yell "WTF?" We know we did. Have we really become a society that judges women so harsly that we're willing to take veins out of the tops of our hands so people won't think we look old? Crepey skin is definitely a sign of aging, but there are less invasive procedures you can undertake, like exfoliating and using a good anti-aging hand cream, for example. We recommend Pretty Feet & Hands Rough Skin Remover and RoC Retinol Correxion Hand Repair for your daily regimen...like, NOW. What do you think? Is vein removal chic or freak? Vote or let us know your opinion in the comments section.PS: Did you know you could get spider veins in your face? Well you can and a Dr. Bruce Katz, MD has developed a laser technology (called RBX) as a preemptive strike of sorts. If women are willing to dig veins out of their hands, we can only imagine what they'd be willing to do to get them off their face. Scary!
The State of the (Fashion) Union
Celebrity designed jackets for sale on eBay to benefit displaced children [NY Post] Milan Fashion Week: D&G, Cavalli, Armani and more! [Fashion Week Daily] Vivienne Westwood's rant about the sad state of (American) fashion [WSJ] Timeless or tired? Should some brands just die? [IHT] Food and fashion? Since when? [WSJ] Proud Prada: The luxury brands boasts big growth in first half [WWD]
Must-Have: Vince (No, Not Jen's Ex) Car Coat
So say you could only buy one new thing for fall - what would it be? Sure you could invest in a new pair of gray trousers or even splurge on some new boots, but anyone who's anyone (or who reads The New York Times) knows that one can't-do-without item this season is Vince's black patent leather car coat.This standout style is flying off the racks of all the stores that carry it and we're guessing it will be darn-near impossible to get your hands on now that it's "famous." But really, is anyone surprised this chic jacket is selling so well - the boxy cut, cropped sleeves, and big, covered buttons are a definite recipe for success. Add patent leather to the mix and you've got star on your hands.So congrats Vince, on designing a completely covet-worthy coat and congratulations to us for finding it for you. Pick yours up at any of the retailers below:* Shopbop.com* NeimanMarcus.com* Bloomingdales.com* BergdorfGoodman.com Now, before you go flocking to your luxury retailer of choice, we have to remind you we won't all be able to get our hands on this fab coat (and would we really want to anyway?). That's why we've compiled this selection of suitable and stylish substitutions. Enjoy!
SheFinds Poll: Which trend are you most looking forward to wearing?
The Results: It seems gray really is the new "it" color of the season. More than menswear and bold brights, SheFinds readers simply can't wait to wear the cool hue.Our Take: Though I was secretly pulling for fresh pops of color (gray does nothing for my complexion), I had a feeling the new neutral would be the fan favorite. It's chic and sophisticated, plus it provides a much need break from basic black.If you have reservations about the color (I know I did), check out all the variety and you'll soon see you're gray options are anything but drab. Here are a few of our far-from-dull finds:
SheFinds News: The Morning Roundup
* "They airbrush the f--- out of me," says Keira Knightley. Wow, doesn't that make us all feel better? [Styledash] * If the maxi dress didn't grow on you and you're tired of seeing naked butts hanging out of mini skirts, ease your mind with fall's new trend, the midi skirt. [Telegraph UK] * Carolee creates a limited edition collection of sterling silver bangles to benefit The Breast Cancer Research Foundation this September at Bloomingdales. [Bloomingdales] * Brace yourselves, heiress Paris is writing another book. [Sizzler]
SheFinds News: Fall Fashion Week at HSN Featuring David Rodriguez
What: David Rodriguez launches his new line, Fleur, exclusively for HSN.com for their online Fashion Week. Why: The prices on these clothes is really reasonable, starting at $29.90 for a Sweater Tank Top and ending at $129.90 for a Suede Bolero, plus the sizes go up to a 24. The color palette is soft and neutral -- perfect for fall -- and the patterns and styles make it easy to mix and match exclusively within the collection. There are a few stand-out pieces that are worth a look, starting with this great Shawl Sweater, a flattering, curve-accentuating wool/angora blend perfect for covering up in the office during fall and winter. Also on the must-see list are these much anticipated "revolutionary" Trousers with Adjustable Waist. All in all, his pieces are made to look polished yet feel comfortable and to have a rich, earthy feel to them. What do you think? Would you wear them? Get Yours: HSN.com
Eco-Chic Jewelry: Socially Conscious Diamonds
Make the four C's of buying a diamond into five; the newest quest for anyone in search of diamond jewelry is to find one that also meets the "conflict-free" criteria. If you know the story behind Brilliant Earth offers Canadian conflict-free diamonds, including pendants, earrings, rings and more. Adding to the already enticing buy is the fact that they donate 5% of their profits to the Diamonds For Africa Fund. * adding a comment! And don't forget to visit our guide to Eco-Chic Clothes and Accessories.