We all want that one piece of jewelry that will match any dress, no matter what party we attend this holiday season. So whether it's your dull office party or impressive dinner at your in-laws, make sure this Rachel Leigh Buchanan Necklace ($132) is adorning your neck. And since it matches both silver and gold jewelry, you can wear anything with it – including these 5 dresses:
Boss-Gets-Drunk Office Party:
This BB Dakota Meadow Dress ($105) is a great LBD staple for any time of the year – especially that office party where you want to look a wee bit sexy.
No Time To Change From Work Party:
When casual and comfortable combine, Banana Republic is your go-to store. Try this Holly One Shoulder Dress ($150) that you can bring out for seasonal parties to come.
Christmas Eve With The In-Laws:
If you're in the market for a versatile dress, look no further than this Twelfth St. by Cynthia Vincent Day To Night Dress ($238.40, down from $298). The vintage shoulder pads give this dress attitude.
Ex-Boyfriend's Annual Holiday Bash: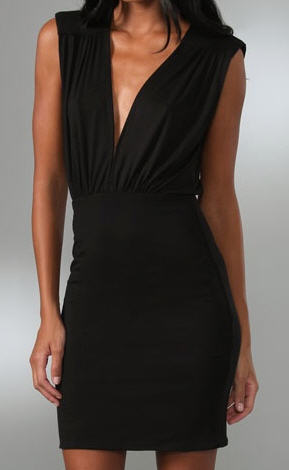 Reward yourself for not having seconds in this T-Bags Deep V Open Back Dress ($176). Wear it with flats or heels, depending on the holiday dress code.
The Ultra-Conservative Holiday Party:
For a more formal affair, slip into this Maggy London Lace & Taffeta Party Dress ($118) which hides any imperfect curve  maybe from a little too much eggnog, with the bow around the middle.
Check out all of our favorite winter trends. Shop our guides to the best black dresses and the best necklaces. Join our e-mail list for fashion updates in your inbox.