If you love Twitter as much as we do, you already know it's a great resource for quick tips on a slew of of subjects — wedding planning included. We've rounded up some of the best wedding-related accounts in the Twitterverse to keep you inspired and in-the-know.
No need to go hunting 'round the web; @LittleWedGuide scours all the major media sources for wedding-related stories — follow them and let the news come to you.
2. Wedding Bee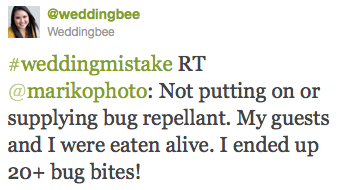 @WeddingBee's account, managed by EIC Cathy Schroeckenstein, culls bridal tips and tricks from the site's large force of bloggers and followers — like this jewel from a summer bride with bug problems.
3. Get Married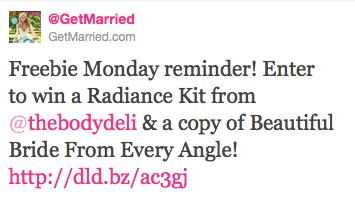 The bridal magazine @GetMarried not only offers inspiration — every Monday they offer giveaways as well as frequent discounts to online retailers with special codes for followers. Score!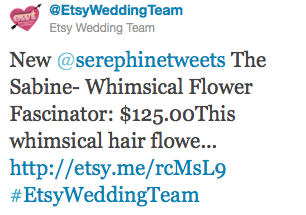 This team of 100+ Etsy artists show off new creations, from invitations to jewelry, all fit for a bride-to-be via @EtsyWeddingTeam. DIY and art-fanatic brides, take note.
5. The Plunge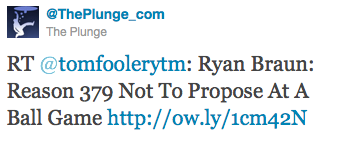 Here's one that proves weddings aren't all about the bride; we appreciate @ThePlunge_com's humorous guy's take on all-things wedding.
BAB founder Dana LaRue offers up bridal deals, giveaways, and fun-loving advice to help you get down the aisle without going broke @BrokeAssBride.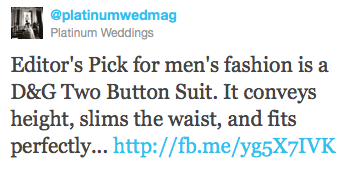 If you love drooling over designer fashions, add @platinumwedmag to stay on top of the latest in designer wedding wear and goods, with on-target editor's picks.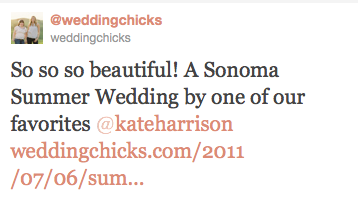 Get your drool-fest on with @WeddingChicks' inspirational photos (some of the best on the web). They also connect brides-to-be with fabulous vendors, who the ladies vet themselves.
9. The Knot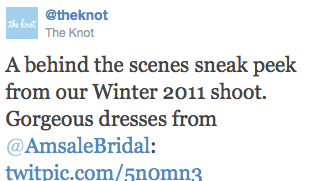 Now a quintessential online bridal guide, @theknot provides sale and deal news, upcoming fashion looks, and smart wedding advice.
10. Colin Cowie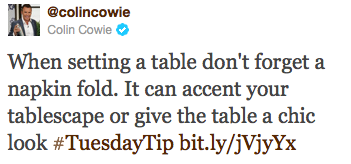 This is as close as you're going to get to a celebrity wedding planner of his calliber: plus, @ColinCowie's Tuesday Tips are almost always useful and easy to follow.
Honarary #11. BRIDEfinds
Well, you can't forget about us! Editor (and bride) Justine Ingersoll posts discount codes, Deal of the Days, and the latest in breaking bridal news (can you say, Reem Acra for Shopbop?). Follow us!
Of course, if you're not already following @bridefinds, be sure we're first on your list; we share our own sales and deals, wedding shopping guides, and fun Freebie Fridays!