If you're not on Pinterest yet, get yourself to the site ASAP. It's like all your favorite inspiration/wedding blogs in one place: the main feed of images, updated every minute, is a constant flow of gorgeous centerpieces, stunning gowns, mouth-watering cakes and much, much more. If you're just getting started, we have the 10 accounts you need to be following now.
BRIDEfinds:
Obvi! Follow editor (and newlywed) Justine Schwartz on Pinterest for your favorite Etsy decor finds, celebrity wedding photos, runway inspirations, and more.
Martha Stewart Wedding:
The ultimate authority on good taste pins color palettes, honeymoon destinations, gorgeous cakes and more.
The Perfect Palette: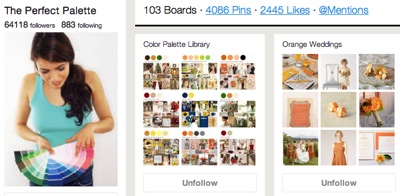 Based off the widely popular  blog of the same name, Perfect Palette is dedicated to matching bride's color palettes, so if you're still contemplating your scheme this is a great reference/resource for doing so. Many of the boards reflect specific color schemes, like this gorgeous  Chartreuse and Light Green board.
Etsy:
From the folks who bring you every handmade craft under the sun, comes a Pinterest dedicated to the quirky and clever finds of its staff.
Alexandra Beauregard of Heart Love Weddings: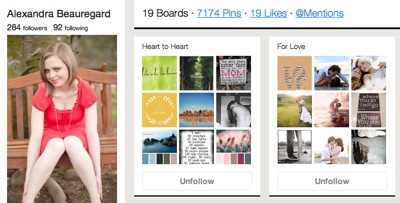 A bridal blogger herself, Alexandra pins plenty of fodder for brides – from Sweets and Treats like mouth-watering cakes, to real weddings, invitations, bridal fashion and more.
Scoots Lovely:
With over 14,000 pins, Scoots is one of the more prolific pinners — covering diverse topics, from  "fireplaces" to the more bride-friendly "shoes", "flowers" and "hair inspiration".
Emmaline Bride:
Emma, editor of DIY bride site Emmaline Bride, pins handmade finds, in addition to other inspiration photos, like these gorgeous engagement photo shoot ideas.
Style Me Pretty: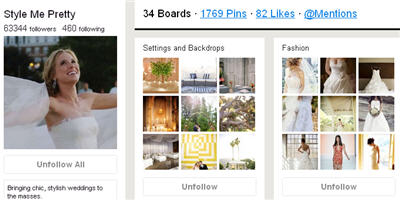 You probably already read this popular inspiration blog – and they're Pinterest account delivers, too. Get inspired on everything from shoes (oh hello, Louboutins) to centerpieces, hairstyles, and more.
Alison, The Knotty Bride:
The Knotty Bride blogger has pinned inspiration photos (hair, jewelry, cakes, etc) as well as DIY projects and some humorous tidbits, like this.
LuxeFinds.com: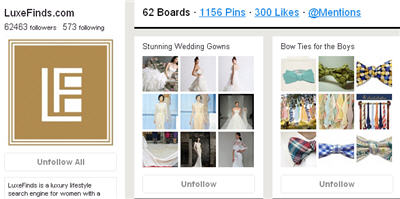 Labeled a "tastemaker" by the site, LuxeFinds has a big Pinterest following and posts on such deliciousness as Dessert Tables, Succulent Love, and Mason Jars as Wedding Decor. Yes!
Shop our guides to the best wedding costume jewelry, black bridesmaid dresses, and simple wedding dresses.