Identical Dresses. This is the time to have some fun with your bridesmaids and isn't getting to pick out four or seven dresses a heck of a lot more fun than just picking out one? There's a whole host of other reasons this works well for you and your bridesmaids: First, the same dress will never flatter everyone's different bodies. It's just not possible. At the very least, let your maids pick different cuts of the same basic dress. Or, if you want to take it a step further, just pick out a basic palette and style, and let each bridesmaid pick their own dress--one that they are a lot more likely to get extra uses out of. Trust us, they'll give a big "thank you" for this one.
[Photo: Ryan Ray Photography]
Solid Dresses. Sure, a solid dress is easy to match with your theme and all... but is it really fun? For anyone? It might be intimidating to think of some sort of pattern, but just choose a design or print that you'd wear if this wasn't your wedding. Remember: The more every piece of your wedding stands out, the more people will remember it. This is your chance to make a real splash!
[Photo: Ryan Ray Photography]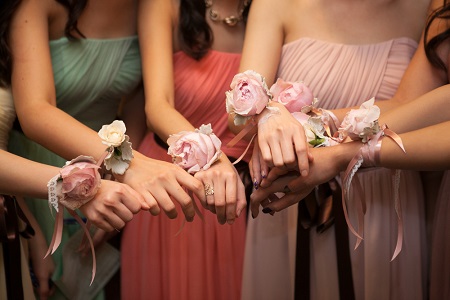 All One Color. Every detail in your wedding isn't all the same color, so why should your bridesmaid dresses? Instead of forcing your maids to wear a color that may not flatter everyone's skin tone, give them a color palette to work with so they can find a hue they feel beautiful in.
Identical Shoes. Switching up the shoes is just as much fun as switching up dresses. Like gowns and bodies, the same heel doesn't necessarily work on every foot. And it just isn't necessary--the days of being so matchy-matchy are over.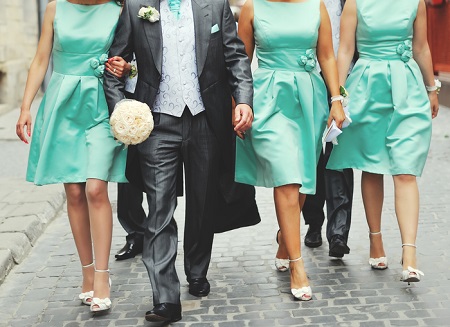 Same Number of Bridesmaids and Groomsmen. Okay, we won't begrudge you this one if it just works out that way... but don't feel like you need to work some kind of magic to make the numbers come out "right." It's more important that you include the people you really care about in the wedding party--no matter what that number is, on either side. If that means one more bridesmaid or two more groomsmen, so be it. Remember, it's your day--and nobody else's rulebook need apply.
Cowboy Boots. Even for the entire ten minutes before this trend was over, we didn't love it. Come on - are clunky cowboy boots really the things to pair with your beautiful hand-picked dresses? And even if that is the look you're going for--or your wedding happens to be at a dude ranch--there are ways to get the same look and effect without being quite so literal.
Matching Pashminas. Have we gotten the "matching" point across yet? No? In short: Don't. Pashminas and scarves included! Yes, a winter wedding likely means your bridesmaids will need something extra to stay warm, but how about something a little funkier or more original? Lace moto jackets? Dresses with sleeves. Just consider it.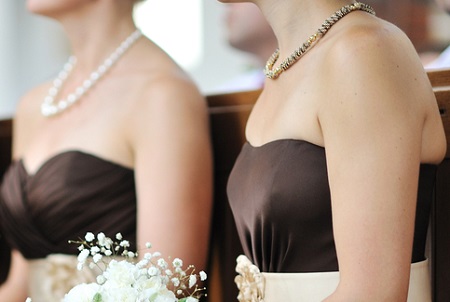 Matronly Jewelry. If there's anything else we hope to have gotten across here (besides banishing the word "match" from your wedding lexicon, of course) it's the concept of letting your bridesmaids stand out. They'll be standing in front of tons of people, too, so you want them to look good. It's no secret that accessories can make all the difference, so don't be afraid to let your maids throw on some statement pieces to really make their dresses pop. If it's worth wearing, it's worth people seeing, right?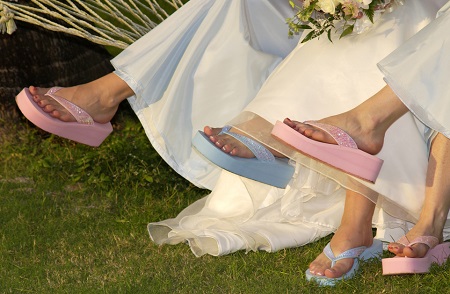 Flip Flops. From the cowboy boot end of the spectrum to the other end--flip flops--neither extreme is the way to go. Even if--no, make that especially --if you're having a beach wedding, thong sandals are not the way to go. At this point, they're pretty cliche, so just resist the urge.
Prom-esque Dresses. Your wedding is far from prom, so don't let it look like one with shiny satin-y bridesmaid dresses or layer upon layer of chiffon. If you're worried about choosing dresses that run the risk of being prom-esque, try looking beyond the bridesmaid department. Trust us, you'll never look back.