Finding Shelter
. You've planned to have your wedding outdoors, but what if the weather isn't going to cooperate? Hopefully, you already have a backup plan in place in case it rains. If not, then this is something you want to look into stat, whether it's finding a way to move your affair indoors or renting a tent. As any bride knows, you can control a lot about your wedding day--except the weather.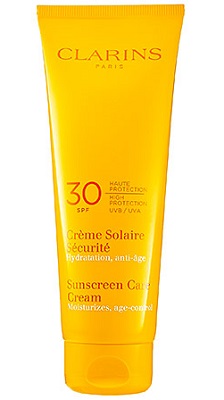 Sunscreen. Brides get so caught up in the basics of wedding makeup--and the stress of trying not to sweat--but making sure you don't get sunburned on your special day, especially if your wedding is outdoors, is super important, says Carmella Lanni-Giardina. "A simple reminder to put some sunscreen on can make a difference. If you're creating bathroom baskets, it doesn't hurt to throw in a bottle or two for your guests." ($35)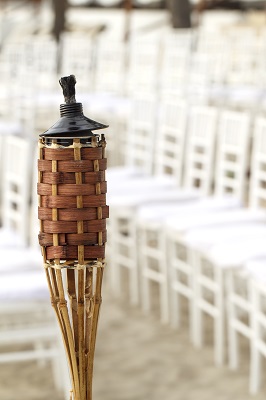 Spraying for Bugs. Bugs are a problem in summer, especially if your ceremony and/or reception will be held outdoors. Ask your venues to spray for bugs well a day or two before the event (so there's no lingering smell) or at the very least light some citronella candles or torches so that the little critters stay away from you and your guests.
The Cake. Not that you'd forget to order one, but you might not think about how the heat will affect the cake once it's delivered to your venue, says wedding planner Andrea Freeman. "Make sure there is refrigerator space to store the wedding cake. If not, you can time it with your bakery and have it delivered about an hour before the cake cutting. Buttercream frostings hold up the best in the summer heat, but even they can't be out for hours on end. Your best bet is to keep it chilled before you display.
Chilly Nights. Freeman notes that there could be a significant drop in temperature--like there often is with beach or desert wedding--during the summer months, so make sure that your caterer or rental company can provide portable heaters after the sun goes down. You can also supply pashminas for your female guests, handing them out as favors.
Hydrating your Guests. Your catering contract should be solidified at this point in time. If you're doing an outdoor ceremony make sure you double check to make sure that your catering company will be setting up a drink station. Fruit infused waters are a great option when it comes to keeping your guests hydrated and happy.
Comfortable Shoes. Feet can swell in the heat, which can make wearing heels even more uncomfortable. No one wants to see the bride dancing around barefoot at her wedding, so remember to buy comfortable shoes to change into so you can feel great all night, says recent summer bride Katelynn Wiggins.
Keeping everyone cool. One of the details summer brides with outdoor weddings often forget is to provide appropriate shade for everyone at the wedding, even the vendors--and especially their musicians, says Marta Segal Block, the Weddings Editor for Gig Masters. "Often times when thinking about tenting, brides only think about their guests and their comfort. Many instruments do not play well when exposed to heat and humidity, and oftentimes tents are arranged in such a way that musicians can't actually see their music in the sunlight. And brides also need to remember to provide water for their musicians or other wedding vendors who will be working outside."
Taking Care of Yourself. Don't forget to eat something and drink plenty of water before the ceremony, says Freeman. "There's nothing worse than missing the fun because of heat exhaustion on your wedding day. Food may be the last thing on your mind, but if you start getting ready hours before your ceremony, have photos, and then don't grab a bite until cocktail hour that can be bad news."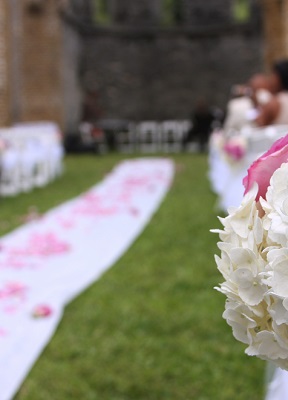 Dodging Wet Grass. You also want to make sure that your wedding shoes don't sink and get stuck in wet grass (caused by rain or your venue's sprinkler system). "Skip a disposable aisle runner and select a sturdy rug or plan the ceremony around a path," says Kate Harrison on mywedding.com.
Hair Accessories. A bride might want to pull her hair back when dancing--especially in the heat. Make sure you have something on hand, such as CyndiBands, elastic hair ties that can match a dress or wedding theme. Plus, they don't leave a dent, which is great when the bride needs to take her hair back down for pictures!