Bachelorette: This movie is about a group of three friends in their 30's who can't seem to get it together, and are reunited when their "fat friend" from college announces she's getting married. They link up for the bachelorette party, and eventually wind up ripping and getting blood on their friend's bridal gown after a night of partying. In their journey to repair the dress, they discover themselves, although by the end of the movie, they're still pretty crappy friends to this poor bride. If anything, the movie will make you thankful that your girlfriends aren't as horrible as these women!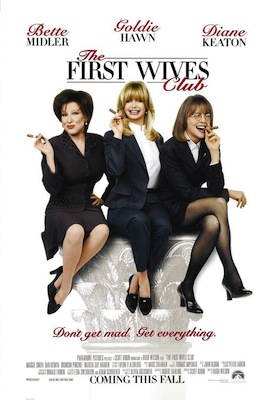 First Wives Club: Goldie Hawn, Diane Keaton, and Bette Midler are three divorcées on a mission to get revenge on their ex-husbands who left them for younger women. Who doesn't love a movie where women get even with the men who did them wrong?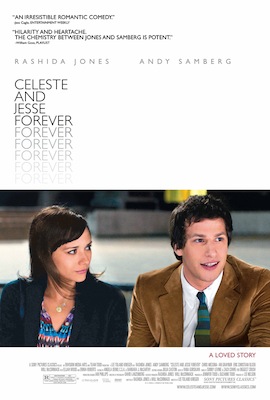 Celeste and Jesse Forever: This one's definitely not your traditional RomCom. Celeste and Jesse (played by Rashida Jones and Andy Samberg), are a couple going through a divorce, trying to date other people while keeping their friendship in tact. The movie has an unexpected ending, and while Celeste and Jesse don't have the happily ever after you would expect, they do manage to maintain their friendship. See, not all relationships are perfect!
Bride Wars: This flick starring Kate Hudson and Anne Hathaway is about two BFF's who made a pact to get married at the same location. When they finally get engaged years later and hook up with NYC's premiere wedding planner, they discover that due to a glitch in the system, their weddings are on the same day. With neither bride willing to change the date of her wedding, the once-best friends do everything to sabotage each other on their big day. But don't worry-- the pair make up by the end of the movie, both changed for the better from the experience.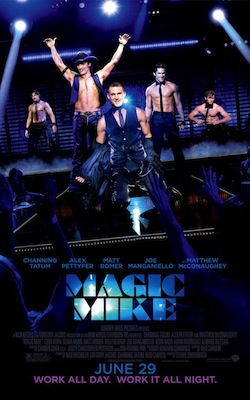 Magic Mike: We admit, we fast forwarded through all the plot-related scenes, but ain't nobody watching Magic Mike for the compelling storyline. Not when you've got a Channing Tatum and a harem of shirtless studs grinding and winding for the cameras.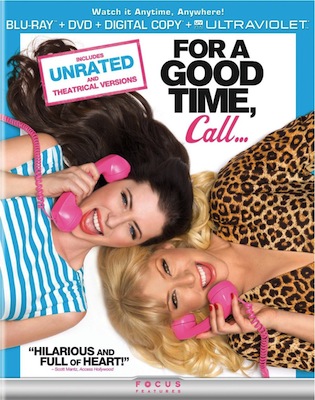 For A Good Time, Call...: After getting dumped by her boyfriend and moving in with an old college classmate Katie (Ali Gaynor), a writer who moonlights as a phone sex operator, Lauren (played by Lauren Miller) loses her job at a publishing company. Down on her luck, she and Katie decide to go into business for themselves as phone sex operators. Hilarity ensues. And the two go from sworn enemies to besties.
Bridesmaids: If you haven't already seen Bridesmaids... what have you been doing with your life? This movie has a ensemble cast of hilarious women, and does a great job at exploring the complexities of female relationships. Plus, it's a movie that dudes like, too, so if your girlfriends are all busy around Valentine's day, you can get your homeboys to watch with you.
Gayby: This independent film is about two old college BFFs, one straight, one gay, who made a pact to have a baby together if they were still childless in their 30's. This is a story of friendship, love, and the modern family unit which ultimately provides just as much support as a traditional arrangement.
Sex & The City: What girl doesn't love Sex & The City? The movie picks up where the TV series left off, with Miranda living in Brooklyn with Steve and their son Brady, Samantha cooling her heels in LA with her boo Smith, Charlotte living the Upper East Side life with her husband and adopted daughter, and Carrie in the process of moving in with Mr. Big. After Carrie voices concerns about the move, Big agrees to marry her, but leaves her jilted at the altar when he gets cold feet. To get Carrie's mind off the betrayal, the four ladies pick up for a vacation in Mexico, and upon their return to NYC, their lives and friendships all change. This movie is a great reminder that no matter what you go through with your homegirls, a strong friendship can last through it all.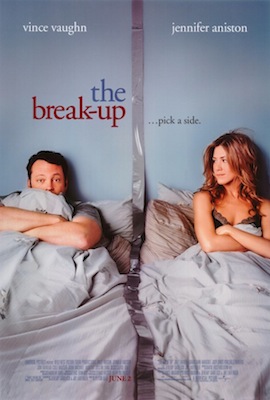 The Break-Up: Jennifer Aniston and Vince Vaughn are a couple who break up just after buying a condo together. Because neither wants to give up the beautiful home, they agree to try and live as roommates. The pair still can't seem to get along after this arrangement, deciding instead to be as obnoxious as possible, to get the other to move out.