Ice cream cartons
: Get guests excited for your summer nuptials with custom ice cream carton save the dates like these.
Balloons: Nothing signals a celebration quite like balloons, which is why we love these balloon save the dates. Your guests will, too. [Photo: Office Optimist]
Scratch-off tickets: If getting engaged makes you feel as if you won the lottery, scratch-offs will ensure guests are there to see you claim your prize. [Photo: Martha Stewart Weddings]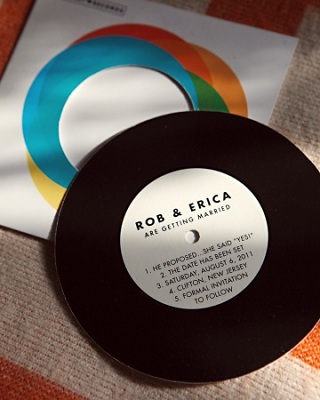 Records: If your life is linked to music--or you just rock--repurpose old 45s as save the dates. [Photo: Martha Stewart Weddings]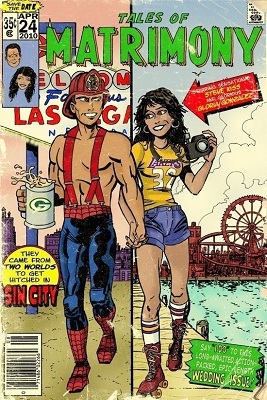 Comic Book: Crazy about comics? Own your obsession with comic book save the dates would make Marvel, well, marvel. [Photo: Emmaline Bride]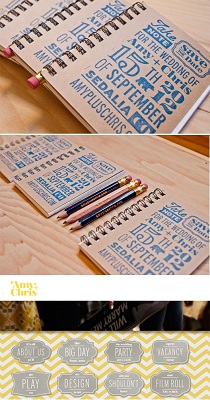 Notebooks: An easy way to ensure your save the dates don't end up in the trash. Choose custom notebooks that do double duty as save the dates. [Photo: Beyond/Beyond]
Pencil us in: These cheeky save the dates are perfect for guests who've always got something going on. We say take it one step further and include a personalized pencil with each save the date. [Photo: Etsy]
Passport: A destination wedding needs as much lead time as possible and a passport save the date is an easy way to include lots of info in one mailing. [Photo: Pinterest]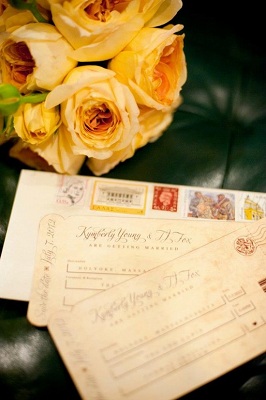 Plane ticket: Another idea for a destination wedding? Plane tickets! They'll serves as a gentle reminder that guests should get theirs as soon as possible. [Photo: Travel Babbles]
Custom stamps: Whatever save the date you choose, send them off with custom stamps. Zazzle is a great place to get them.