Celebrate! Every girl dreams of finding her perfect dress (after finding the perfect guy, of course)--and your search is over! So before you start stressing about any other details, take a moment to revel in your purchase. Don't forget to take a few photos of you in the dress to show your bridesmaids (and to simply look at in your spare time--you know you're going to do it!).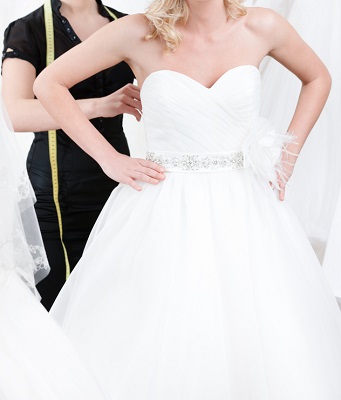 Hire a seamstress. If your bridal salon doesn't have a seamstress onsite (or you bought the dress secondhand or online), start looking for one ASAP. Ask family and friends for referrals and then meet with a few professionals to go over cost, timing, etc. And be sure to find a seamstress that specializes in wedding gown alterations. You don't want your dress to be someone's test run.
Shop for shoes. Finding the right pair of shoes can be harder than you think, so give yourself enough time to find the right fit. Not only should they look perfect with your dress, but you also want them to feel comfortable since you''re going to be spending a lot of time on your feet on the big day. You'll also need them for all of your fittings so the length of the dress can be altered properly.
Charlotte Olympia Belinda cutout suede sandals ($1,455)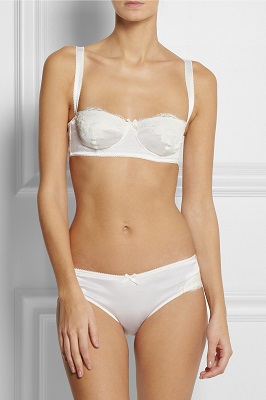 Purchase your undergarments. The right foundation can make a world of difference in how you look (and feel) in your gown. Again, comfort is key since you'll likely be wearing them for a long stretch of time. Dolce & Gabbana Lace-trimmed stretch-silk satin balconette bra ($495)
Choose accessories. Figure out what accent pieces you'll need to complement your dress. Whether it's your grandmother's antique hair brooch or a necklace your groom gave you when dating, you'll want to try everything on with the dress before the wedding day, so think about bringing them with you on your fittings. Jennifer Behr ($795)
Decide on your Something Old, Borrowed and Blue. You already have your something new (the dress, of course!), so now you can put together the other three items in this popular wedding tradition. Some ideas: You can stitch your wedding date to the inside of your dress with blue thread for your Something Blue; have a friend or family member loan you their veil or headpiece for the Something Borrowed; and wear a family heirloom (or stick it into your bridal bouquet) for your Something Old.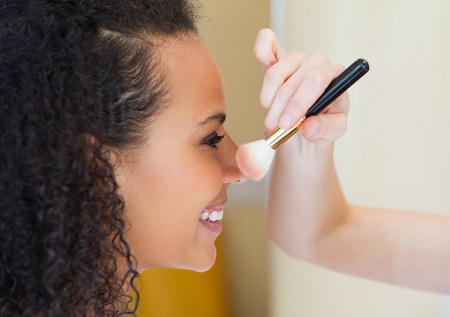 Audition makeup artists and hair stylists. Even when you find the right beauty team, you might have to meet with them a few times to get your hair and makeup just right. Bring lots of pictures so each pro gets a clear idea of the vision for your look.
Order the bridesmaids dresses. Now that you have your gown, you can feel free to choose dresses for your maids that will go with your wedding day look. Halston Heritage One-shoulder georgette gown ($595)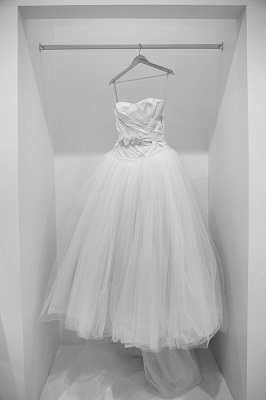 Find a safe spot. Once you pick up your dress, you'll want to choose a safe spot for it. Be sure to place it in a secure garment bag, and keep it mind that putting it in a crowded closet can result in wrinkling, while cigarette smoke can cause discoloration. And it's a no-brainer that the dress should be out of reach and out of sight from kids, pets--and your groom!
Prepare for after the wedding. You'll likely be hopping on a plane to your honeymoon the day or two after the wedding, so ask a trusted friend or family member to take care of the dress before you leave. You can even arrange for them to drop it off at a dry cleaner to be preserved while you're away.