Laugh during the speeches. They're not laughing at you—they're laughing with you. Oftentimes, images of the bride and groom smiling together during the speeches are some of the more intimate images of the whole day.
[Photo: Brian Dorsey Studios]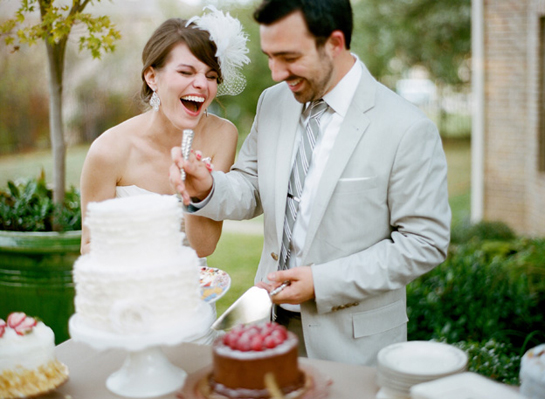 Cut the cake. This doesn't have to be a record-scratching "look at us! look at us!" moment. You might even want to carve a few minutes out of your reception to cut the cake secretly and quietly—maybe just the two of you and your photographer (plus a few observant onlookers).
[Photo: Ryan Ray Photography]
Be playful. Your guests will follow your lead. If you're uptight at your wedding, your guests will feel awkward and anxious. But if you're letting loose, having fun, and being playful, your guests will be all too willing to get in on the fun.
[Photo: Brookelyn Photography]
Do something special with just your bridal party. Give your best friends some TLC with a special "something" just for you and them. We love the idea of a balloon release. How cute that someone many moons away will stumble upon a personalized "I Do" balloon?!
[Photo: Red Ribbon Studio]
Entertain the kiddos. Kid-free receptions are a thing of the past. But you need to make sure young ones are properly entertained (and closely supervised!). Hire a magician, play a movie, or have a room full of dress-up clothes. And book a ridiculously fun and responsible sitter with a whole lot of energy!
[Photo: Yvette Roman Photography]
Try your signature cocktail. You selected it so be sure to taste it!
[Photo: Brookelyn Photography]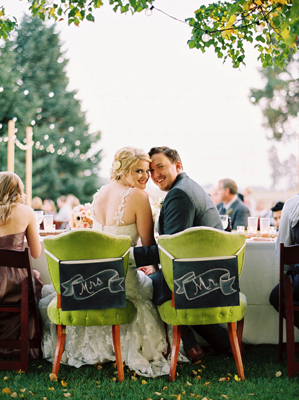 Eat something! Please eat something. Really. No one wants to party with a cranky bride. Seriously, if the issue is not wanting to pop buttons off your gown, you need to rethink that dress you're squeezing yourself into. And if the issue is time-management (must-make-rounds-now), we can help! Seat yourselves WITH your guests, family-style, and you'll be able to partake in at least part of dinner guilt-free.
[Photo: Ryan Ray Photography]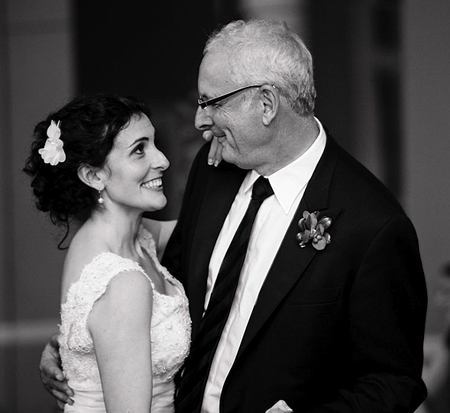 Dance with your dad. Even if you had a totally non-traditional wedding (Dad didn't walk you down the aisle, for example), you'll still want the customary Daddy-Daughter dance. Trust us—it's THAT important to him. Surprise him with his favorite song.
[Photo: Red Ribbon Studio]
Thank your guests for coming. You can thank each guest for coming to your wedding by going table-to-table during dinner (but re-read slide 7). Or you can deliver a heartfelt, thoughtful, and personalized speech to all your guests in between courses.
[Photo: Brookelyn Photography]
Spend time alone with your groom. Pick a time when your guests are having so much fun that they won't even notice you've slipped away. Hold hands and go for a stroll, have your own private toast or do a quiet dance under the stars. You need those "regrouping" moments to remember what this day is really all about.
[Photo: Sam & Gertie Photography]