Brides, we know wedding planning is an uber-stressful time, but please, drown your sorrows in a bottle of wine, and don't weird out your wedding guests with extremely disconcerting Facebook status updates such as…
1. I can't wait to lose my virginity! Wink wink, nudge, nudge? Nobody thinks you're a virgin anyways – especially you, Kings of Leon's Jared Followill. If you ARE a virgin (well done?), this is TMI for your first cousins, Great Aunt Beatrice, and all those work acquaintances you're Facebook friends with.
2. I'm ready to settle. Wow, could anything be more hurtful to your new spouse-to-be? Maybe you think this is funny in an ironic way, because of some obvious physical attractiveness disconnect between the two of you – i.e. he's old and bald (but rich), and you're young and hot (but poor) – in which case, keep your damn mouth shut until you have all of this in writing!
3. This is a shotgun wedding! Whoopsies. There's nothing worse than family tension at a wedding. If you have an unintentional baby bump under your gown, and your dad is holding a shotgun to the groom — your guests may want to RSVP "Politely decline."
4. He's going to make a great first husband. (Is it just me, or is this usually a self-fulfilling prophecy?) The whole concept of The Starter Wife/Husband is pretty gauche. If you're not in it to win it, don't waste several grand on a wedding (and guest's time and money!).
5. I can't wait to start popping out babies! Your guests will be so thrilled to know they'll be ponying up for wedding gifts and baby gifts within the same year.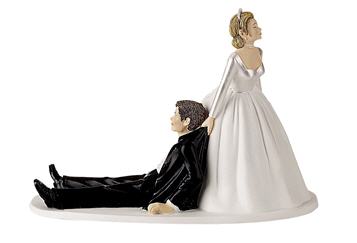 6. FINALLY! Repeatedly reminding everyone that your betrothed really dragged their feet about getting married ("Don't know what took him so long! LOL I'm amazing!") makes both of you look bad. (And doesn't instill confidence in your future union.)
7. I'm having cold feet! Really? Because I just booked my flight and hotel on Priceline, and Indiana is not really where I want to spend all of my vacation time. If you're having a crazy case of cold feet, talk to your bridesmaids, your fiance, your priest – but don't alert your guests until it's absolutely necessary!
8. Does anyone know where my fiance is? Oh boy. The bachelor party is going to be a shit show.
9. Who wants to be my bridesmaid? If you don't have at least 2 close friends or relatives, just scratch the wedding party all together. Don't beg for volunteers.
10. I love him, but I totally hate his parents. Don't draw a line in the sand just yet. Setting yourself in direct opposition to his mother (you know, the woman who gave him life) puts your groom in an excruciatingly awkward position. If you can't stand his fam, don't shout it from the rooftops. Try to do most of your wincing on the inside.
Now, here are 10 things you absolutely should do after you get engaged!
Don't drink and tweet, brides! Shop our guides to the best simple wedding dresses, designer wedding shoes, and bridal hair accessories instead!