1. Aisle or chair decor. Sure, it's a nice touch, but it's by no means a necessity. And it's one extra thing someone will have to finagle pre-ceremony. If you're looking to cut back on needless expense and hassle, aisle decor is an easy thing to axe from your checklist. And by cutting back here, you can splurge a little more on your wedding bouquet or reception decor.
2. Place cards. Want to save yourself an insane wedding hassle? Don't spring for calligraphied place cards, or any place cards at all! Skip the seating chart and let people sit where they want. They'll have a better time anyways. If you're still worried people will keep to themselves and end up feeling excluded, try serving a family-style meal, and seat your guests at long, rectangular tables instead of rounds.
3. Wedding menus. Be kind to your wedding budget by skipping on all extraneous bits of pretty paper. Rather than paying for wedding menus for every guest write the menu on a chalkboard or fold-out sign, restaurant-style. It saves trees, and it saves you money. Double-win.
5. Chair covers/chair decor. Rather than paying to rent fancy formal seat covers, or sprucing chairs up with flowers and other fanciness, try this idea instead - rent a chair you can actually stand to look at, as is. (It's also worth mentioning that white satin seat covers are starting to look a tad dated.)
6. Uplighting. While your wedding won't look like a wedding pulled straight from "My Fair Wedding With David Tutera", you'd be surprised how far a dimmer switch, candlelight, or a few strands of string lights can go towards create a little ambience. Get a good idea of what your venue can do for you regarding the lighting situation before you splurge on fancy lighting features.
7. Flower girls and ring bearers. Let's face it, half the time they have to be escorted down the aisle by their parents, and they have been known to frequently cry, talk loudly, sing, or boogie down mid-ceremony. If there's not an adorable little kid in your life who can walk six yards without having an emotional breakdown, leave the little ones out of your wedding party.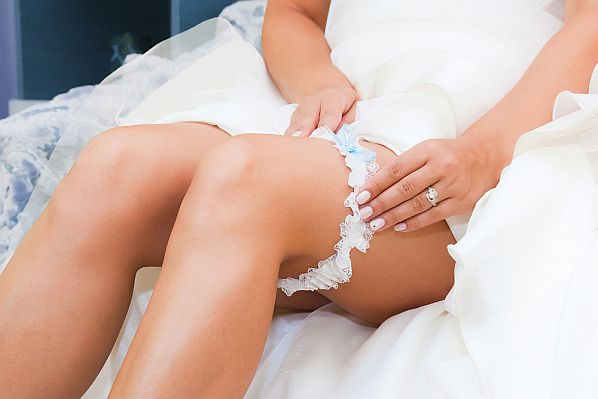 8. The garter and bouquet toss. The garter toss has always been a little tacky, hasn't it? And the bouquet toss scramble is a rather humiliating exercise for all single women everywhere. I haven't been to a wedding in the last three years that involved a garter or bouquet toss, which is good indication the tides may be turning against dated wedding traditions like these.
9. The wedding DJ. Having someone emcee your celebration is really only useful if you're having a very large wedding. (Or if you have your heart set on seeing 100 people do "The Electric Slide" in sync.) If you're keeping it small, you can easily nix hiring a DJ from your checklist, borrow some decent sound equipment, and let an iTunes playlist do all the work instead.
10. The unity ceremony. Fun fact: you are not legally required to pour sand into a glass or light a candle in order to get married. If you find these symbolic gestures a little hokey, tell your officiant you'd like to omit them from your wedding ceremony. Don't ever do anything because you feel your ceremony should be longer - your guests will be pleasantly surprised that it's so brief.