Think about two ceremonies. It might be more respectful to have two ceremonies rather than disrupting the flow of one. "I have a lot of Hindu clients who marry Christians, and most of the time we end up with two ceremonies," says wedding planner Tracie Domino. "Usually the Hindu ceremony is in the morning, followed by a casual luncheon and then the Christian ceremony is in the evening followed by the reception. By doing this, both sides of the family feel their faith and traditions are recognized--and the guests love the opportunity to see a ceremony for a different faith."
Find the right officiant. There are officiants that specialize in interfaith weddings, and they can skillfully design the ceremony to incorporate both belief systems while not alienating either side, says Alan Katz, presiding officiant at Great Officiants. "This can be tricky as there are many nuances in every ceremony."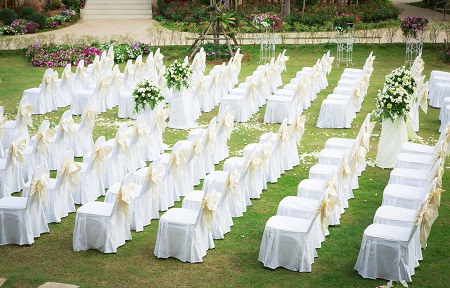 Choose a neutral location. Naturally, if you get married in a house of worship, the wedding will feel one-sided, says Stephanie F. Carmody, founder of Trés Chic Events. "Knowing that you will most likely need to seek out a 'neutra'' venue helps you to plan ahead, and make this search part of your wedding to-do list."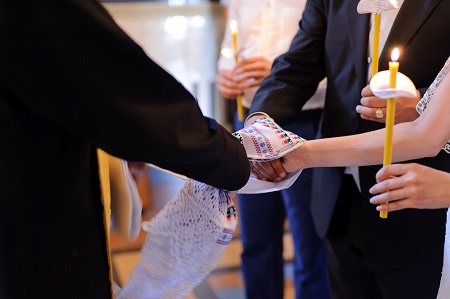 Figure out what is most important to you. Sit down with your fiancé and discuss which traditions or components of your religions mean something to you personally and you both want to include in your wedding in some way, says Bethel L. Nathan, an ordained officiant. Then, be prepared to compromise because it might not be possible to have every element in the ceremony itself. You might have to add touches to other parts of the day, such as the reception or cocktail hour.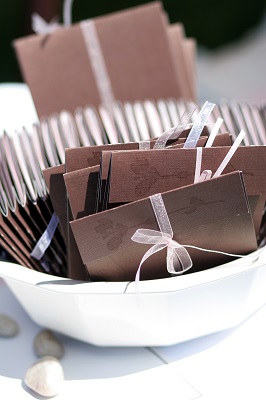 Keep guests informed. Put details about the 'traditions you'll be including in your ceremony in your wedding programs, including translations of any rituals performed in other languages. And make sure that the officiant is prepared to also verbally explain these rituals as they're carried out. This will help make everyone feel included in the event.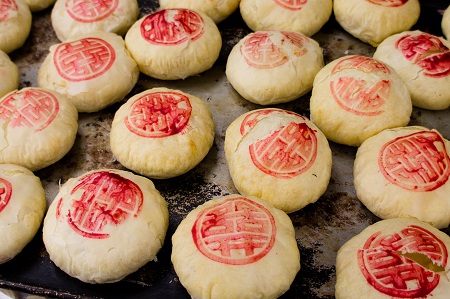 Go beyond the ceremony. Celebrating your faith and heritage can be incorporated into everything from your attire and flowers to the food and music played at the reception. "These traditions don't always need to be serious--they can be fun-filled," says Therese Cole-Hubbs of Electric Karma International.
Create new rituals from old traditions. Look for cultural elements from both families and weave those elements into new wedding rituals, says Zita Christian, a certified Life-Cycle Celebrant and nondenominational minister. "For a Chinese bride whose mother spoke little English, I incorporated a story from Chinese mythology: the Fatherly God in the Moon who ties a red string around the ankles of a couple before they're born so that wherever they start in life, they will eventually find each other. The bride's mother tied two wine glasses together with a red cord, poured wine into each, and offered the tethered glasses to the couple."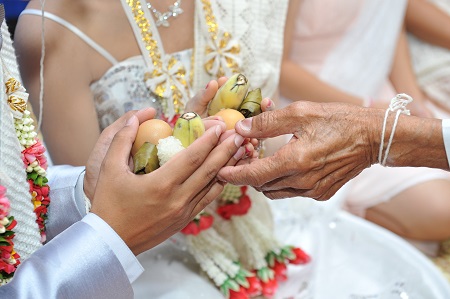 Let both families play a part. Involving family members in the new rituals helps them feel connected to the couple, even if "the old ways" are not part of the ceremony. "Ultimately, when a couple seeks to blend traditions of faith, they're also seeking to assure parents and grandparents that their legacy means something to the couple, that the past has relevance and is worth honoring," says Christian.
Be creative. Use this time to really celebrate your cultures--and even entertain your guests in the process. Relationship expert Lisa Haisha's own wedding included her heritage background of Arabic and her husband's Jewish heritage. "My husband sang 'I Wish They All Could Be California Girls,' rewriting the lyrics and switching out 'California girls' for 'Iraqi girls.' My family found this unexpected surprise hysterical, and it really added a lot to the party."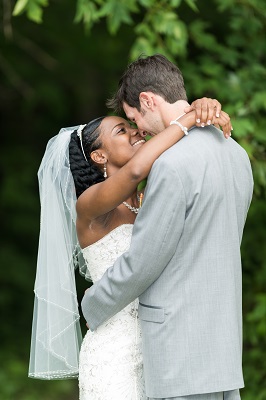 Remember, it's your day. Chances are, you're not going to be able to include every tradition in your respective religions, and it's bound to make some family members unhappy. "Having a wedding celebration (from start to finish) that is true to who you are together, and to your relationship, is the most important thing," says Nathan. "And also realize that this is only the beginning of many of the things you will have to think about, being an interfaith couple (be it holidays, kids, traditions, etc), and to start to talk about this and work on it together now, will help a great deal."