Brides, it's officially summer, and wedding season is in full swing! While we understand having the perfect wedding is currently your No. 1 prerogative, helping your guests beat the heat should be a very close No. 2. Here are 10 creative tips for preventing the heat index from totally upstaging you on your wedding day.
1. Serve popsicles instead of signature cocktails. 
(Source: Snippet & Ink)
Or better yet…poptails, anyone? All the adult fun, in convenient frozen treat form! (Just make sure you keep these out of the hands of little ones.) For more popsicle-tastic summer wedding ideas, click here!
2. Pass out paper fans pre-ceremony.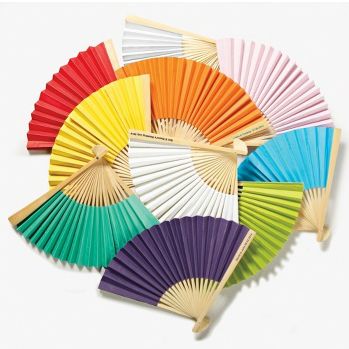 Guests will definitely enjoy being able to fan themselves with these Personalized Paper Fans ($2.35 each) while you and your groom weep through your personalized vows. And they definitely won't leave these functional wedding favors behind.
3. Have your bridesmaids carry parasols, not bouquets. 
(Source: Glamour & Grace)
Parasols make for fabulous photo opportunities! You can find colorful Wedding Paper Parasols ($5.95) just like the ones seen here at American Bridal.
4. Give anti-perspirant wipes to your bridal party. 
These DERMAdoctor Medicated Wipes ($48) are our editors' pick; the patent-pending formula wipes actually prevent sweating, so make sure to dole them out to your bridesmaids and groomsmen while the party is getting ready.
5. Serve personalized bottles of water before the ceremony.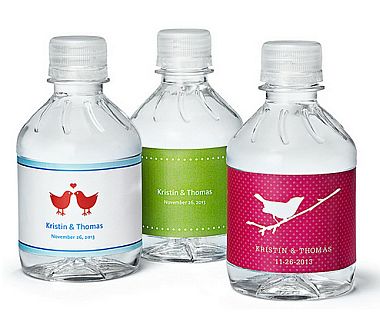 This feels especially luxurious when it's approaching 100 degrees. The Knot Wedding Shop can hook you up with both Personalized Water Bottles ($34.95 per case) and Personalized Mini Water Bottles ($29.95 per case).
6. Set up a misting system.
Some local party rental companies might be able to assist you with this, or you could acquire something like this classy brass Oscillating Outdoor Misting Fan ($149.95) – fabulous for later patio use!
7. Arm guests with squirt guns. 
(Source: elizabeth anne designs)
Instruct them to set their phasers to "stun." These cute plastic Space Squirt Guns ($11 per dozen) would also make sweet, extra memorable summer wedding favors.
8. Serve a nostalgic summer treat – like watermelon slices.
(Source: Green Wedding Shoes)
Spitting watermelon seeds off the front porch is a time-honored Southern tradition  – and one of my fondest summertime childhood memories. If you're clutching your pearls at the idea of people spitting anything at your wedding, you can opt for seedless watermelons instead – or watermelon balls served on toothpicks.
9. Take a dip in the pool.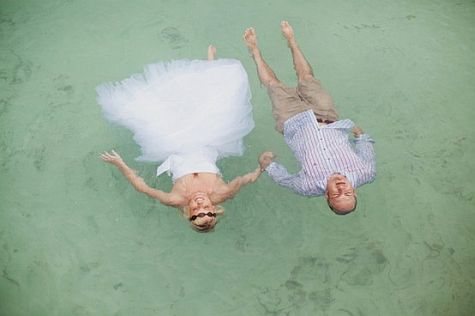 (Source: Jodi Miller Photography)
Wedding pool party, anyone? If your wedding venue has a pool, don't dissuade guests from taking a dip. Hell, you should join them – you're not wearing that dress again anyways.
10. Stock open coolers with ice and your friends' preferred beverages.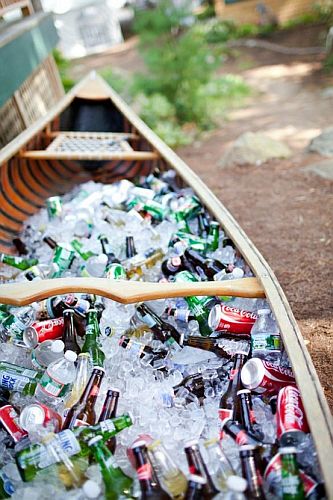 (Source: Pinterest)
Make sure sweet relief is always within arms reach. We've seen some crazy good ideas for wedding coolers on Pinterest – you can use a canoe, a truck bed, a vintage cooler, a clawfoot tub – or you could just buy a few of these Galvanized Steel Beverage Tubs ($34.95) to spread throughout your reception space.
Get it now: Galvanized Steel Beverage Tubs ($34.95)
Want more summer wedding inspiration? Check out our recommendations for perfect summer signature cocktails, and grab stylish glass drink dispensers to serve them in while you're at it. and shop our guides to the best customized wedding favors, wedding cake toppers, and wedding centerpiece decorations!