Organize your clothes by color from lightest to darkest. It's the easiest (and cheapest!) way to make a strong visual impact on your closet. And the next time you're thinking of wearing a pink top on Wednesday, you'll know exactly where to find it.
[Photo: Cupcakes and Cashmere]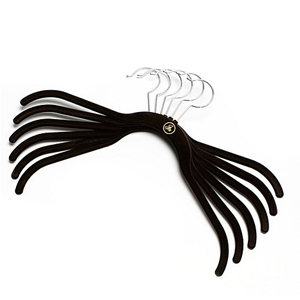 Switch to felt hangers. Not only do they make your wardrobe look ten times more expensive, but they prevent them from slipping too. Time to ditch those plastic hangers and upgrade, girl!
Joy Mangano Huggable Hangers 24-pack Set ($19.95)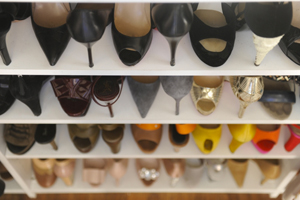 Organize your pairs of shoes by facing one forward and the other one backwards. It may seem a bit wonky at first but hear us out: this style tip saves space in your closet and lets you see your footwear from all angles. So you don't accidentally choose a pair of wedges when you really wanted a stiletto heel.
[Photo: Cupcakes and Cashmere]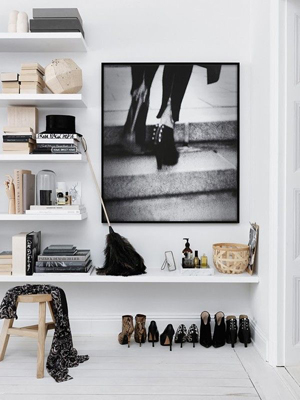 Add a mood board or framed print to your closet. Choose photos or artwork that reflects your style so it can serve as a daily source of inspiration every time you get dressed.
[Photo: Elin Strömberg]
[Poster in the Photo: "Urban Walk" by Therese Sennerholt]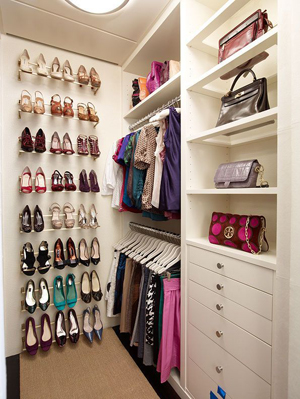 Don't hang your purses in your closet. Instead, stand them upright on a shelf. It helps keep their shape and prevents any stretching or tears from the handbag straps.
[Photo: Clos-ette Too...]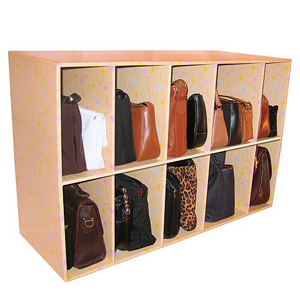 If you don't have any shelf space in your closet to store your handbags, then make some with built-in cubbies. Even if you don't have enough purses to fill them up, you can add in shoes or tops that you like to keep folded.
Park-a-Purse 10 Cubbies Closet Organizer ($26.95)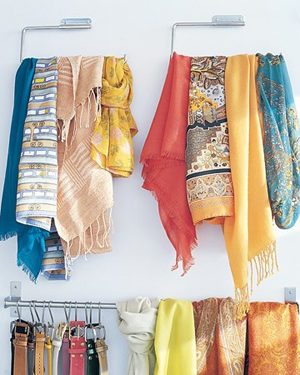 To keep wrinkles and creases at bay, hang up your scarves using paper towel holders and your belts on shower curtain hooks. It'll also give you a better view of your options rather than sifting through a folded pile inside a drawer or storage space.
[Photo: dressesiton.com]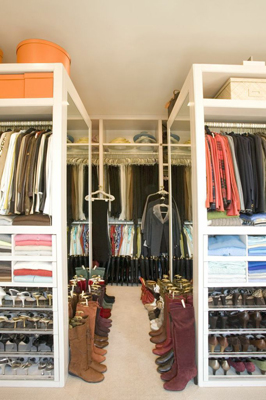 Utilize the space in your closet — all of it. That bit of room underneath your tops can fit a few folded sweaters. That piece of floor space is enough room for you to sort your tall boots. And the very top of your closet can still manage to hold a few storage boxes. If you really think outside of the box (that is your closet), there's way more space than you imagined.
[Photo: Clos-ette Too...]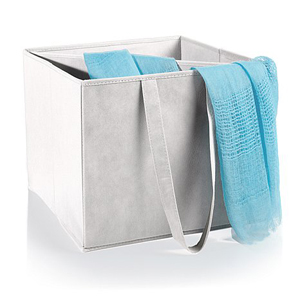 For items that you don't want on display, place them inside lightweight storage boxes. These come in every shape, size, and style you can think of but we like keeping it neutral with a color that easily blends in with your closet.
Joy Mangano Huggable Hangers Storage Box ($19.95)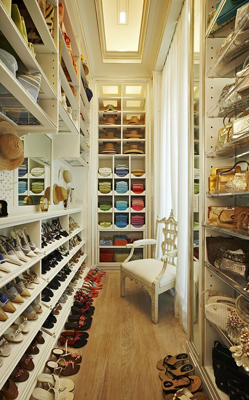 If your closet space allows it, add a chair. It's a small bit of luxury that allows you to actually sit down and enjoy figuring out what to wear. Plus, when you find yourself organizing your closet again, you'll have a comfy chair to rest on too.
[Photo: Clos-ette Too...]