Swap Suit Jackets for Cardigans. For a somewhat casual wedding, cardigans along with ties and button-downs are a great alternative to tuxes. Not only will your groomsmen be a lot more comfortable, but they'll also really capture the feeling of fall. There's a reason it's called sweater weather, after all.
[Photo: Ryan Ray Photography]
Aisle Lights. Because the sun tends to be less intense during the autumn months, feel free to play around with candlelight during the day. We love the idea of creating a beautiful outdoor aisle by lining the grass with bright lights or--as long as your train isn't too large--candles. This looks especially beautiful at dusk, when it will look like you're walking through an enchanted meadow. [Photo: KT Merry Photography]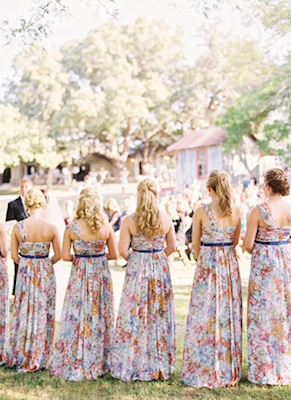 Patterned Bridesmaid Dresses. When's the last time you saw bridesmaid dresses with a pattern? Probably never, but they're a nice touch for an outdoor fall wedding. They'll fit right in with the surroundings and if you choose a colorful print like the ones shown here, they'll be reminiscent of fall foliage without being cheesy. [Photo: Ryan Ray Photography]
Opt for Ombre. Fall is famous for its colors, so if you simply can't resist incorporating traditional autumn hues, take a cue from this bride who used an ombre effect for her ceremony chairs. Rather than pink, which feels a bit summery, recreate the same idea with yellows, oranges and reds.
[Photo: Red Ribbon Studio]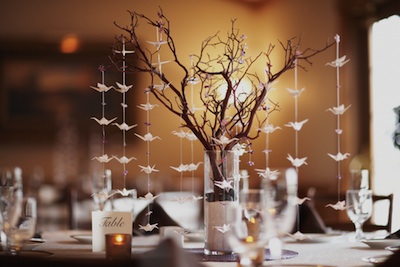 Flower-less Centerpieces. There's a good chance many of your favorite flowers will be hard to come by--without spending an arm and a leg--in the fall, so why not try centerpieces that don't include flowers? Fruit is predictable at this point, but we love the idea of using branches or even a bonsai tree as shown here. Wedding guests expect flowers on the table, so there's no way something else won't leave a lasting impression.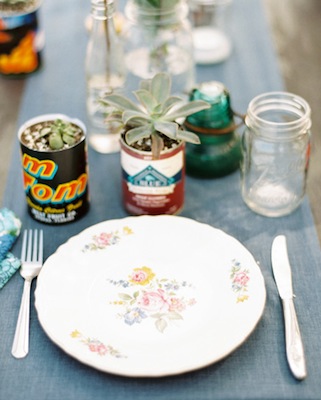 Tin Cans. Another alternative to traditional floral table decor? Aluminum cans! Choose cans with beautiful designs to add a bit of whimsy to your wedding tables. And if you can't do without flowers, throw some succulents in them. At the end of the night, let your guests bring them home as favors. [Photo: Ryan Ray Photography]
Wood Chargers. With an outdoor fall wedding, it's all too easy to go overboard on the forest-themed elements. From leaves and pumpkins to pinecones and wood, there's a lot to work with and it can be hard to resist trying to cram it all in. For that reason, we suggest you take a careful look at every part of your wedding that contains any sort of autumn theme. An idea that makes the cut in our book are these wood, tree-trunk-like chargers. With some wildflowers, they're a pretty yet understated way to give a nod to the nature and and fall.
[Photo: Ryan Ray Photography]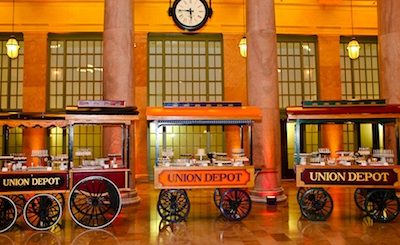 Take Advantage of The Great Indoors. Fall brides often lament feeling constrained by indoor venues, but you can actually get quite creative. One idea? Think beyond traditional tables. This couple used vintage food carts to display their wedding cake and desserts.
[Photo: Red Ribbon Studio]
Serve Gold Wedding Cake. Whether you're avoiding the cliche of classic fall colors or embracing them, a gilt wedding cake like this one will fit perfectly with both your palette and the season. Gold matches with pretty much every color scheme, and it also gives a subtle nod to autumn--the perfect way to acknowledge the season without going overboard. [Photo: Red Ribbon Studio]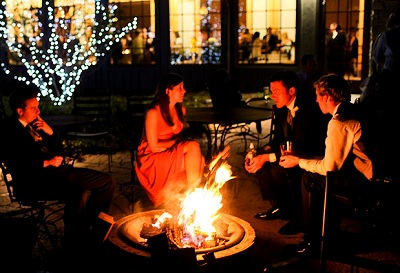 Fire Pit. Unlike summer, when the sun goes down during the fall it can get quite chilly. So instead of keeping guests warm with unsightly heat lamps, try a fire pit. And of course, keep marshmallows, chocolate and grahams close by should anyone want a s'more.
[Photo: Red Ribbon Studio]