Once you're, oh, about a few hours into the wedding planning journey, you may start to pick up on a weirdly competitive vibes from other brides. (It's not just you. They ARE giving you the interwebs version of the stank-eye!) Why is this exactly?
We can all be a little snarky when it comes to matters of taste, but pile on the emotional and financial stress of wedding planning, and the ceaseless need to differentiate yourself from the Style Me Pretty masses (not to mention those bitches on The Knot forums), and you've got an all out wedding war. In this corner we have your little wedding, and in the opposing corner, we have EVERYONE ELSE'S. (Why do you think the movie Bride Wars didn't tank at the box office? It wasn't because of the dialogue and cinematography.)
So, how can you win? If your wedding guests attend several weddings every season, how can you avoid boring them to tears? How can your wedding leave a stamp on wedding blogdom, without looking like a copycat of every single wedding from 2010? Our 10 tips can help.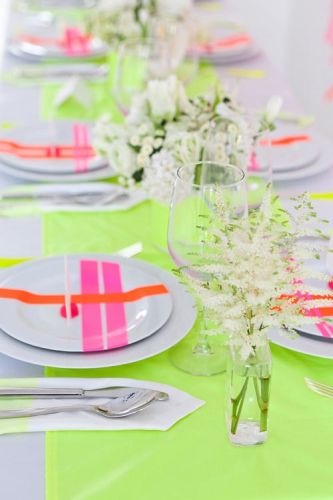 1. Go wild with your wedding colors. Are you bold enough to try neon? It's a sure-fire way to land your wedding on the home page of your fave wedding blog. (If neon does in fact seem TOO wild, remember you can always temper it with neutral colors like grey or cream, or by adding accents in the napkins or paper flowers.)
2. Try eclectic wedding party ensembles. Your b-maids and groomsmen are the first people your guests will see walking down the aisle. Their apparel should set the tone for the entire event. What do you want their outfits to say? If the bridesmaids are in fuchsia, and the bride is wearing orange, for example, you know it's gonna be a party. Doesn't the bridal party shown above look FUN?
3. Have your wedding on a minor holiday, like New Year's Eve or St. Patrick's Day! That really amps up the ante of your wedding – and provides you with instant decoration inspiration! On celebratory holidays like NYE and St. Patty's Day, the party potential is especially HIGH, and there are tons of ways to make your event super memorable – whether that's serving green cocktails, or being pronounced husband and wife at the stroke of midnight to ring in the new year.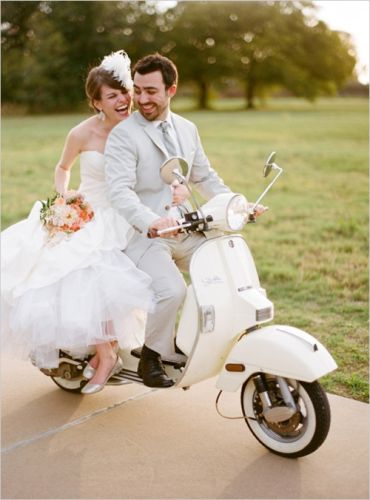 4. Rent a memorable getaway vehicle. Whizz off on a little Vespa scooter, or trot into the sunset on a painted pony – your choice!  An especially rare classic car is always an awesome option. Maximize that one last photo opportunity, and provide your guests with a fabulous last impression of your event.
5. Incorporate prints and patterns into your wedding. Whether you decide to go with floral bowties for your groomsmen, table runners in your favorite floral, a chic chevron wedding cake, or a wedding dress with a pretty polka dot overlay – don't skimp on the prints in one way or another.
6. Create unusual and unexpected centerpieces. What little thing of beauty always attracts your eye? A blood orange? An antique silver creamer? Rustic advertising pieces? Marbles? Use these nifty design items in your centerpieces!
7. Subvert people's expectations of traditional wedding music. A string quartet that's playing Katy Perry's "Firework," or one of these alternative first dance songs will be a fabulous post-wedding anecdote for everyone in attendance.
8. Treat your guests to your favorite ethnic food, instead of the usual hodge podge seated dinner fair. Dim sum, anyone? We know a couple who held their very chic Manhattan wedding at an upscale Chinese food restaurant, making everyone ooh and ahh. (Fun fact: If you have your reception at the restaurant itself, it's usually much cheaper than venue rental and catering, not to mention it's guaranteed to taste great.)
9. Create a new tradition. Is your ethnic background a little bland? Research wedding traditions from different religions and ethnicities, and borrow the ones that really speak to you, like Irish handfasting, seen above, where you're literally bound together during the vows.
10. Put your groom onstage! If your SO is at all musical, and doesn't shrink away from the limelight, throw him in it. People go nuts for that kind of bold-faced sentimentality. Plus, you get serenaded. Win-win. Just make sure you're wearing waterproof mascara for the inevitable waterworks.
Just getting in to the wedding shopping groove? Check out our shopping guides to the best simple wedding dresses, designer wedding shoes, and unique wedding invitations!