Wedding dresses are SO expensive, you guys. You pay hundreds or thousands of dollars, all for a gown you wear for a sum total of 8 hours. Don't even do the math, you'll only be depressed. But what's to say you can't wear your wedding dress again? I mean, besides superstition and basic common sense? Here are 10 everyday pastimes that are best enjoyed while wearing a ridiculously expensive wedding gown.  (Thank you, crazy "Trash The Dress" trend, for all the zany photos.)
1. Participate in a flash mob: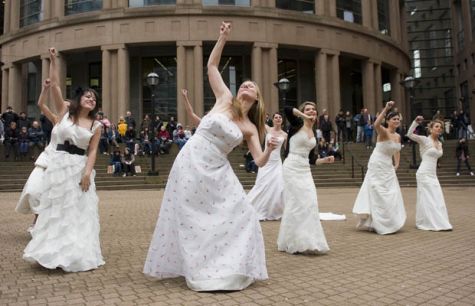 (Source: The Province)
Bust a move in that Badgley Mischka! Hook up with other local brides in your area and teach each other how to Dougie, bride-style.
2. Go paddle boarding: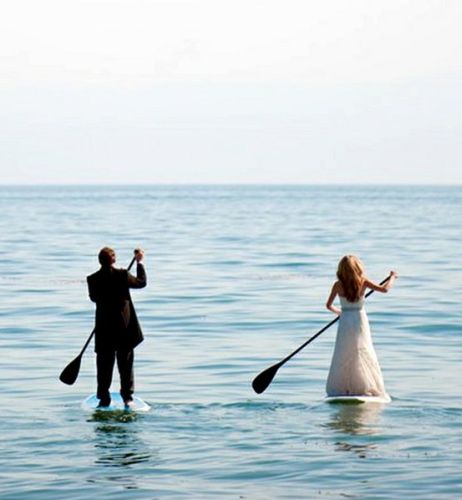 (Source: GLO)
Swimming in your wedding dress is so 10 minutes ago. Paddleboarding is the hot new trend in wedding adventuring for 2012! (But we think hang-gliding will be HUGE next year.)
Wash the car: 
(Source: Tara Swain Photography)
We know you've been putting it off. Suds up that '79 Ford Pick-up, and get 'er done already! And invite a photographer over, because I know some pervy redneck dudes who are gonna wanna see that.
Make a sand angel: 
(Source: Trash The Dress Europe)
Snow angels are so passe. Head down to the beach and make sand angels instead, then take a cool dip in the ocean. You'll look like a dreamy, elegant mermaid – though undersea critters will probably mistake you for a giant white barge.
Play some American Football:
(Source: Divine Caroline)
You knew all that extra tulle lining would come in handy some day. A goalie in a princess ballgown can cover twice as much ground as any other goalie…but unfortunately, she'll move twice as slowly, and she won't be able to bend at the waist.
Have an epic pillow fight. 
(Source: Ever Ours)
If you've never participated in one of those city-wide pillow fights that occasionally break out when people on Twitter get bored, let me tell you – things get crazy fast. Within minutes, all you can see is a cloud of goose down. Add a gal in a giant white ballgown in the mix – sheer chaos. 
Take a dip in the pool. 
(Source: Jodi Miller Photography)
Is there a purer expression of absolute joy than throwing yourself into the deep end in your best (and most irreplaceable) dress clothes?
Complete an art project. 
(Source: Divine Caroline)
A wedding dress is just a giant blank canvas. Bust out that glitter gun and get creative!
Compete in Equestrian events.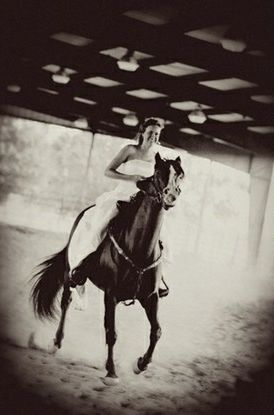 (Source: elizabeth anne designs)
Equestrian judges love some flashy showmanship! What could be flashier than barrel racing in an authentic Vera Wang? Your inner "Pretty Pretty Princess" is so happy right now.
Get Trashed.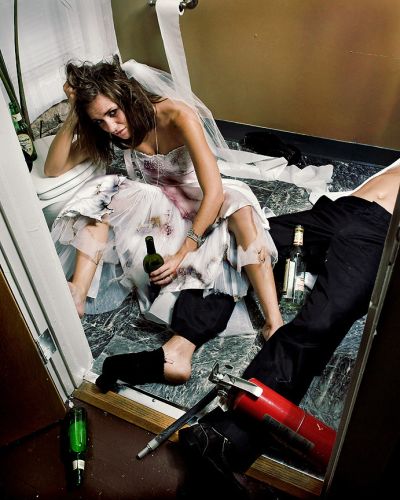 (Source: IGO Photography)
You were SO good at your wedding. You stuck to clear liquors, and avoided merlot like it was nitric acid. But now that that's over, it's time to get your shiraz on! It's ok to dribble a little on your skirt. Or soak yourself in a tub filled with vino.
Need a brief respite from wedding stress? Check out this Snooki VS. Angelina wedding dress death match, or see if you're suffering from any of the symptoms of "Bride Brain".