Have a Plan B
. In case of rain, have a realistic Plan B for ceremony and/or reception venues, says 
Dustin Thompson
. If you are having an outdoor wedding, contact a church or off-site location, and request to reserve the space for your wedding day. And consider hiring a day-of coordinator and additional staff to ensure a Plan B venue change could be handled seamlessly and stress free.
Pitch a tent. Having an outdoor reception? Rent a tent no matter what, says Event Planner Andrea Freeman. "If it rains you'll be happy, and if it's a hot sunny day, you'll be happy. Tents are wedding life savers!"
Choose the right venue. Even better, make sure you have a Plan B in place at your original ceremony or reception locale. Each of these places should also have an indoor option in case of inclement weather, as well as a plan in place to set everything up quickly if a last minute change is needed.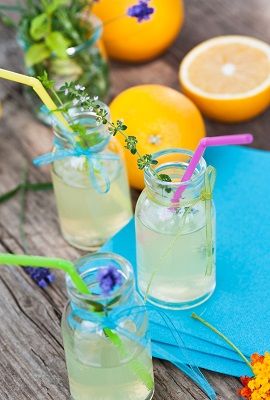 Set up a drink station. The last thing you want during your outdoor ceremony is dehydrated guests. A simple drink station prior to ceremony can start the party right and hydrated, says Freeman. But avoid serving sugary drinks like lemonade; instead, try mango pineapple infused water or something simple like cucumber infused water.
Have cool down options. Hand out fans that double as ceremony programs, paper parasols for shade, and set up at least one place for guests to cool down if the hot weather is simply not budging or the rain just won't stop pouring down. Remember, the comfort of your guests is key.
Bring nature inside if needed. If you have your heart set on a beautiful outdoor ceremony, having to move everything indoors can be a real letdown. Talk to your venue and florist in advance about what they can do to incorporate nature into the venue if needed, such as bringing in different plants and flowers to give it the look of a garden.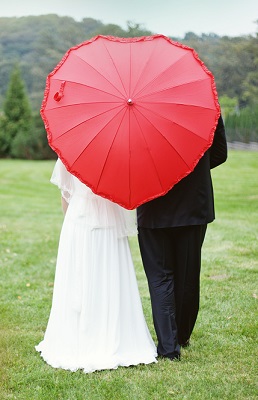 Bring an umbrella (just in case). Buy a cute umbrella that you can use as protection and a cute prop in case you and your groom decide to brave the elements for an outdoor photo shoot. "I once had a couple that had their wedding in the middle of a hurricane," says Freeman. "Because they had a great umbrella handy they entered the reception to Rihanna's Umbrella. Another couple had portraits in Central Park planned. "If it wasn't for their adorable white parasol-style umbrella they would have had to cancel. Instead, they ended the up with the most precious picture of them kissing. That turned out to be the photo they sent to all their guests with their thank you notes. Super-cute moments made possible by planning for possible bad weather!"
Plan transportation. If it's a bad storm, some of your guests might not feel comfortable driving. Reserve a bus or a large van to take out-of-towners from their hotels to the wedding. You might also have to deal with some guests simply not being able to attend. If this happens, your venue should be able to arrange seating so the space has a more intimate feel.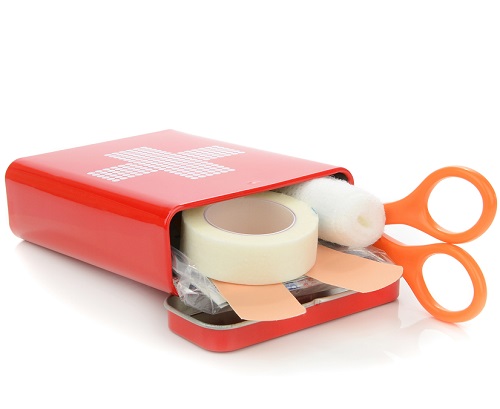 Bring an emergency kit. Extreme heat or rain can mess with your wedding day look. Bring along a stain remover or some white chalk to fight any mud or grass stains that might occur. And have all your makeup, hair products and tools with you and keep them in the bridal suite so you can touch up throughout the day.
Just have fun! Whatever the weather, remember you're still marrying the love of your life. And if you have a big smile on your face and a great sense of humor about it, then so will your guests. "Have a positive mindset going into the wedding day," says Thompson. "No one achieves a 'perfect' wedding. Just as a marriage has its ups and downs, so might your wedding day--and that's okay!"