Fabric Flowers. Totally modern. Yet totally retro. A little bit rock-n-roll and yet a dash of sweet innocence—for the crafty bride, fabric flowers are an unexpected choice. Get your hands on this how-to DIY book.
[Photo: Brookelyn Photography]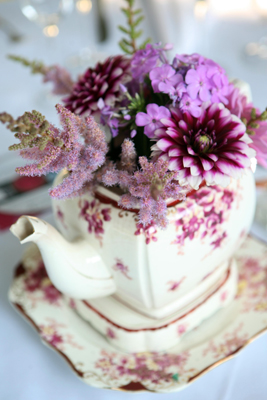 Vintage Teapots. Has your mother's attic been the home to your grandmother's china collection? Rummage through those old boxes and see what you can find. Perfect for family-style seating at smaller weddings, china teapots will give your romantic wedding a drop of old-world charm. Shop vintage teapots now.
[Photo: Red Ribbon Studio]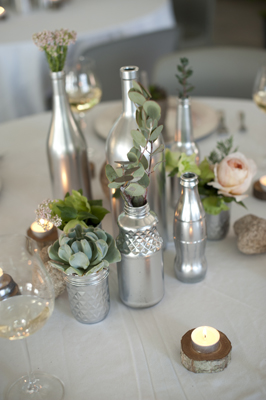 Spray-Painted Wine Bottles. Strip 'em, paint 'em, and you'll see—wine bottles have a sexy and sophisticated shape. Go metallic, baby blue, frosted white—whatever color you choose, the bottles will look great when paired with other similarly colored shapes (tumblers, soda bottles, etc.) You can really have fun with this in the months leading up to your wedding day. Every time you uncork a bottle (dinner parties, birthdays, New Year's Eve), store it away for your centerpieces. You might want to keep a log of what the occasion was and include that info in your wedding-day details (inspiring the table names or on guests' escort cards).
[Photo: Robin Nathan Photography]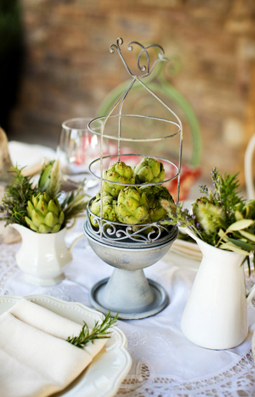 Fruit & Vegetables. More and more brides are turning to the brilliant hues of fresh fruits and veggies to top their tables. Whether you choose figs or lemons, fruits and vegetables can be fitting for a ballroom (when placed in tall clear cylindrical vases, for example) or country setting (such as in bowls on top of vintage kitchen scales). Just stay far away from full-fruit topiaries. Anything too fussy will look like you're trying way too hard.
[Photo: Jasmine Star]
Potted Plants. You don't have to have a rustic wedding to pull off this look. Low-rise rectangular wooden boxes filled with textural plants like cactus and jade make a striking statement anywhere. Cost-effective version? Small potted herbs (buy enough for each person at the table). They look great as a group and can double as wedding favors. Visit your local flower shop or nursery to get inspired and learn about what's in season when you're marrying.
[Photo: Trent Bailey Photography]
Pinwheels. Our new favorite idea for the laidback couple, an outdoor event, or a daytime wedding—pinwheels! Flower-ish in size and shape, pinwheels are a crafty way to artfully decorate your tabletops. They'll add the perfect pop of color to an otherwise all-white wedding. Pick your pinwheel at Etsy.com. We love these nautical-inspired ones ($21 for a set of 12).
[Photo: Jess + Nate Studios]
Birdcages. For our true romantics, birdcage centerpieces are to-die-for. Sometimes seen at weddings to house cards (aka: money), they'll look way more beautiful as the main centerpiece especially with lush blooms spilling out of them. You can find a gorgeous selection of birdcages on Etsy (we can't take our eyes off this one).
[Photo: Michael + Anna Costa Photography]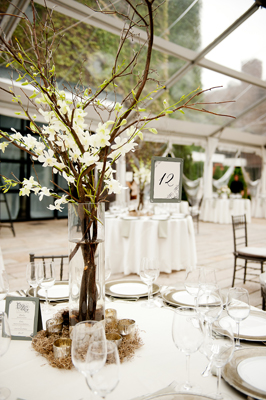 Branches. Elegant branches are the perfect tabletop adornment for the minimalist couple. We used to see a lot of branches in winter weddings (a way to bring a bit of the outdoors in). But now many brides are favoring branches over big bunches of blooms year-round. You can even dress them up with a string of pearls or swarovski crystals or go whimsical by clipping on small birdie ornaments.
[Photo: Photo Pink]
Vintage Medicine Bottles. Our new obsession? Vintage medicine bottles. You can mix and match 'em with each other or with other bottles (water jugs, soda bottles, etc.) for a romantic or eclectic vibe. Once you find the shapes and sizes that inspire you, your florist can help you clean 'em, shine 'em, and dream up arrangements that will fill them out beautifully. Shop for vintage medicine bottles now.
[Photo: Kristyn Hogan]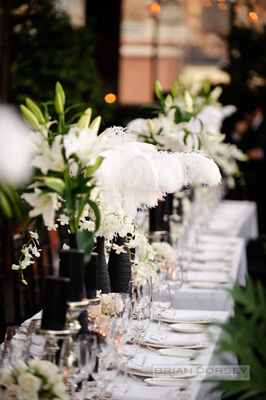 Feathers. Va-va-voom. Who knew white feather accents could be so sexy? Super hot for throwback weddings (Flapper-style) or a twist on the traditional ballroom elegance, feather-topped tabletops are simply fashionable.
[Photo: Brian Dorsey Studios]