Pies. A little bit country, a little bit chic. You can go for comfort foods like apple pie and peach cobbler or opt for trendy tarts (blackberries and pomegranate).
[Photo: Red Ribbon Studio]
Candy Bar. One of the easiest, most affordable ways to do dessert is a candy bar. You can go retro with licorice and gum drops. Traditional with truffles. Jelly beans, M&Ms, lollipops—you name it. Buy in bulk (get some ideas here). And fill each container with just one kind of candy. Stick to a single color combo (white and dark chocolate or all tangerine, for example) for a monochromatic and mod look.
[Photo: Red Ribbon Studio]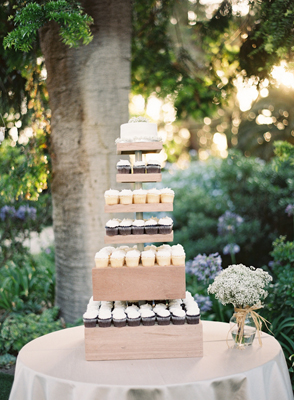 Cupcakes. Donuts may be the new cupcakes but don't count cupcakes out! I'll admit, I'm not a big fan of cupcake cakes. But I love the idea of sleek cupcake tower. Keep it simple—go all chocolate, vanilla, or red velvet for a cohesive look. And place them symmetrically on large wooden blocks. Keep the table uncluttered and you've achieved understated elegance.
[Photo: Kurt Boomer Photography]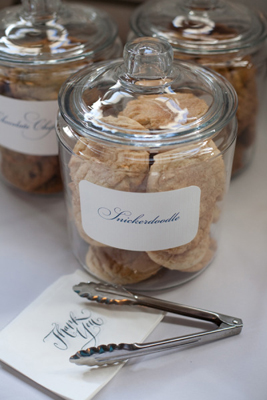 Homemade Cookies. Getting caught with your hand in the cookie jar has never felt so right. Fill up large labeled cookie jars and leave a couple sets of tongs so your guests can help themselves. For all your overachievers out there—you know who you are, Superbrides—earn a few extra pats on the back by making the cookies yourself.
[Photo: Melanie Jade]
Croquembouche. Oui, oui, a thousand times yes! A traditional French wedding cake, this confection is usually created with glazed cream puffs. You don't have to speak the language of love to get your guests lusting after this dessert.
[Photo: Mi Belle Photography]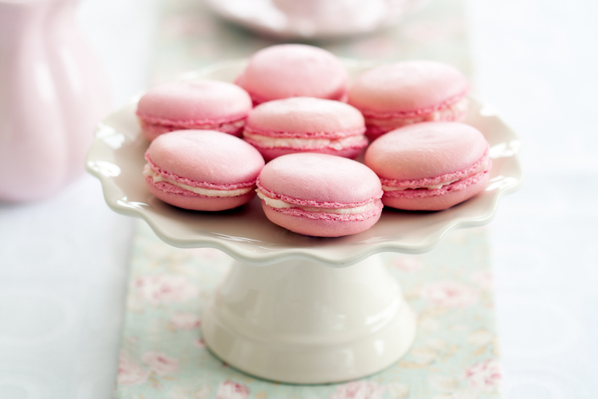 Macaroons. About a couple years ago, macaroons shot up the popularity scale and they plan to stay there for a long long while. Another French-inspired dessert (how do they stay so thin?!), macaroons are so versatile they will feel like the perfect accompaniment to any dinner menu, any wedding color combo, any reception venue. And they're easy—score yourselves some gorgeous platters and voila!
[Photo: Shutterstock]
Mini Cakes. You don't have to forgo cakes altogether. Choose super cute individual-sized ones. Often almost too beautiful to eat, guests are likely to box them up and bring them home as wedding favors.
[Photo: Rachelle's]
Fresh Berries. I don't know who they are but I sure wish I was one of them: There does exist—brace yourselves—completely sane people who do not like sugary desserts. If you're in this elite group of brides, consider treating your guests to the freshest selection of locally picked berries. Top them off with whipped cream or creme fraiche and you've got an A-plus dessert.
[Photo: Cassi Claire]
Cheese Table. Take it up a notch and serve a selection of fine cheeses paired with dessert wines. This is the perfect choice for a couple entertaining a more "mature" crowd. Add some bowls of figs and platters of dark chocolate bars to the table and you've got a winning dessert course.
[Photo: We Heart Photography]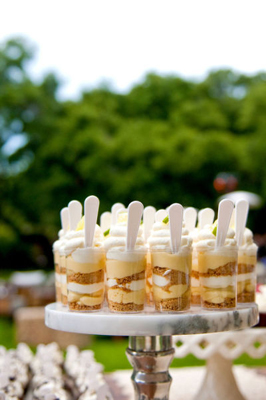 Trifles & Puddings. There's something equally elite and yet downright comforting and familiar about trifles and fancy-pants puddings. Line 'em up on antique serving platters and exquisite cake stands and let your guests help themselves.
[Photo: Yvette Roman Photography]