No matter how professional your photographer is, it's OK to give them a little guidance.  Your wedding day will go by so fast – it's not safe to assume that you'll have time to give your photog directions in the throes of your big day. Before your wedding, you should have a consultation where you discuss not only the formal portraits you want (with specific names of who should be in what shot), but other photo opportunities like candids and stills.
The Knot put together a list of 85 Photo Suggestions – it is pretty much the master list. Print it out and pick your favorites. In the meantime, here are the 10 snapshots your wedding photographer CANNOT miss:
1. Your Dress Hanging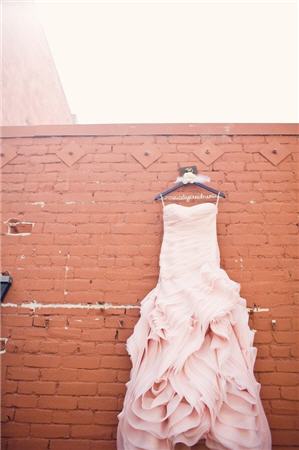 You'll want to preserve the memory of it in it's pristine, pre-dance floor condition. A personalized 'Mrs' hanger or clever backdrop (like a window or brick wall) is a plus! Take a cue from this shot by We Heart Photography.
2. A Close-Up Of Your Bouquet
Don't forget this one! In 10 years time, you won't remember whether you used English roses or David Austin roses — so capture a close-up of your flowers while you can (like this one from Martha Stewart weddings). While we're on the topic, here's a helpful guide to all those popular wedding flowers.
3. A Shoe Shot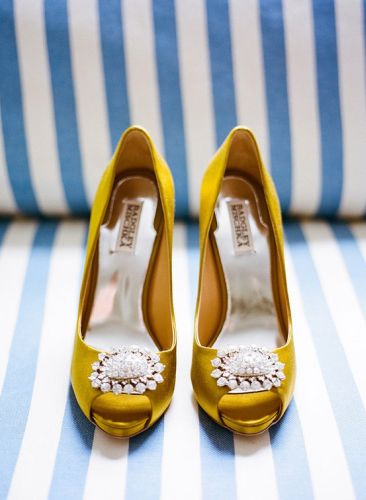 If you splurged on designer pumps, make sure those babies get documented for posterity. If  your shoes aren't exactly paparazzi worthy, get a pic of your hair accessories or jewelry instead. [Photo: Style Me Pretty]
4. A Candid Of The Wedding Party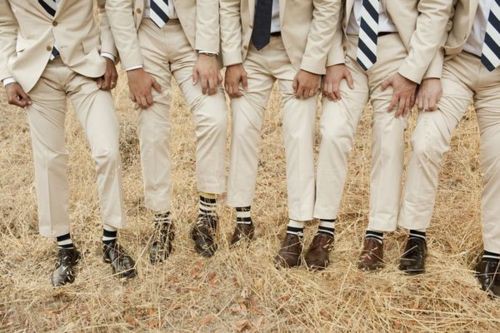 Not everyone looks fabulous in stiff, formal portraits – make sure to capture a few moments when your BFFs are just being themselves. Like the groomsmen showing off their adorable striped socks in this Christian OTH photo.
5. A Location-Specific Shot
This is particularly important for destination weddings. Think about where are you getting married: Is there a notable landmark, an old barn, or a pier on the lake where you could snap a gorgeous couples portrait? Never miss a travel-themed photo opp. How fun is this donkey shot from Stephanie Williams Photography?
6. Walking Down The Aisle
The look on a bride's face as she walks towards her groom is priceless — and this is also a special moment for you and your dad (or whoever is walking you down the aisle). Make sure your photographer can skillfully get around the ceremony space (without disturbing the vows) to get a great shot like this one from Abby Ross Weddings.
7. The Decor (Before Guests Arrive)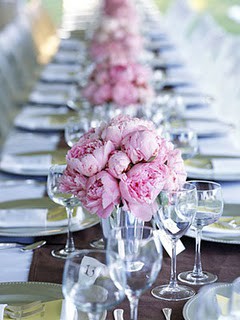 You'll absolutely want a shot of the decor – particularly the table settings if you've spent a lot of time on them – before the guests arrive at the ceremony. Your photographer and his/her assistant should time this all with cocktail hour/the ceremony. Ditto goes for the cake before it's eaten, and the favors before they've all been taken.
8. A Private Moment With Your Groom
 Lots of couples elect to have a special "first look" photo session before the wedding ceremony.
9. The dancefloor! 
You know you want a pic of your uncle doing the roger rabbit (or the worm… or whatever his signature dance move happens to be), so make sure your photog gets right up in the action at the moment when the band/DJ is most rockin' out (ie. the third set).
10. The Get-Away
Be sure to give your photog plenty of warning before you dash out the door! You definitely want a pic of your sparkler-tastic getaway, and a shot of your swanky getaway vehicle!
Still crossing items off your wedding shopping list? Check out our guides to the best simple wedding dresses, designer wedding shoes, and unique wedding invitations!