Just like your overzealous high school AP English teacher, we love a good theme. Sure, themed weddings can be a little on the hokey (or the spooky) side, but if executed with style and finesse, they can also be pretty magical. If you're on the hunt for wedding inspiration, check out our ten recommendations for fresh new wedding themes! (And be sure to tune in every Thursday for even more themed wedding ideas.)
Typography
If your true love is graphic design, letterpress, or a fresh typewriter ink, why not try a typography-themed wedding! If you go ga-ga for a good typeface, plaster your favorite fonts on your cake, photobooth, wedding dress, or tablecloths.
Balloons
 An "Up"-inspired wedding would abound with giant balloons and whimsy galore! Disney's "Up" warmed a lot of hearts, so why not hitch your wedding to a few hundred balloons and see what happens? Giant helium balloons make a fantastic backdrop for any reception area or ceremony space.
Downton Abbey
An elegant, "Downton Abby"-inspired affair with all the trimmings of Georgian England would definitely wow your wedding guests! If you swoon for the costumes and scenery in "Downton Abbey," don't bother looking any further for your wedding inspiration. A few choice antiques and the right turn-of-the-century style gown will get the party started!
Summer Music Festival 
If music is your shared passion, find yourself a festival-worthy space in the great outdoors, fill it with tents, and enlist your favorite local bands to entertain your guests to an unforgettable evening of music, schmoozing, and boozing in the open air.
The Beatles 
Sixties psychedelia is totally your thing, but your heart truly belongs to John, Paul, George, and Ringo. Throw a colorful fete inspired by everyone's favorite Liverpudlians. After all, all you need is love…and a yellow submarine cake topper, vintage Beatles album table markers, etc. (If Rockabilly is more your style, click here.)
Schoolhouse
A Schoolhouse-inspired shindig with all your favorite simple pleasures! Are you hot for (a) teacher? What could be more adorable than two teachers in love…except two teachers in love throwing a primary school-themed wedding? You don't have to look any further than a teacher's supply store for great themed wedding decor!
 Ski Lodge
Listen up winter brides – if you want to treat your guests to an affordable, domestic destination wedding, check out Tahoe, or Mammoth, or one the nearest popular, moutain-top ski locale. (If you need more ski-tastic wedding inspiration, click here!)
LEGO
Is your groom-to-be really just a big kid on the inside? Garnish your wedding with adorable Lego wedding accessories like Lego wedding cake toppers, Lego favors, or even Lego wedding jewelry.
The French Riviera 
Ooh la la! If you can't swing a honeymoon in Monte Carlo, bring a little of the ocean-side resort elegance to your wedding. A French Riviera-themed wedding could include roulette wheel wedding tables, a plush pool-side lounge area, and over-sized sunglasses wedding favors.
"The Hunger Games"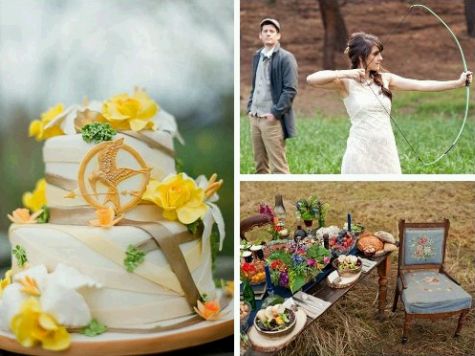 Twilight-themed weddings are a dime a dozen now – and while a YA novel about a futuristic death match seems like a strange thing to model a wedding on, we're super impressed by the recent outpouring of "Hunger Games" wedding inspiration! Just remember to mix the rustic design elements with opulent centerpieces and table spreads – and don't forget archery-themed decor.
Ready to get your shop on? Check out our guides to the best unique wedding invitations, simple wedding dresses, and wedding cake toppers!