Shoes
. According to the folks over at
mywedding.com
, brides are embracing every color of the rainbow and donning shoes they can wear again. The grooms are also getting in on it with matching colorful socks--and the result is some very precious pictures.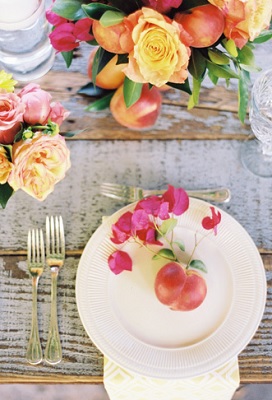 Incorporate Fruit into the Decor. While flowers are an easy way to bring your wedding day color palette to life, if you want to think outside the box, make fruit a focal point. Using brightly-colored lemons, limes or oranges in anything from the centerpieces to the escort tables can make any table pop. "Color to me is so much fun when I design a wedding as it allows so much more of a bride and grooms personality to show through. I also love to design weddings using bold colors that are not the stereotype when paired together," says Brian Worley, the co-owner of YourBASH. [Photo: Ryan Ray Photography]
Furniture. Your overall décor can be the perfect way to add color to the day. Create a sophisticated, yet bold statement with your decor by incorporating furniture upholstered in colors that fit into your existing color scheme, says Kristin Alexander of Esoteric Events.
Floral Accents. Infuse life into your bouquet and reception flowers with brightly colored accents--just be sure to pick complimentary colors that will make your floral pop, says Alexander.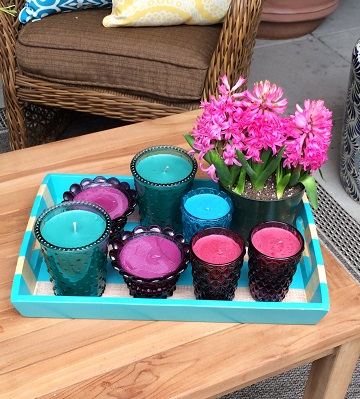 Serving Trays. "If you are going to be passing out hors d'oeuvres or drinks to your guests during the cocktail hour, treat yourself to some new colorful trays," says celebrity wedding planner Mindy Weiss. "After the wedding, you can use them in rooms around your home! I just bought a bunch of new trays from HomeGoods that I used in different ways--you can display beautiful glasses on them on the bar, or place a vase with flowers on a lovely metallic tray in your dining room."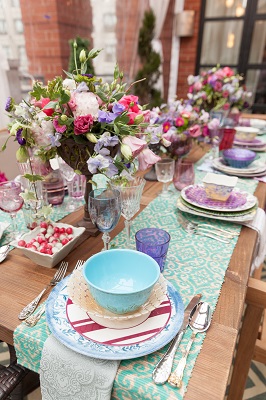 A Colorful Tablescape. Weiss also recommends adding a colored dinner plate or charger to white dishes at a wedding. "That little bit of color always surprises guests--and I know when they notice something, it must be a good idea!" says Weiss. [Photo: HomeGoods/Zack Seckler]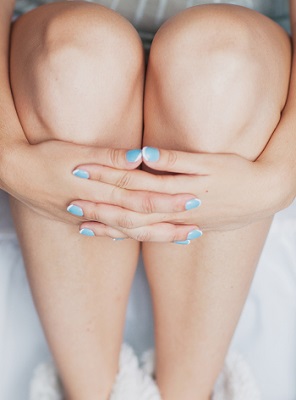 Nails. Sure, pale pink is classic, but there's no rule against choosing something brighter for your nails. The obvious idea is to go with blue for your "Something Blue," but really you can pick any color you love.
Frosting & Hidden Cake Layers. In addition to exquisite colorful frosting designs, the pros at MyWedding.com are also starting to see brides opt for colorful cake layers that are only revealed when the cake is cut.
Jewelry. Just like a black dress is more dynamic worn with jewelry in colors other than black, a wedding dress in your best shade of white is made fresh and vibrant when you pop a color against it, and it is best accomplished with jewelry, says David Zyla, Emmy Award- winning stylist and author of Color Your Style. "Reach for clear faceted stones that catch the light, and take a color cue from the dominant tone in your eye. The results will insure that your eyes pop and sparkle in each and every photo of the wedding album!"
Fun Favors. When preparing wedding favors, make them fun and colorful so they can add additional color to the table, says Felicia Evans Long, event planner and owner of Sweet Events and Planning.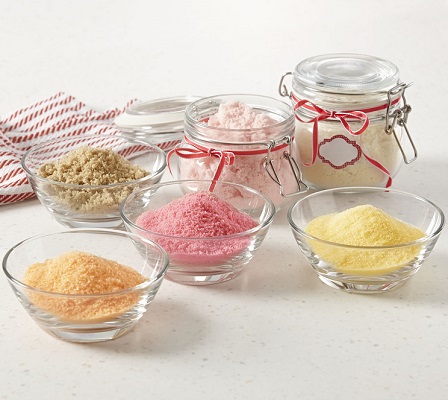 Make it Sweet. Use a little colored sugar as a decorative rim on a cocktail or to garnish desserts with a sweet sprinkling of color. McCormick has a simple recipe on its site which involves combining sugar and food color in a resealable plastic bag and kneading it gently.