Socks. In case he gets cold feet, duh.
Just In Case You Get Cold Feet Argyle Socks and Label ($8)
Watch. A go-to gift for many grooms, be sure to engrave the back with a special message. Autodromo Prototipo Chronograph ($625)
Ring. Sometimes called a mangagement ring, more men are wearing their own version of an engagement ring--just be sure your guy is the type to do this before you make the purchase. Tacori 18K White Gold Comfort Fit Wedding Band ($2,570)
Pen. A beautiful pen is something he can use every day, and you can even engrave it with a special message.
Tiffany T-clip Ballpoint Pen
($135)
Engraved Wallet Insert. Just in case he forgets how much you love him.
Engraved Wallet Insert ($29.03)
Cufflinks. He can wear these on the big day.
Custom Wedding Cufflinks ($39.95)
Guitar Pick. For the groom-to-be who loves to rock out. Hand stamped guitar pick ($13)
Engraved Fishing Lure. For the fishing fanatic in your life.
Engraved Fishing Lure ($26)
Keychain. Every man needs a good key chain.
Today until Forever Keychain ($32)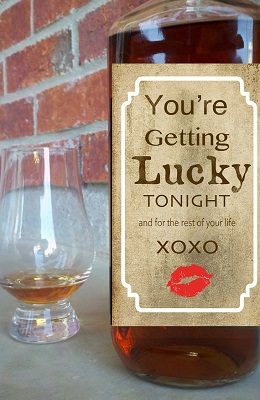 His Favorite Cocktail. His drink of choice will take better with this fun label on the bottle. Grooms Gift Wedding Whisky Bottle ($9.50)
Sweet Book. Fill out the book with special messages to your fiancé, and then give it to him before the wedding day. Journal ($7)
Boudoir Photo Book:Not that he needs reminding, but show your groom how lucky he is to marry you with a photo book of your sexy boudoir shoot.
Boudoir Photo Book ($98)