Nicki Minaj barely had any time to change in between her "Anaconda" and "Bang Bang" performances at the 2014 VMAs. So it's no surprise the top of her dress ripped as she was rushing to get back on stage. We have to say though, girlfriend literally held it together and did not let a nip slip happen.
Fans camped out overnight to see Mariah Carey sing on "Good Morning America" but her dress stole the spotlight when it fell apart onstage. Yikes.
Since Lady Gaga is the queen of red carpet stunts, we can't decide if it's an inadvertent wardrobe malfunction or if she meant to show her panties on purpose. Something tells us it's the latter.
Eva Longoria discovered that stairs and high slits don't mix when she accidentally flashed her underwear on the red carpet at Cannes. Thankfully, it was a decent pair.
Kelly Rowland was so focused on her performance that she didn't realize her revealing top was riding up until both her breasts were exposed. Peep show, much?
Going bra-less in a breezy halter dress must've been comfortable for Cameron Diaz but she paid a grave price: her nip slipped just in time for the paparazzi to see.
Anne Hathaway channeled Britney Spears when she flashed the paparazzi when exiting her car. But instead of wearing a skimpy club dress, Anne was dressed in a Tom Ford gown. Classy.
Sofia Vergara's famous curves were too much for her Zuhair Murad sequin gown as the back of the dress split down the middle 20 minutes before she was set to accept an award. Fortunately, she was able to rectify it but not without documenting it for social media first.
Adrienne Bailon learned an important lesson about see-through dresses: don't wear them without undergarments. Duh.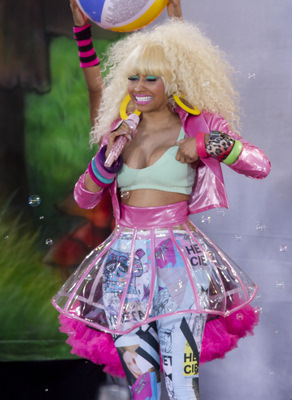 Nicki Minaj planned a series of theatrics for her "Good Morning America" performance but we're pretty sure a nip slip wasn't one of them.
Kate Moss is all smiles now but shortly after, her blazer moved a little too much to the right revealing a sheer top and no bra underneath. Oops!
Kim Kardashian loves her skin-tight leather dresses, even when they split open before national TV appearances like this Prada dress on "Jimmy Kimmel Live."