Take portrait shots before the ceremony. The moment you first see each other is a MUST-TAKE shot for any photographer. A lot of brides still want that surprise moment when the church doors fling open to reveal the goddess bride. But it's not the only option. Arrange to have your portraits taken before the ceremony. Your photographer can scope out the perfect site for the "first look." Plus, if you take your portraits before the nuptials, you'll have more time to spend with your guests at your cocktail hour. Who wants to miss out on their signature drinks?!
[Photo: Yvette Roman Photography]
Avoid traditional wedding venues. Instead of a reception hall, choose a bookstore, a restaurant, a museum, a family friend's backyard—some place that speaks to you. You might have to do a lot more coordination of moving parts (caterer, rentals, etc. that don't necessarily come with the venue), but the extra effort will be worth it in the end.
[Photo: Red Ribbon Studio]
Use your friends' talents! If you have a graphic designer friend, ask her to create your wedding invitations (I did). Have her do matching menu cards, ceremony programs, etc. You can't make her work for free (even if she insists, pay her back somehow) but it will still be a huge cost-saver.
[Photo: Brookelyn Photography]
Have a special performer. A favorite song sung by your best friend at your ceremony or an unexpected performance at the reception (yes, that's the groom playing electric guitar with the band!) will make for a memorable wedding.
[Photo: Jenny Ebert Photography]
Splurge on a custom gown. Looking to make a one-of-a-kind statement? Getting a gown made JUST FOR YOU is the way to go (here's how it's done). It will be a splurge item but when a hundred-plus jaws are dropping to the ground at the sight of your insane PERFECTION, you'll realize it was worth every penny.
[Photo: Brookelyn Photography]
Focus on the food. One of the biggest complaints people have about weddings? The food sucks. So focus on serving your guests the best food ever! Have a long cocktail hour, food trucks, an after-party with the best late-night snacks (get ideas here). And carefully select each and every menu item.
[Photo: Ryan Ray Photography]
Include your guests in your day. There are so many ways to get your guests a little more involved in your day. Put out framed photos of you-plus-guests from over the years or have a group photo after the ceremony. Another idea? Set up a photo booth or an audio guestbook where guests can leave heartfelt messages for the bride and groom. We also love this Mad Libs-inspired advice idea.
[Photo: Brookelyn Photography]
Skip the open bar. But still serve top of the line cocktails. Think Veuve. A selection of handpicked imported wines. And, oh yes, a signature cocktail menu. Controlling the kinds (and amounts) of liquor being served can be a huge cost saver. PS—these champagne flutes double as escort cards—smart and chic. I'd steal this idea if I were you.
[Photo: Red Ribbon Studio]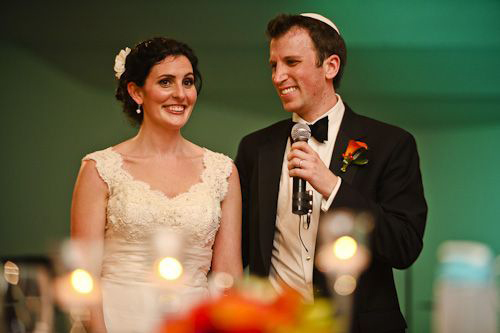 Deliver a speech TO your guests. Forgo the speeches FOR YOU (do them instead at the rehearsal dinner) and give a speech TO your guests. Thank them for coming and share a bit about your love story. Be funny, be authentic, be a heartthrob. You WANT people to laugh and cry.
[Photo: Red Ribbon Studio]
Hire a trusted friend of the family for your day-of coordination. Going out of your mind with last-minute wedding planning details? Just imagine then how many loose ends will need to be neatly tied up on the day of?! If you don't have a wedding planner taking the reigns, you should hire a day-of coordinator—choose someone you can trust implicitly who maybe didn't make the wedding guest list and hire her for the day! You'll breathe a little easier knowing she's got your back.
[Photo: Shutterstock]
Skip the wedding cake. No, you don't have to have a five-tiered wedding cake for it to "officially" be a wedding. Do an assortment of other desserts instead (a gorgeous presentation can give you that same WOW factor). You can save some serious dough if you put friends who love to bake to work on some favorite family recipes.
[Photo: Ryan Ray Photography]
Kiss often! Spend some time ALONE after the ceremony and during the reception. You'll need time to re-focus on just the two of you. And remember to kiss often!
[Photo: Brookelyn Photography]