Eco-friendly Weddings. This could be the year for more sustainable and eco-conscious weddings, says Aviva Samuels of Kiss the Planner. "I see more and more farm to table restaurants popping up and think that an environmentally conscious mindset will penetrate the wedding market too. More brides today are realizing that you don't have to give up glam in order to be earth friendly and that they can have a high-quality, stunning wedding and still make a difference."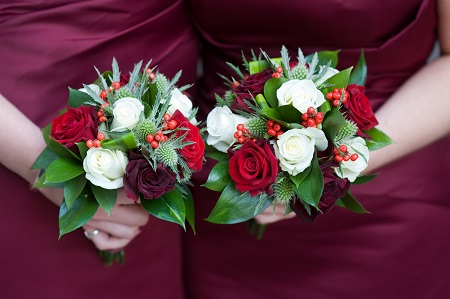 The Color Marsala. It's the 2015 Pantone color of the year. "Using this rich jewel tone adds a luxurious and elegance feel to the day," says Stefany Allongo, founder and chief consultant of The Majestic Vision: Wedding and Event Planning Services. "The color is being played up in through the use of printed materials, floral and even on the dessert displays."
Bubbles, Bubbles Everywhere. Champagne displays are extremely popular for 2015, says Allongo. "From champagne towers for a more formal affair to champagne bars utilizing various fruit mixes to create more variety for something a little more casual, you can't really go wrong."
Naked Cakes. There is a definite trend towards all things natural, but all dressed up. "The use of vines and greenery, earth tones and other natural elements are getting a healthy dose of glam," says Samuels. "Many brides today don't want to stray too far away from what is authentic and natural, but they don't want to go too rustic either. 2015 will be filled with just the right balance between chic and natural. Shabby chic is looking tired but refined glamour is on the rise."
Hanging Décor. Brides can't get enough of the hanging floral arrangements and other decorative elements. It's the dramatic affect that they are after, says Samuels. Chandeliers, café lights, parasols, garland, ribbons, blossoms, bird cages, lanterns, escort cards and even hanging cakes are a trend that will continue to hang around.
Recipe Guest Favors. Edible favors are always popular, but now creating a favor with ingredients and accompanying favor are exploding, says Allongo. "From the couple's favorite sweet treat to a secret family recipe to a snack that flows with the wedding theme, you can never go wrong with something yummy."
[Photo: Etsy]
Domestic Destination Weddings. Whether it's because of budget constraints or because couples actually like the idea of having a large wedding, more and more American couples are opting for destination weddings within the 50 states, says Dorian Smith-Garcia of The Anti Bridezilla.
Food Trucks. Using food trucks in place of caterers are all the rage for 2015. They are a great way to save money, and everyone gets to try food that most have never had before, says Lea Hatch, owner of A Shot Above Entertainment in California.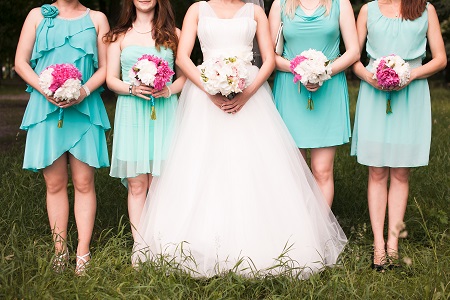 Mix and Match. From bridesmaids' dresses to table settings, many couples will be going with a mix and match style. Gone are the days when all girls wore the same dress, causing a "Who Wore it Best" competition amongst the girls," says Lynn D'Ascanio of D'Asigner Events. "The same concept as with the bridesmaids' dresses applies with the table settings. Just as you would decorate a living room with mix and match fabrics, now too are wedding designers decorating the tables with mix and match linens, high and low centerpieces and even different types of chairs and benches. The result is a beautiful, cohesive room that begs the guests to walk around the area to see all the décor."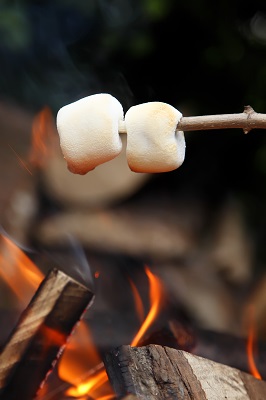 Fire and Food. Believe it or not, brides are asking for fire: bonfires, fire pits, fire places, and more. "An after party with a bonfire and s'mores is our number one request," says Moss. "Couples want the allure of a bonfire and the nostalgic connection."
Ditching the White Dress. Brides will be wearing colors more than ever, says Jason Mitchell is a wedding planner in NYC and author of the book Getting Groomed. "This has been happening for a couple years as an outlier, now it is a full on trend. Brides who want to have the drama that the expected white gown won't give are adding color to their dresses. Not just off whites or ivory, but pinks, reds and even black!" [Photo: Vera Wang]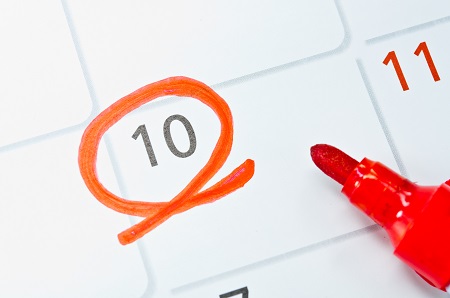 Weekday Weddings. Couples choose mid-week dates for weddings in the Hamptons because of availability and pricing. In addition, these dates allow for weddings with a careful eye on timing and budget. "We often have small wedding groups book just a month or two out because they can, at a savings," says Anna Moss of Montauk Yacht Club Resort & Marina. "Our summer weekend weddings are booked a year in advance, at least." Surprise weddings, elopements and weddingmoons, including close family and friends, all have a place on those mid-week dates.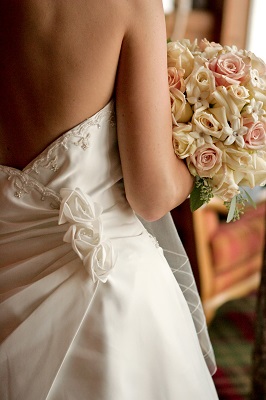 Focus on the back. After what feels like forever, the back of your dress is finally getting the attention it deserves, says Smith-Garcia. "October Bridal Fashion Week proved that the Spring '15 collections will ensure brides are wowing their wedding guests no matter the angle as they walk down the aisle."