2016 is slowly coming to a close and it has definitely been a year to remember (or one to forget, who knows?). Let's all take a moment to reminisce about the good times we shared this year…by paying homage to these crazy-hilarious memes, of course! You didn't think we would end 2016 without reminding you how much time you spent on social media tagging your friends in these memes, right???
Presenting, the best 16 memes of 2016–you're welcome!
16. Hotline Bling 
There were so many of Hotline Bling memes I could not keep track, but my favorite one had to be this hilarious video of Drake "playing tennis." Some other funny ones include Drake with a light sabor and Drake dancing salsa. This one spilled over from 2015, and we're happy to take it.
15. Innocent Skai Jackson
We have all been there at least one time or another, trying to hold back our anger so much that we force a smile. We definitely see ourselves in this innocent photo of Disney Channel actress Skai Jackson.
I'm dead pic.twitter.com/CpPH8nXu9Z

— Skai Jackson ♡ (@skaijackson) April 13, 2016
14. Obama and Biden aka JoeBama
Ever since Trump was elected President, everyone has been trying to get away from the miserable reality that this dynamic duo will no longer be in the White House. To ease the pain, the Internet has gone crazy with these hilarious VP Biden and President Obama-themed memes.
Obama: Didn't think he'd be late

Biden: I gave him the wrong address

Obama: Joe he's the president-elect

Biden: idgaf what they call him pic.twitter.com/qLJ8BB93p1

— Girl Code (@reIatabIe) November 14, 2016
13. Ken Bone
Ken Bone became an instant Internet sensation the minute he came on camera at the last presidential debate between Donald Trump and Hillary Clinton, and we can see why.
12. Kermit vs. Evil Kermit
These evil Kermit memes set the Internet ablaze this year because every one of us knows (deep down) that we have our own evil Kermits living inside of us.
me: don't get too attached this time

me to me: start planning the wedding pic.twitter.com/pKiM8uC2KM

— julian (@frihoele) November 19, 2016
11. Ellen Degeneres crying
After Ellen was awarded the Medal of Freedom by President Obama a week ago, this hysterical meme began to circulate rapidly.
10. Chubby-faced Boy
This adorable baby has been making waves all over the Internet in recent days because, well, he's just too cute!
9. Melania Trump
Our soon-to-be First Lady was under fire earlier this year after accusations of her camp plagiarizing Michelle Obama's speech and now, she's just been turned into one of the best memes of 2016. I would say she had an eventful year, wouldn't you?
8. Arthur's Fist
Arthur, a childhood television show, was turned into one of the most viral memes of 2016, or rather his fist was.
7. Michael Phelps' Game Face
Arguably the best athlete ever, Michael Phelps became the center of one of the funniest memes of 2016 after the world saw him getting ready to compete at the Rio Olympic games. I don't know about you, but I wouldn't want to go up against him!
6. Trillary Dump
This mashed up version of the two Presidential candidates of 2016 is absolutely comical.
Trillary Dump 2016 #debatenight pic.twitter.com/JQeTp5g0Jg

— Brick Tamland (@Ch4BrickTamland) October 20, 2016
5. Obama and Trump
These two were at odds since the beginning of the 2016 Presidential campaign, until Trump became the president-elect. Of course, in standard presidential fashion, Obama welcomed him to the White House and the meeting, ultimately, got turned into one of the best memes of 2016.
4. Steve Harvey's Mistake
After Steve Harvey's infamous mistake at the Miss Universe Pageant, which, technically, was the end of 2015, he was turned into many priceless memes. Luckily, this one carried over into 2016 too.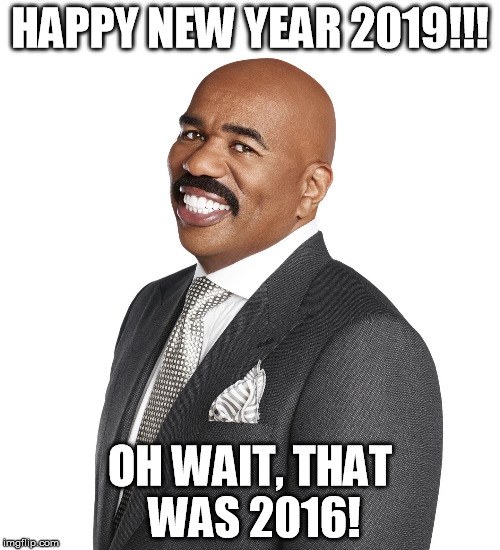 3. Harambe
Who knew the untimely death of a gorilla at the Cincinnati Zoo would turn  into one of 2016's most unforgettable memes? I know I didn't.
RIP to the legends #2016deaths pic.twitter.com/jdPoRTPp2G

— WORLDSTARHIPHOP (@WORLDSTAR) June 7, 2016
2. Spongebob
Spongebob is a meme icon, therefore his memes will never die.
1. Dat Boi
This pointless meme was (not surprisingly) one of the most circulated memes of 2016. It is absolutely senseless, but isn't that what we love in America?!?
— memes (@memeprovider) May 9, 2016