Even though Labor Day has come and gone, summer technically isn't over until September 22nd. These next two weeks are your last days to hit the beach or an outdoor happy hour. They're also your excuse to throw an end-of-summer party, maybe for work on a rooftop or with some friends at brunch. Summer Friday perks and share houses in the Hamps need a proper send off, right?
Luckily we have some very talented and experienced bartenders in the office who came up with some recipes for your festivities. They are as pretty and quick to make as they are delicious. We tried and tested these recipes and whipped 'em up in about 2 minutes.
Here's to a great end of summer and enjoy!
1. Flower Power: Add edible flowers for that extra pop.
1 part(s) Pinnacle Vodka
2 part(s) Orange Pellegrino
Shake with ice and strain into a cocktail glass
Sprinkle edible flowers on top
2. STRAW-berry: Basically straw+berry.
1 part(s) Pinnacle Raspberry Vodka
2 part(s) soda water
Shake with ice and strain into a cocktail glass
Just add sliced strawberries and an optional pretty straw
Need more cocktail inspiration? Check out the video below on how to make Pinnacle® Cinnabon® Vodka Brunch Punchy.
[youtube]https://www.youtube.com/watch?v=SIZ2j-ezXhY&list=UUyAJQKf3VvHK4tptiYJv-Iw[/youtube]

"Pinnacle Vodka shakes things up with unexpected experiences and delightful discoveries. Explore with other fun flavors at http://www.pinnaclevodka.com". Also, check us out at www.facebook.com/pinnaclevodkas and https://twitter.com/PinnacleVodka or find more fun entertaining and drink ideas on our Pinterest page athttp://www.pinterest.com/pinnaclevodka/".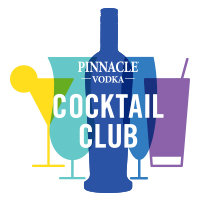 "Pinnacle® is a registered trademark of Jim Beam Brands Co. and is used with permission.  This is a sponsored partnership, with Pinnacle® Vodka, via Mode Media.  The information, comments, and ideas expressed on this website are those of the author and do not necessarily reflect the opinions or positions of Jim Beam Brands Co., its affiliated companies, or any of their directors or employees."