Tis the season to shop–but while you're planning all of the best gifts to give, don't forget to treat yourself  to a little something. We're loving Banana Republic's  holiday dresses line–and we'll make the deal sweeter: Enter code BRHOL20 at checkout and get 20% off. At that, how can you argue?
If you're a stick-to-neutrals girl, change things up with the shape of your dress–like with this strapless color block dress–we love the gunmetal color at the top. If you like a flowy dress and aren't ready for full-on sequin, try the understated sequin-printed belted dress.
All of the upcoming holiday soirees (with photos posted on Facebook afterwards, of course) warrant one stand-alone sparkly and festive accessory to go along with your perfect party dress. See below for a few of our favorite ideas–the more sparkly and bright, the better, we say (but don't try them all together).
This Ann Taylor pearl necklace is best on its own, without other accessories. A fun piece to go with all party dresses–and works later paired with jeans and a blazer.
J. Crew steps up the clutch with this brilliant (in both senses of the word) gemstone version. Keep it in your handbag for after-work parties or events.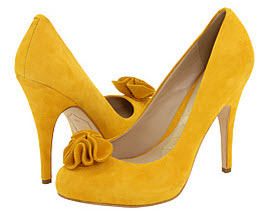 A pop of an unexpected color makes these Joan & David shoes unique–and they come in three additional shades–the perfect antidote to an all-gray or black outfit, but can just as easily make navy blue, emerald green, or winter white look a little more fashion-forward.
For more ideas on punching up your party look, see our guides to the prettiest party dresses, cocktail rings, brooches, party shoes and festive attire.