If you haven't discovered this yet – creating a seating chart can be hellish. After vexing over seating arrangements for several hours (and possibly shedding a few tears), you'll definitely want to display your finished product with some finesse. We've scoured Pinterest and all of our favorite wedding blogs for inspired escort board ideas, and we've rounded them up for you right here!
1. With Doilies
(Source: Ruffled)
This is an especially precious idea for a Southern wedding, as few things are more Southern than delicate, lacy little doilies. Each doily can be numbered and used to represent an individual table.
2. On A Wooden Ladder
(Source: Urban Rose Photo)
This is a charming idea for a rustic, outdoorsy wedding. String twine all around the ladder and use clothes pins to hang the escort cards. Can't source one that's sufficiently antiquated looking? Contact a local vintage rentals company.
3. On Shelves Of A China Cabinet
(Source: Southern Weddings)
Use pretty china plates to spell out your reception seating arrangements. You should be able to find a nice mismatched assortment in just a few short thrift store visits.
4. With Geometric Shapes
(Source: 100 Layer Cake)
If you're having an uber-contemporary, colorful, geometric-themed wedding celebration, this is the perfect escort board idea. Turn your escort board into an optical treat with colorful shapes and designs.
5. On A Chalkboard
(Source: Hello, Love)
Could anything be more sublimely simple than a chalkboard escort board? It's bold, it's stark – it requires absolutely zero crafty abilities. Though it does help if you have nice handwriting – or maybe know calligraphy.
6. With Lace Ribbon
(Source: Ruffled)
String lace ribbon across an old frame and attach you escort cards with little pins, or simple stitches!
7. On Printed Paper
(Source: Martha Stewart Weddings)
Enclose your guests' table info in miniature envelopes – it's like a tiny surprise! Martha Stewart Weddings can tell you exactly how to make the escort board pictured above.
8. On A Vintage Door
(Source: The Brides' Cafe)
Yet another fabulous option for an outdoor wedding that takes place in the uh, out of doors. (Get it?!)
9. With Painter's Tape
(Source: Style Me Pretty)
Transform a simple poster board with pretty, colorful or patterned decorative tape. It'll pop especially well with a simple black and white color scheme.
10. With Butcher's Twine
(Source: 100 Layer Cake)
Simple butcher's twine and thumb tacks are an attractive way to display your escort cards.
11. Tied To Skeleton Keys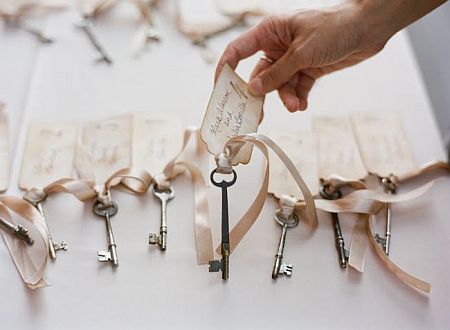 (Source: Dandelion & Grey)
Create a stunning visual statement by tying your escort cards up with antique skeleton keys and pretty ribbon – these also make excellent wedding favors.
12. On Windows Panes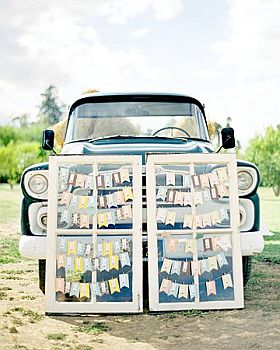 (Source: Martha Stewart Weddings)
There's a lot of options here – write your seating arrangements on the window panes, or panel window frames with chicken wire – or create cute little string banners, as seen here.
13. With Ombre Paper
(Source: Pinterest)
Buy a bunch of escort cards in the same color family, and line them up to create a gorgeous ombre effect.
14. Around A Tree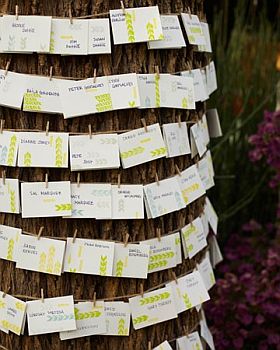 (Source: Martha Stewart Weddings)
Use what Mother Nature gave you – if your reception is outdoors, use a tree trunk as your escort board.
15. Hanging From Ribbons
(Source: Perfect Bound)
No board necessary! This option adds instant visual interest to any empty corner of your reception space.
16. Use A Pendant Bunting
(Source: Style Me Pretty)
Put one of your guests' names and table assignments on each little pendant.
17. Attached To Boutonnieres 
(Source: The Knot)
Delight your guests by tying your escort cards to aromatic little boutonnieres.
18. On Cold Beverages
(Source: Wedding Chicks)
Start the evening off right – give your guests a beverage to-go as they make their way to their seats, mix, and mingle.
19. In Cupcakes
(Source: The Sweetest Occasion)
This is another banner idea – these photo cake toppers would be easy to whip up, thanks to the magic of facebook!
20. Stuck To Antique Tins And Magnets
(Source: She-N-He Photo)
Antique tin tiles feature gorgeous, ornate patterns which will really pop at your sophisticated soiree.
21. On A Map
(Source: Pinterest)
Give your guests something to talk about – use your escort board to map out where you met each one, or where they're from.
22. In Succulents 
(Source: A Paper Proposal)
Top off plantable favors with your escort cards, so guests are sure to take them to their tables – creating instant centerpiece decor! If you want succulent favors for less than a dollar each, click here.
23. With Clothespins
(Source: Green Wedding Shoes)
We have at least 5 other escort board options that feature clothespins – but they stand pretty well on their own, too! You can source cute mini clothespins here.
24. On Wooden Spools
(Source: Ruffled)
On a similar bent, a garland of quaint old wooden spools would also create a similarly homey, vintage feel.
25. With Mini Bowties
(Source: Martha Stewart Weddings)
Snazzy bow ties will really bump your escort board up a notch, from a style perspective.
Want even more reception ideas? Check out our guides to the best customized wedding favors, wedding centerpiece decorations, and wedding cake toppers.