"Sometimes bad girls are tired of bad s***."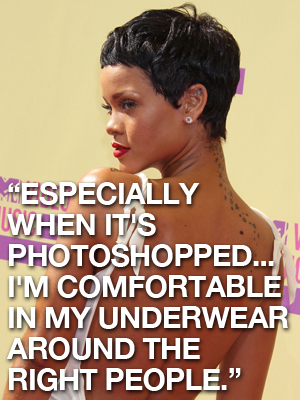 "Especially when it's Photoshopped... I'm comfortable in my underwear around the right people."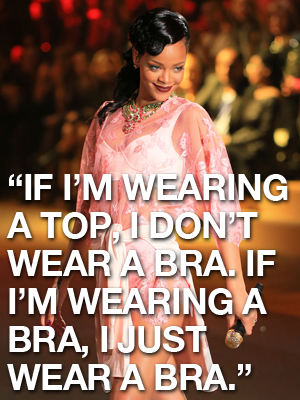 "If I'm wearing a top, I don't wear a bra. If I'm wearing a bra, I just wear a bra."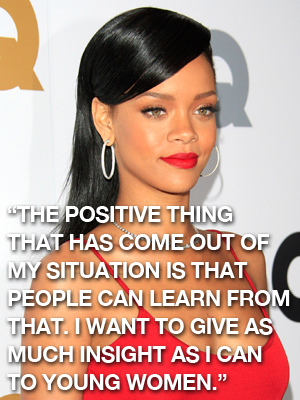 "The positive thing that has come out of my situation is that people can learn from that. I want to give as much insight as I can to young women"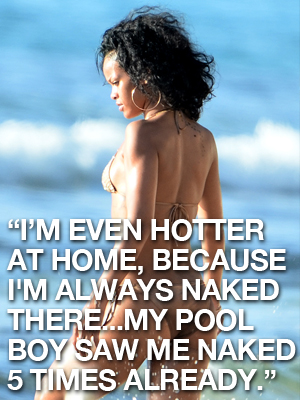 "I'm even hotter at home, because I'm always naked there. I'm from Barbados, that's quite normal there. My pool boy saw me naked 5 times already."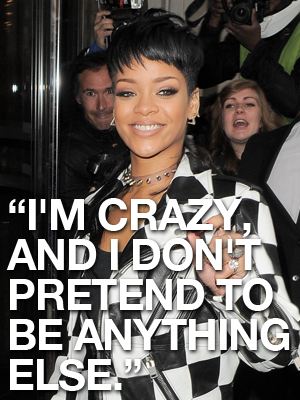 "I'm crazy, and I don't pretend to be anything else."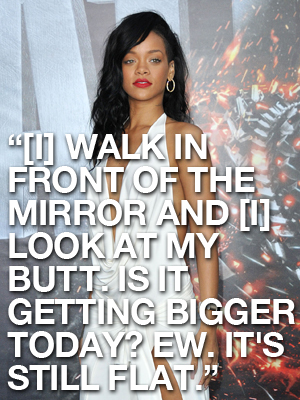 "I do pick on my body. It's a thing that women do. We walk in front of the mirror and we look at our butt. Is it getting bigger today? Ew. It's still flat."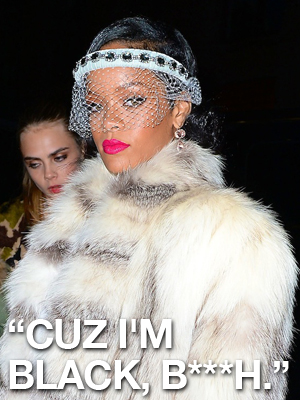 "Cuz I'm black, b***h."--to a 'fan' who asked why her hair is so nappy on Twitter.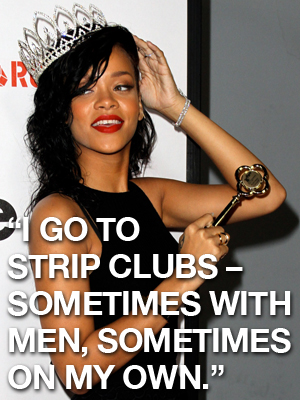 "I go to strip clubs --sometimes with men, sometimes on my own."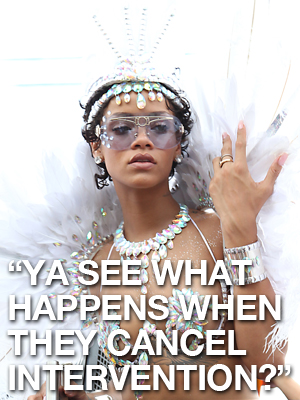 "Ya see what happens when they cancel intervention?"--to Amanda Bynes when she called her 'ugly,' amongst other things, on Twitter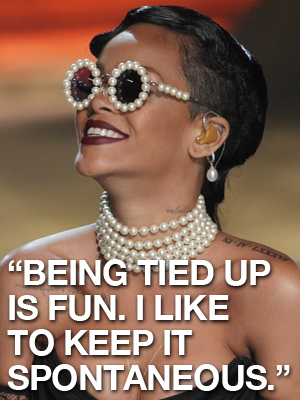 "Being tied up is fun. I like to keep it spontaneous."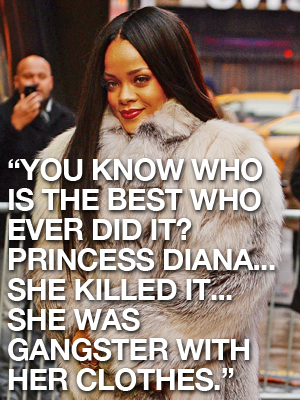 "You know who is the best who ever did it? Princess Diana. She was like--she killed it. Every look was right. She was gangster with her clothes."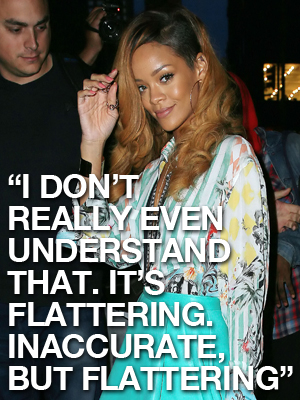 "I do not think about things like that…I don't really even understand that. It's flattering. Inaccurate, but flattering"--on being Esquire's sexiest woman.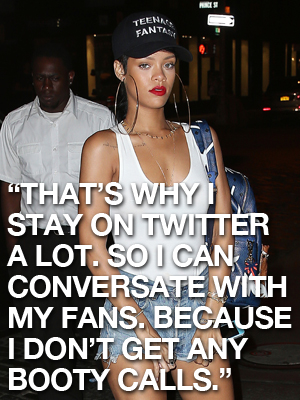 "That's why I stay on Twitter a lot. So I can conversate with my fans. Because I don't get any booty calls."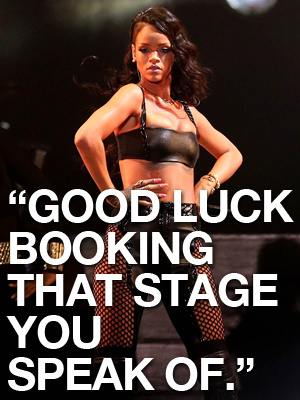 "Good luck booking that stage you speak of"--to Ciara, via Twitter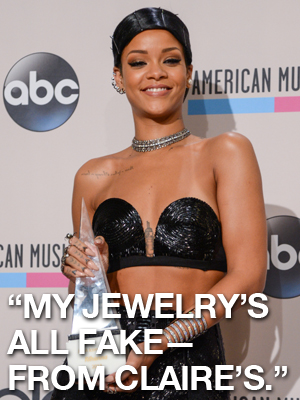 "My jewelry's all fake—from Claire's."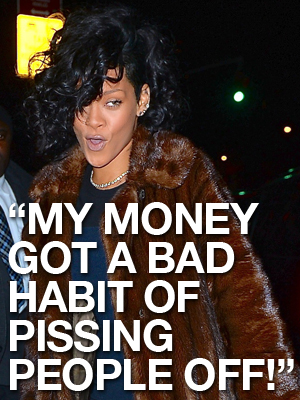 "My money got a bad habit of pissing people off!"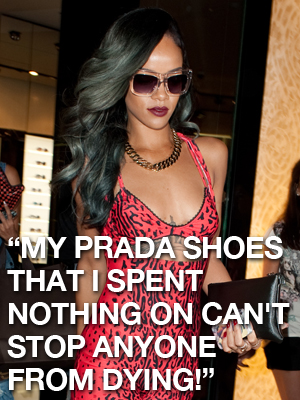 "My Prada shoes that I spent nothing on can't stop anyone from dying!"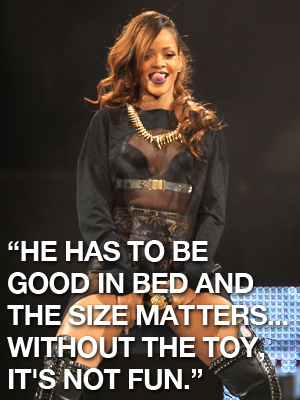 "He has to be good in bed and the size matters. You get what I mean? The inner beauty counts as well but without the toy it's not fun."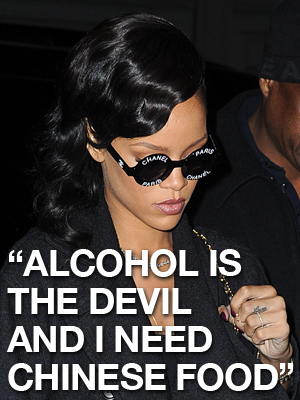 "Alcohol is the devil and I need Chinese food"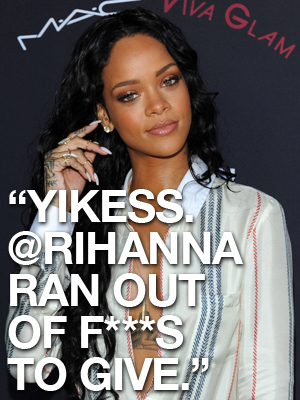 "Yikess. @Rihanna ran out of f***s to give"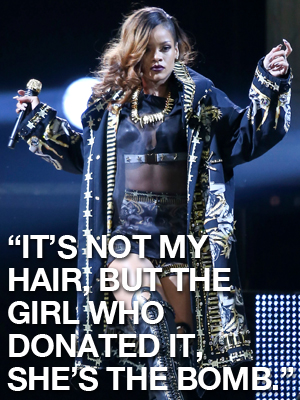 "It's not my hair, but the girl who donated it, she's the bomb."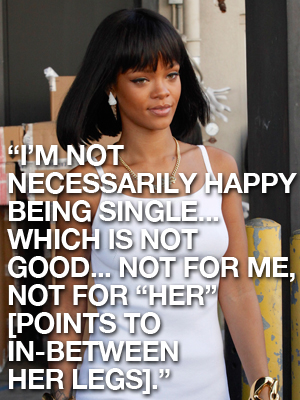 "I'm not necessarily happy being single. It's not really that cool. It sucks but it is what it is. My personal life is pretty much non-existent. Which is not good, not for the long run. Not for me, not for "her" [points to in-between her legs] It's not fun."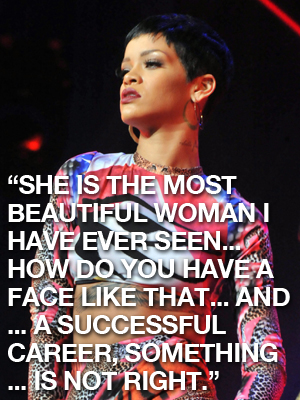 "I think she is the most beautiful woman I have ever seen. Like, how do you have a face like that, with hair like that and dimples, and a body like that, that's proportioned like that? And you have a successful career, something about that is not right."--on Styled to Rock judge Cheryl Cole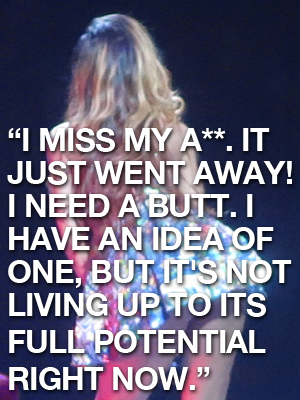 "I miss my a**. It just went away! I need a butt. I have an idea of one, but it's not living up to its full potential right now."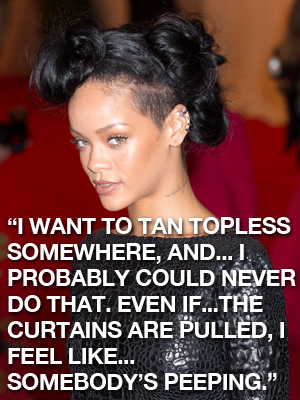 "I feel like I'm being watched. Always. Like, I want to tan topless somewhere, and I know I probably could never do that. Even if I'm upstairs in my bedroom, and the curtains are pulled, I feel like a paparazzo's outside on a boat somewhere or somebody's peeping."