You've done the diet, you've bought the swimsuits, and are ready for that beach vacation. But wait–what do you put over that whittled-down bod and well-considered bikini when it's time to head out for drinks? Happily, we did the leg work for you and selected the best cover-ups a girl can buy. We even picked versatile ones that work as well with sunblock and bare feet as they do with strappy sandals and lipstick. You're welcome.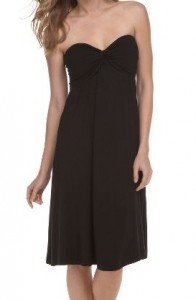 This simple, elegant Dotti "Island Bonita" Twist Bandeau Dress coverup ($28.80, down from $48) is surprisingly affordable. Add a statement necklace and some heels and you're done.
This Diane von Furstenberg Zenya Long dress in Cabernet ($163.00, down from $325.00) has beautiful crochet detailing in both front and back and is on sale now. It will look fab with a pair of gold sandals and glam earrings.
This striped Juicy Couture Pebble Beach Convertible coverup ($70.99 down from $142) is actually three outfit options in one: wear it as a halter or a bandeau–or tuck the top under and wear it as a flouncy striped skirt.
For more great coverup options check out SheFind's beach coverup buying guide, or surf our Spanx swimsuit guide, for the perfect number (and figure) to put under your coverup. And to keep your skin sleek through summer and beyond, don't forget to look through our hair removal guide.