A fur vest is the perfect staple for transitioning from this bizarre Indian summer to the inevitable cold winter season that we are secretly hoping will just play hooky this year. What is so great about a fur vest is how it goes with absolutely anything from our favorite flannels to our coziest of sweaters. A fur vest can be as versatile as you'd like, whether worn day or night, it's all about how to wear a fur vest and what to wear it with. The key is knowing how to play with proportions and different textures and fabrics.
Don't worry, to make it easier for you, we broke down three ideal outfits that show you how to wear a fur vest.
RELATED: Call Me Basic If You Want, But I'm Not Giving Up My Black Faux Fur Vest
Outfit #1: All black everything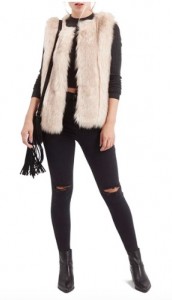 Topshop 'Leah' Faux Fur Vest ($125)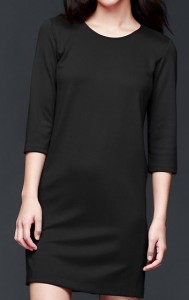 Ponte three-quarter sleeve shift dress ($59.95)
GLAMOROUS Faux Leather Leggings ($48)
Kimchi Blue Laurel Blouse ($39, down from $59)
This outfit can work for either day or the night. It's just a matter of how you do put it all together. For day, you can wear a casual LBD dress and accessorize with funky jewelry. For night, switch out the casual dress for some leather leggings and a black tunic blouse. When considering what works and what doesn't, wearing all black makes it easy. You know it will be flattering, and the fur vest becomes your statement piece. This is one of my favorite outfits for when I'm running low on time, because you don't have to put too much thought into it and you instantly look incredibly and effortlessly put together.
Outfit #2: Flannel + Fur vest + Boyfriend jeans
Thomas Mason® Flannel Shirt In Stewart Plaid ($168)
DEX Shaggy Faux Fur Vest ($78)
1969 destructed sexy boyfriend jeans ($48.96, down from $69.95)
This is the perfect example of playing around with mixing different textures and patterns into one outfit. We love this particular outfit because it's perfect for those mornings at the farmer's markets to those cozy nights by the fire. The simplicity of a flannel with boyfriend jeans is like PB and J, and the fur vest works well as an unexpected twist.
RELATED: 16 Pairs Of Lace-Up Boots That Will Get You Through Winter
Outfit #3: Sweater dress + Fur vest + Over-The-Knee boots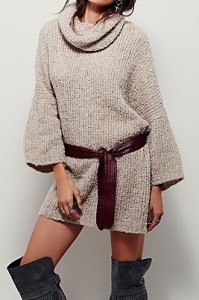 Free People Extreme Cowl ($198)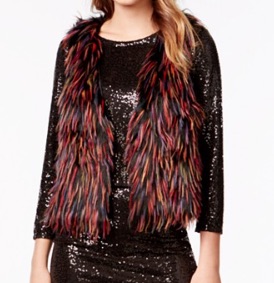 kensie Faux-Fur Multi-Color Vest ($79.99, down from $99)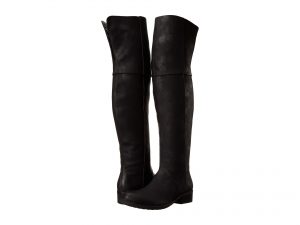 VOLATILE Carina ($75)
The sweater dress might be one of the fashion world's greatest inventions because it gives you the comfort of a baggy grandma sweater, while also being magically form-fitting. The sweater dress plays with portions in the way of wearing something bigger on top, but slimming out and giving the illusion of skinnier and longer legs. Could we possibly want anything more?
So these are our three ideal outfits that should help you figure out how to wear a fur vest. Do you have any recommendations we didn't mention? Comment below and share your fur vest outfit ideas with us!
Don't forget to check out: VIDEO: Adele Pulls Off An Epic Prank By Impersonating Herself In Front Of Adele Impersonators, 10 Things You Never Knew About Trader Joe's, and This $23 Dress Looks Good On Everyone #ForReal
[Photo: The Fashion Guitar]