Backpacks have been slowly making a comeback over the past few years, but now that Chanel has gotten in on the school bag game, you know it's here to stay. All we have to do is figure out how to wear one without looking like a fifth grader. Luckily, our favorite style bloggers can show us how it's done. Each of these three different outfits all include a sleek looking backpack, proving that adults can wear the bag. A tip before we break down how the bag works with each look, your backpack should minimalist. That's not to say you can't try color, Reese Witherspoon can attest to that, but stay away from any crazy prints or patterns…or risk being mistaken for a middle schooler. Here's how to wear a backpack as a GROWN WOMAN (cue Beyoncé):
1. Try it at a festival. With Coachella this weekend, music festival season is officially here. It's the perfect place to try a backpack if you're not ready to fully commit to the trend. It's practical, since it can hold everything you need for the day-long event, and it just sits on your back (instead of annoyingly falling off your shoulder). Throw on a loose blouse, a pair of cut-off shorts and sunglasses and you're ready to see the headliners in your no-fuss look.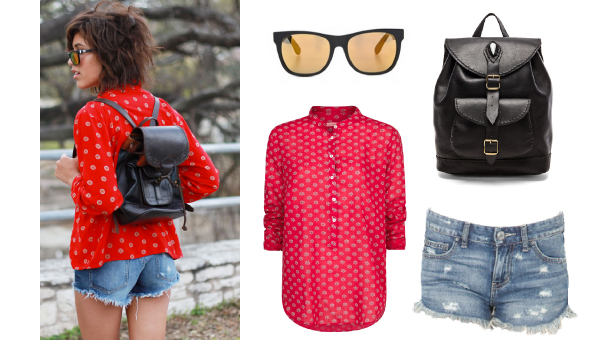 Get the look: Stela 9 Mini Mochila Backpack ($224), Printed Blouse ($34.99), Free People Dolphin Hem Shorts ($68), and Super Sunglasses Basic Sunglasses ($229)
2. Keep it basic. Not only should your backpack be free of all prints or patterns, your outfit should too. A plain white tank, skinny jeans and black combat boots aren't anything too crazy, so your backpack can be the most interesting part of your look.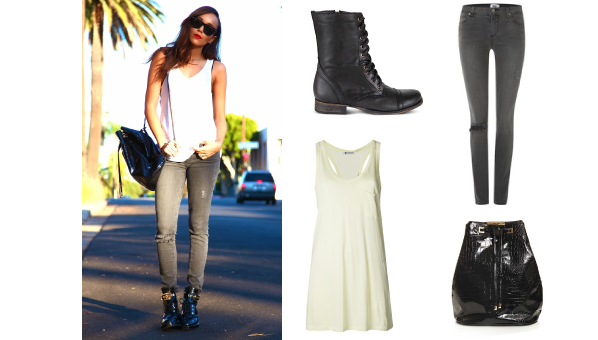 2. Get the look: Patent Croc Backpack ($40, down from $76), T By Alexander Wang Racerback Tank Top ($80), Paige Denim Hoxton/Kate Deconstructed ($199), and Steve Madden Troopa Boot ($99.95)
3. Dress it up. If you want to avoid comparisons to a child when wearing a backpack, pair it with sleek black heels. It instantly makes your outfit more grown-up. And we love a good stiletto with distressed boyfriend jeans, like the look below: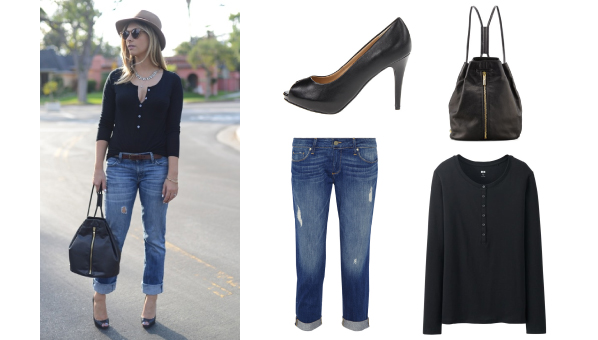 Get the look: Elizabeth and James Leather Drawstring Backpack ($445), Tommy Hilfiger Long-Sleeve Pocket Henley ($34.99, down from $49.50), Paige Jimmy Jimmy Distressed Cropped Slim Boyfriend Jeans ($210), and rsvp Spencer Peep Toe Pump ($69)
For more tips, check out: how to make your period suck less, 9 places to shop for your next music festival and bra shopping mistakes you don't know you're making
[Photo Credit: Trop Rogue, Ring My Bell, Cupcakes & Cashmere]