I don't remember exactly when it happened, but somewhere along the way bar soaps fell out of fashion in favor of creamy liquid body washes. I will admit, I am one of the many that completely abandoned tried and true bar soap, but as with flare jeans and mule shoes, what was once out is now back in and yes, you can add bar soaps to that list!
Brands like Nature by Canus are among the beauty revolutionaries putting bar soap back in the rotation. They're newly reformulated Fresh Canadian Goat Milk Soap With Real Shea Butter is definitely one of the best bar soaps out there. Here are three reasons you should seriously consider adding it to your beauty regimen ASAP.
1. The Ingredients. Bar soaps got a bad reputation for being shady about their ingredients, which is precisely one of the reasons Nature by Canus' approach is so refreshing. Not only are all of this soap's ingredients listed right on the product page, but this soap's two star ingredients have tons of incredible skin benefits. As in all Nature by Canus products, fresh goat milk is key in this bar soap because it purifies your skin without affecting its natural moisture barrier, while also delivering moisture that absorbs quickly and penetrates deep.
To make an awesome product even more standout, Nature by Canus added shea butter so this soap is even more nourishing. It leaves your skin super soft and hydrated after each use.
2. The Sustainability. Committed to reducing their environmental impact, Nature by Canus worked to reformulate their soap with traceable palm oil from a certified sustainable plantation. Not only is the Goat Milk Soap With Real Shea Butter produced in a carbon-negative factory, but it no longer contains EDTA and the packaging is now printed with vegetable ink.
3. The Accolades. As if that weren't reason enough to treat your skin to this incredible soap, there's also Canus' Product of the Year win. Over 40,000 consumers voted the Fresh Canadian Goat Milk Soap With Real Shea Butter one of the best products of 2018.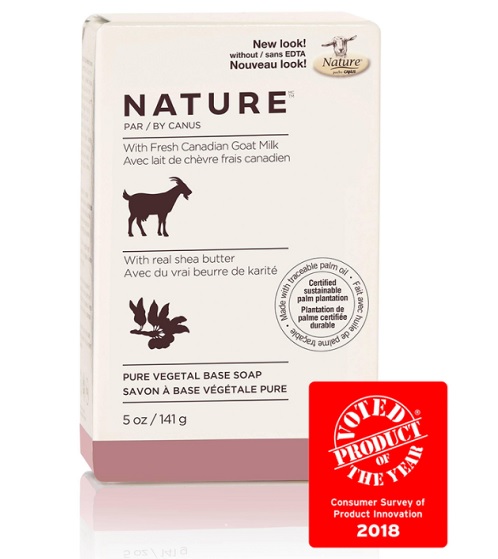 If you're ready to reveal the soft, smooth skin you've always wanted, switch up your shower routine with this game-changing soap ASAP.
The editors at SheFinds wrote this post on behalf of Canus and received compensation as part of our agreement.