Despite the popularity of the smoky eye, there actually is more than just one way to bring on the eye drama. Below, celebrity makeup artist Latisha Nicole Rankin offers three unique eyeshadow looks that are just as gorgeous as the tried and true smoky effect.
Navy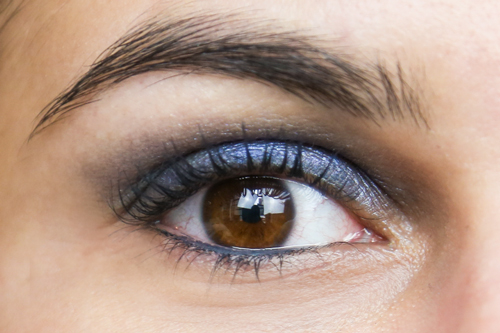 "Blues are such a raising trend right now, why not play with this color? If you are looking to steer away from the traditional smokey eye try adding navy's instead of black and browns," Rankin says.
Here's how to create the look above:
1. Apply eye primer with your fingertip so the eyeshadow will pop and stay in place all day.
2. Apply your favorite shade of navy blue eyeshadow in your crease then take a shadow blending brush to blend the color lightly so it fades out.
3. Apply a color like Iced Blue from Bobbi Brown on your lids, then blend all colors together so everything looks soft and integrated. I suggest using a flat cream brush.
4. Last two steps involve liquid or gel liner, depending on preference. Add liner to your eyes, then apply mascara with volume and pop on your lashes of choice.
Deep Plum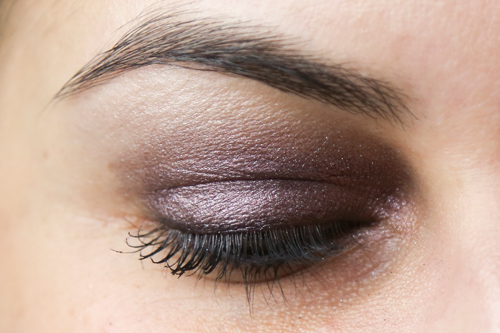 "Vibrant colors like greens and deep plums are a great alternative to smoke your eyes out with an edge," Rankin says. Follow these steps to recreate the stunning look above:
1. Apply a deep, shimmer-y plum to your lids with a cream shadow brush. Rankin recommends Violet Plum by Bobbi Brown.
2. For the second step, there are two options. The first is to line the eyes with black gel top liner along with black liner in your waterline. The second option is to apply Bobbi Brown's Black Plum shadow with a brush like #217 from MAC Cosmetics, blending it in your crease and on the lids giving a modern and trendy smokey eye appearance.
3. You can leave your brow bone bare or add a nude eyeshadow. Make sure you apply some deep plum eyeshadow under your lash line smudging it out towards the end.
Orange Metallic
"Pigments are a loose color powder that have an intense effect, so it is important to be very careful when applying the product as a little goes a long, long way," Rankin says. Here's how to get the intensely rich, colorful look above:
1. Pick your favorite pigment powder eyeshadow of choice. MAC makes an incredible line pigment color powders that come in incredible shades like Neo-Orange. You will be using a stern flat brush to apply. Spray water or your setting spray on the brush.
2. Once the brush is slightly damp, tap some powder onto brush.
3. Apply on your eyes!
4. Follow up with a coat or two of your favorite volumizing mascara.
Fore more beauty tips and advice, check out the best eye makeup remover for sensitive skin and is expensive eyeshadow is really any better than the cheap stuff?
[Photo: Shelby Rodriguez]