Hosting parties over the holidays can be very stressful. Not only do you have to host and entertain tons of people in your home, but you need to feed them as well and people can be somewhat picky about what they want to eat during the holidays. I'm sure you have family recipes and traditional dishes, but let's be honest, sometimes those can be outdated. It's time to spruce up your hosting skills and luckily there's someone to help you! Carolyn Bane, the executive chef, and co-owner of NYC's famed Pies 'n' Thighs, is sharing her tips on how to host a party during the holidays.
Carolyn believes in thinking outside the box so her go-to dishes to serve are a mini version of Southern chicken and waffles, a cheese plate and a delicious Porchetta. Not only will these recipes impress your guests, but the tablescapes are to die for! Check out her tips below.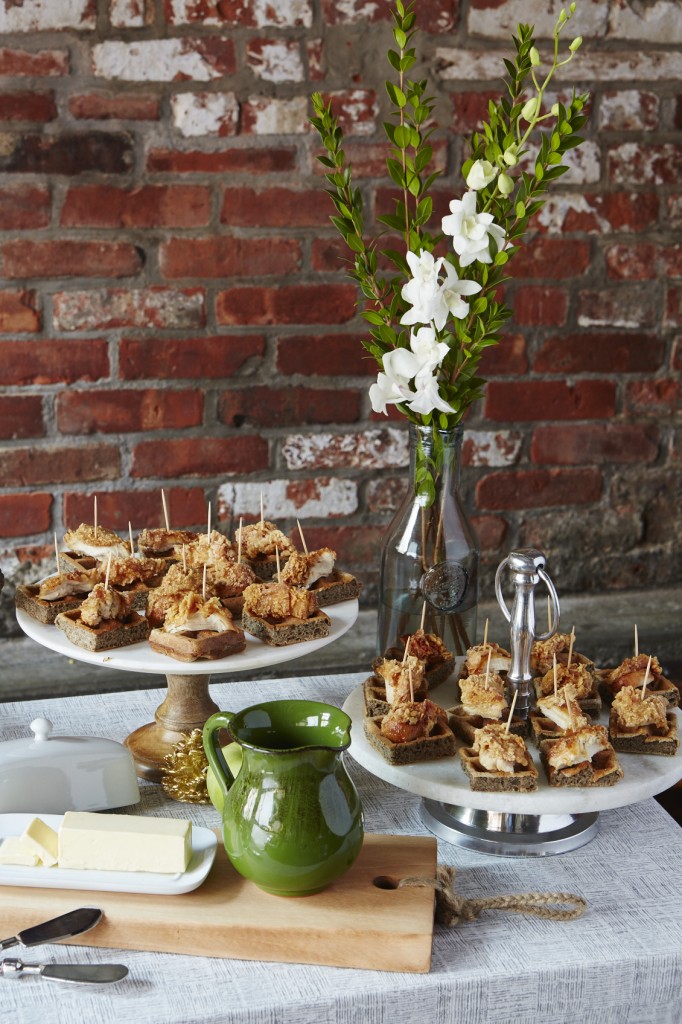 Mini Chicken & Waffles
Carolyn says, "Everyone is always looking for great, tasty appetizers that are mouth-watering, easy to eat, and (relatively) mess-free. Our chicken and waffles are one of the most beloved dishes we offer at Pies 'n' Thighs, so this is a twist on this old favorite – delicious apps that you can drizzle with maple syrup and pop in your mouth."
Waffle Recipe
Ingredients:
5 cups all-purpose flour
2.5 cups buckwheat flour
1 cup sugar
1 tablespoon baking powder
1 teaspoon baking soda
1/2 tablespoon salt
6 eggs
42 oz buttermilk (1 qt + 10 oz)
9 oz butter, melted and cooled
Steps:

1. Put all dry in the bowl of the mixer.

2. With paddle running on low, pour in milk, then melted butter, then eggs. Scrape the bowl and paddle in between each liquid addition.
3. Cut up into bite-sized squares.
Fried Chicken Recipe
Ingredients:
1 3-pound organic chicken, cut into 10 pieces
3 cups all-purpose flour
Canola oil (for frying)
For Brine
1 cup kosher salt
1/2 cup sugar
For Spice Mix
1 tablespoon paprika
2 teaspoons cayenne pepper
1 teaspoon ground black pepper
Steps:

1. Fill a large pot with 4 quarts of water and whisk in salt, paprika, cayenne, black pepper and sugar; bring to a boil and whisk until salt and sugar have fully dissolved. Allow to cool completely before using to brine chicken.

2. Season chicken with spice mix. Add chicken to cooled brine; cover and transfer to refrigerator for 24 hours.

3. Fill a large a frying skillet with 2 inches of canola oil and heat over medium-high heat until it reaches 350 degrees on a deep-fry or a candy thermometer.

4. Measure flour into a shallow dish or bowl. Drain chicken of the brine and rinse under cold running water; dredge in flour, shaking off any excess. Add dredged chicken to hot oil and cook until golden brown and crispy, and until chicken reaches 165 degrees at its center on an instant-read thermometer, about 13 minutes.

5. Transfer to a paper towel-lined plate to drain; season with salt and cut up into bite-sized pieces, and place atop mini waffled. Spear with a toothpick and serve!
Perfect Cheese Board
"I love sweet and savory combinations on a cheese plate – a few jams and a drizzle of honey go a long way with an assortment of cheese," says Carolyn. "The holidays are a good time for a little splurge in this department, so I'd recommend opting for some well-crafted cheeses. I like a classic combination of a nice clothbound cheddar, a soft washed rind cheese, and a creamy blue along with Dalmatian fig spread and hot pepper jelly – both affordable and can be found in most stores at the holidays."
What You'll Need:
A variety of 3-5 cheeses with different tastes and textures, such as soft Brie, tangy blue cheese like Point Reyes, or Cabot Cheddar
Several sweet jams (e.g. strawberry or raspberry), Dalmatian fig spread and hot pepper jelly – HomeGoods has great gourmet options as well
Honey (you'll only need a drizzle)
Dried fruit; cranberries and/or raisins
Nuts; I like cashews, pistachios and almonds
Dried roasted sunflower seeds
Crackers and/or Sliced Bread, I personally love a classic French loaf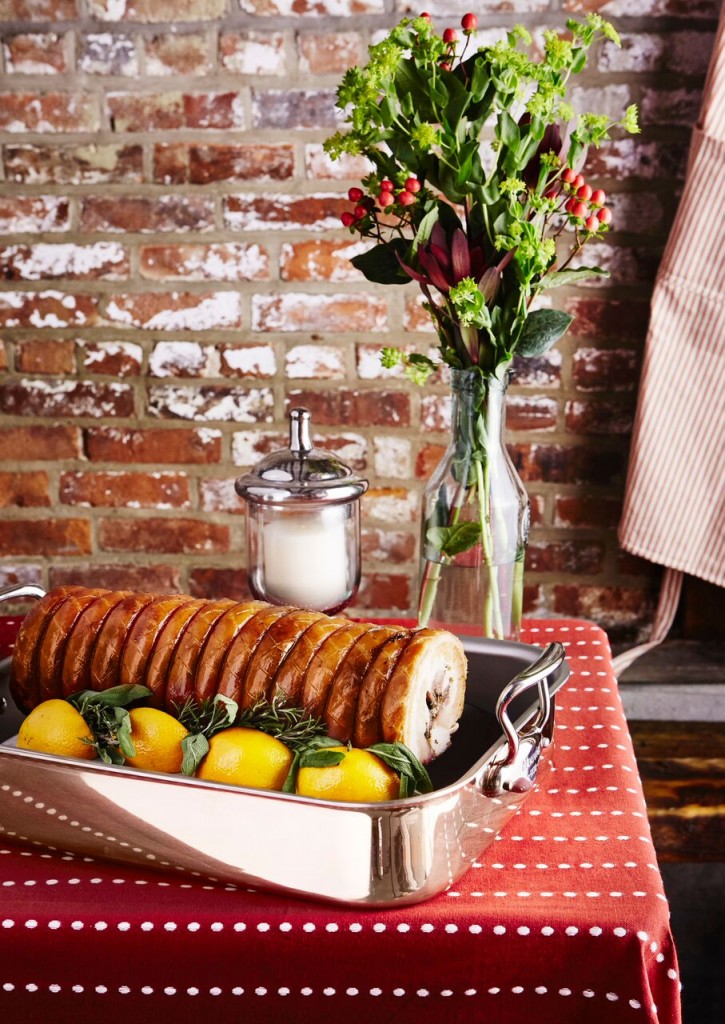 Porchetta
"A beautiful and modern take on the spiral ham is a porchetta. Traditionally, the porchetta is a deboned pig, rubbed with a flavorful herb paste, rolled and tied, but you can make a simple version with pork belly that will stun guests with a crispy, deeply browned outside and tender, scrumptious, flavorful meat inside," she says. "I love going to stores like HomeGoods to help set a beautiful table or buffet – to display the porchetta, accompanied by a vibrant salsa verde and or course, my favorite sandwich fixings."
Ingredients:
1 whole boneless, skin pork belly, about 12 to 15 pounds
2 tablespoons whole black peppercorns
3 tablespoons whole fennel seed
2 tablespoons finely chopped rosemary
1 tablespoon crushed red pepper
1 tablespoon thyme leaves
12 cloves garlic, minced or grated on a micro plane grater
zest of 1⁄2 an orange, chopped
4 T Kosher salt
Steps:
1. Place pork belly skin-side up on a large cutting board. Using a sharp knife, score the skin at an angle using strokes about 1-inch apart to create a diamond pattern. If you have a meat mallet, pound the skin for a few minutes – it will make the skin extra crispy.

2. Toast peppercorns and fennel seed in a pan over heat until lightly toasted and fragrant, about 2 minutes. Transfer to a spice grinder and grind well.

3. Season inside of pork belly liberally with 2 T salt then sprinkle with crushed pepper and fennel, red pepper, chopped herbs, orange zest and micro planed garlic and rub the mixture into the meat.

4. Cut 15 lengths of kitchen twine long enough to tie around the pork and lay them down about 1-inch apart on the cutting board. Roll belly into a tight log and lay it seam-side down on top of strings. Working from the edges towards the center, tie the roast up tightly. Rub 2 tablespoons salt over entire surface of porchetta.

5. Place on a cooling rack on a cookie sheet and let sit overnight uncovered, allowing the skin to dry.

6. Adjust an oven rack to the lower-middle position and preheat oven to 300°F. Place roast on a meat rack in a large roasting pan or wire rack in a rimmed baking sheet. Place roasting pan in oven and roast until internal temperature of pork reaches 160°F (2 hours), occasionally basting with pan drippings. Continue roasting until a knife is inserted into the pork meets very little internal resistance.

7. Once it is cooked through and tender, crisp up the skin by raisings the oven temperature to 450°F and roasting until completely crisp, about 20 to 30 minutes longer. Alternatively, you can remove the roast from the oven and tent with foil for up to two hours before finishing it in a preheated 450°F oven.

8. Tent with foil and allow to rest for 15 minutes. Slice with a serrated knife into 1-inch thick disks and serve.
With these helpful tips, you'll be well on your way to impressing your guests.
Don't miss the best gifts for your Hanukkah grab bag and how to get Starbucks for half-off!
[Photos: Matt Harrington for HomeGoods]