Jumpsuits are one of those things that look great on a mannequin or a skinny minny celeb, but most of us don't think we have the body to wear one. I mean, it's not like we're a mannequin that's manufactured to have a small frame, or a famous person with the means to higher a personal trainer and chef to be at our beck and call. So how can us regular peeps pull off a one piece? We now have concrete proof that this IS possible thanks to the three  bloggers below. Each shows us how to wear a different style jumpsuit without looking like we're starring in the remake of Saturday Night Fever.
1. Go for a bold color. We love this cobalt blue jumpsuit that Julia Engel of Gal Meets Glam is wearing. The vibrant color totally compliments her blonde hair and blue eyes. If you don't have the same features as Julia, find what color brings out your hair and eyes the most and get a jumpsuit in that shade. Plus her beaded clutch and tan heels add a summer-y feel to this look, which is perfect for the upcoming months!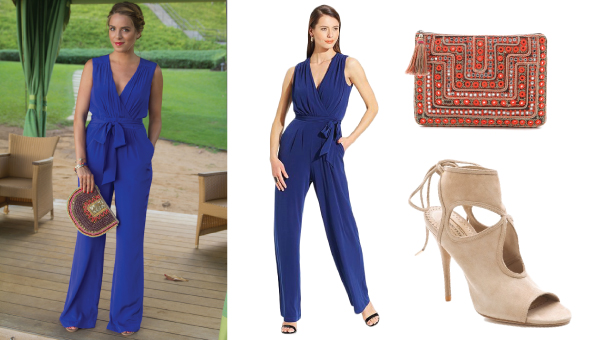 Get the look: Vince Camuto Sleeveless Tie-Waist Wide-Leg Jumpsuit ($118), Aquazzura Sexy Thing Cutout Booties ($565), and Star Mela Dali Embellished Clutch ($127)
2. Dress it up. A black jumpsuit is a great alternative for when you have to wear something fancy and don't feel like putting on a dress. Plus the fitted top and bottom, broken up by the slightly looser middle section, is a great, sleek silhouette. The black accessories make this look even more dressed-up.
Get the look: Rag & Bone Lana Jumpsuit ($550), Bottega Veneta Woven Napa Wristlet Pouch, Black ($830), and Stuart Weitzman Nudist Single Band Sandals ($385)
3. Don't get too crazy with patterns/prints. We see a ton of crazy printed and patterned jumpsuits during the spring/summer months. But just because every store is selling 'em doesn't mean you have to wear one. There's already so much of a jumpsuit covering your body, that the same print all over can look overwhelming. A black and white print keeps your outfit subtle. You're already taking a fashion risk by wearing a one piece. You know the saying "two wrongs don't make a right?", well we're saying "two fashion risks can make you look cray."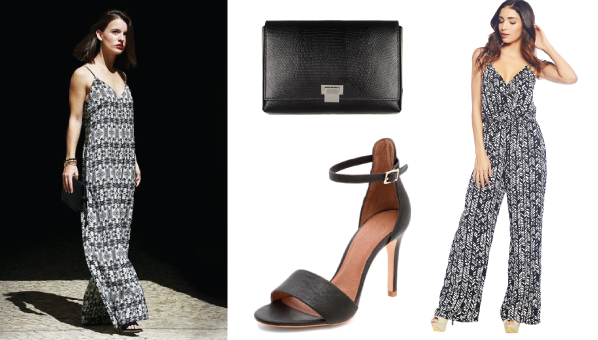 Get the look: Geometric Tribal Print Tank Jumpsuit ($79), Joie Jaclyn Ankle Strap Sandals ($285), and The Row Metal-Framed Lizard Clutch ($5,950)
For more styling tips from bloggers we love, check out how to wear: boots after winter, backpacks and denim jackets
[Photos: Gal Meets Glam, Cupcakes & Cashmere, Miss Tangerine]