Admit it, if you're a 90's girl, you're eyeing overalls this season. And now that it's getting hotter, shortalls (as we like to call them) are great for spring and summer. But while you're thinking about buying a pair, you can't help but remember the ones you wore as a kid. So now, almost twenty years later, how can you make shortalls cool? How can you "bring 'em back?" Well, we have the answer.
Following a style bloggers' tips is a great way to learn how to wear tricky new trends, like shortalls. So we looked high and low for the bloggers that "wore it best." While each blogger wears shortalls differently, they all make them look super cute and totally grown-up.
1. With stripes. Nautical stripes are always popular during the warmer months, and we already know that booties are great for spring. Pair your shortalls with both of these trends, like Sarah Yates of A House In The Hills, and you have the perfect casual daytime look.
Get the Look: Blank NYC Overall Playsuit ($97.83), J.Crew Long-Sleeve Sailor-Stripe Shirt ($49.50), and Minnetonka 'Bandera' Boot ($94.95)
2. With pumps. Now that you're a "grown-up" you can dress up your shortalls with a great pair of heels and an embroidered top. If you style your shortalls like this, you can take them from day to night with ease.
Get the look: H&M Bib Overall Shorts ($39.95), Topshop Embroidered Blouse ($76), and Charles by Charles David Pact Pumps ($99).
3. With leather: Always Judging took her "grown-up" shortalls to the next level when she wore a leather pair. These Rag and Bone Leather Shortalls are perfect for a night out with the girls. Pair them with a simple white button up and a pair of black booties and you're bound to make a statement.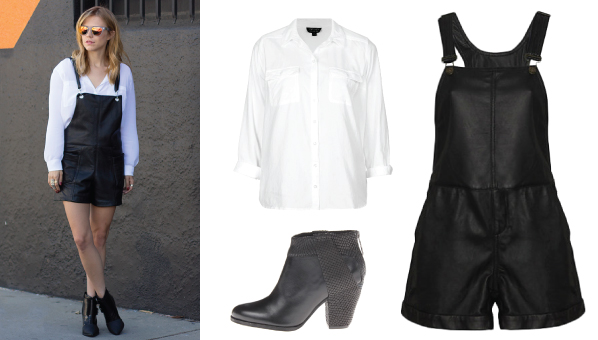 Get the Look: Rag & Bone Jean Exclusive Leather Short Overalls ($595), Topshop Casual Chambray Shirt ($58), and Luxury Rebel Siobhan Booties ($115.99 down from $165)
For more style blogger tips, check out: 3 Ways To Wear Boots After Winter, 3 Grown-up Ways To Wear A Backpack, and Black And White Styled By Always Judging.
[Photos: A House In The Hills, Lee Oliveira, Always Judging]