Classic
If you've ever worn white shoes before, it's either been to a wedding, a middle school dance, or as a part of this season's black and white trend. The latter, albeit the most stylish of the bunch, is the classic way to wear the white shoe: as an accent piece. Browse the following slides to see which products will help you get this look. [Photo:
Peace Love Shea
]
Classic DOLCE & GABBANA Lace top ($1,195).
Classic STELLA MCCARTNEY Stella Lace underwired plunge bra ($65).
Classic ROLAND MOURET Inca crepe pencil skirt ($775).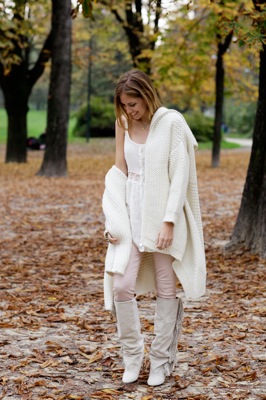 Cozy If you aren't sure exactly how to wear your white shoes, then an all-white, comfy look is for you. When wearing a look that is all one color, the key is to use different textures to add interest. This style works well because of the knit, the jeans, the cotton and, of course, the leather of the shoe. Click through to see what you'll need to get the look for yourself. [Photo: The Blonde Salad]
Cozy THE ROW Roater alpaca and wool-blend cape ($3,000).
Cozy HERVÉ LÉGER Ruffle-trimmed bandage dress ($3,400)
Cozy PROENZA SCHOULER Mid-rise skinny jeans ($295).
Cozy GIVENCHY Shark Lock leather knee boots ($1,895).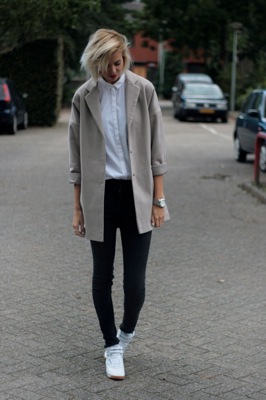 Casual A white shoe can easily be the piece that pulls together an entire look without much effort. Try a neutral palette to pair your white shoe with and avoid any stark color contrast (read: black and white) to keep the look casual and cool. Browse through the next slides to get her look. [Photo: Connected to Fashion]
Casual HELMUT LANG HELMUT Helmut Lang stretch-jersey jacket ($195).
Casual THEORY Tritta linen-blend shirt ($235).
Casual J BRAND 485 Luxe Sateen mid-rise skinny jeans ($185).
Casual