We know you've spent a boat load of time and money on cute outfits for all those friggin' weddings this summer – but what about the weddings you don't really care about (ahem, your boyfriend's cousin's boss's daughter's). We found some amazing, super-cheap options when you don't want to blow $300 on a dress:
You will love the color and cool wrap style of this Alloy Braided Grecian Dress ($24.90). And no – the price is not missing a digit, the sale dress is less than $25!
If you're petite, shopping the juniors section is always a great way to save money. If you have a formal wedding but don't want to break the bank – this As U Wish Sequin Satin Strapless Dress ($31.90, down from $64) is perfect.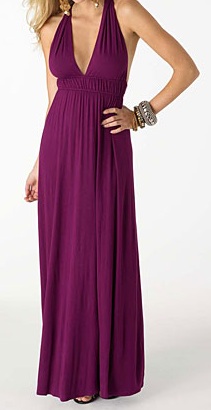 If you love the maxi dress style, but don't want to spend $150 on another one, this Halter Maxi Dress ($29.90) is super cute and priced to move. It also comes in a black and gray style for those early fall weddings.
The pretty purple and sweet tailoring of this Jenna Tulle Dress ($39.50) make it a feminine, sophisticated option. Or go crazy with accessories for a bolder, trendier look, if you like.
In the market for  more inexpensive clothing? Check out our guides to cheap swimwear and cheap bras. Then head over to our online sample sales listings.