Fall's out, boots out— it's that time of the year again. With the cold weather creeping up on us, our boots are ready to make their seasonal debut, which is absolutely great… until we put them on and never want to walk again. Breaking in boots just comes with the territory of owning a new pair. Unfortunately, it has to be done, but have no fear! We have some ways to get through this tedious process as quick as possible.
Here are the 4 easiest ways to break in your new boots:
1. Stuff them with towels.

If you're not going to wear them right away, roll two smaller-sized towels and stick them into each boot. You can also do this overnight while you're sleeping, so they'll be stretched out when you're reading to start your day! Also, this towel trick helps to preserve the boots shape after they've been broken in, too!
2. Spray the inside of your boots with a rubbing alcohol-based solution.

Take a spray bottle and fill it with a 1:1 mixture of rubbing alcohol and water (this is the same formula shoemakers use to stretch leather). Once it's mixed, spritz the solution inside your boots!
3. Wear them around the house with socks on.

Put on a thicker pair of socks, and wear the boots around your house while you're doing everyday chores to help break them in. The socks will make the boots feel a little snug, but I promise you the end results will be worth it! Also, the thicker your socks, the more likely you'll be protecting the skin on your ankles and feet from getting blisters.
4. And if all else fails, use blister dressers.

If you must wear your new boots asap, we totally understand and we have one more solution for you! You can buy blister dressers like these to protect the places on your feet where the boots rub.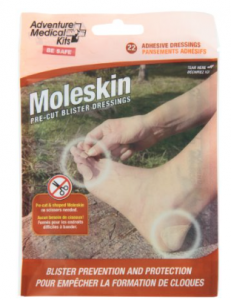 Adventure Medical Kits Moleskin Blister Dressing ($5.95)
And don't forget to check out: Rihanna Throws Shade At Drake In Her Vanity Fair Interview, 5 Date Ideas That Prove Fall Is The Best Season For Falling In Love, and Mindy Kaling's Workout Style Is Everything And Luckily You Can Steal Her Entire Look
[Photo: Always Judging]