Etsy is a treasure trove for handmade goodies – and a Godsend if you're planning a wedding. As you know from our weekly Theme Thursday posts, you can find pretty much anything on the site, from laser-cut banners to custom wedding invitations and handmade favors for pretty much any theme you can dream up.
If you're looking for a truly unique hair accessory, Etsy is the first place to go — especially these 4 outstanding shops we're featuring this week. These professional sellers have been chosen for their exceptional quality, rave customer reviews, and for having the most inspired design we've seen in a long time. Some even shared exclusive discount codes, just for BRIDEfinds readers.
You can't reinvent the wheel, but you absolutely can reinvent the veil – and these talented handmade artisans are doing so on a daily basis. So without further adieu, here are our top four picks for wedding hair accessories vendors on Etsy:

Twigs & Honey:
Myra Callan of Twigs & Honey has made a career out of crafting delicate and feminine, yet thoroughly modern veils, headpieces, headbands, and silk flower pins. Myra prides herself on making collections that are timeless, and never trendy.  She's extending an exclusive discount for our readers – get 10% off on any item in her Etsy shop, or her lovely online store, just enter bridefinds10 at checkout (valid through 4/15).
Tess Kim: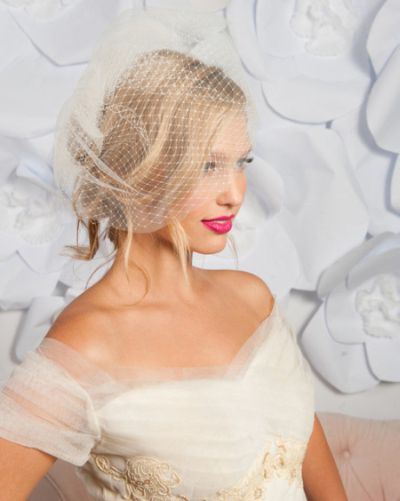 If you've got a penchant for vintage, Tessa Kim is your girl. Her retro birdcage veils and fascinators borrow from design accents from the 1920's through the 1960's. Her vintage-inspired headpieces are perfect for brides who are giving their wedding an art deco or 1960's mod twist!
Mignonne Handmade: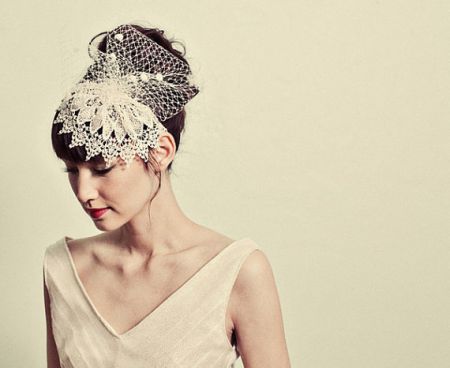 This talented craftista designs custom made pieces that are "inspired by nature, vintage, fashion and art. Each piece is handmade with love and care, we use old school techniques and vintage millinery tools with a modern eye." This Venetian Lace Cap is a stunning example of her handiwork! Right now, BRIDEfinds readers can get a whopping 40% off on any shop purchase with the coupon code: facebook40.
Giant Dwarf: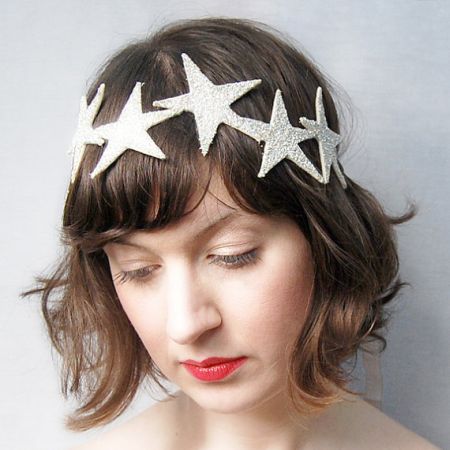 If you want something avant-garde and whimsical for your wedding celebration, look no further than Giant Dwarf's totally "stellar" shop. Her twinkling Starlette Crowns are a fave with indie brides all over the US! If an entire crown is just too much glittery goodness for you, she also makes adorable barrettes and pins!
Want to shop for even more unique wedding accessories? Check out our guides to bridal hair accessories, designer wedding shoes, and wedding veils.