The oldest weddings joke in the book is that every bride thinks her bridesmaid dresses are pretty and on-trend enough to be worn after the big day. It's best to be subjective about these things  – if someone who is not the bride agrees that the b-maid dresses are cool enough for non-nuptial events, then you know it's true. That person is me, and I'm pleased to bring you 5 bridesmaid dresses that will work for all those friggin' holiday parties you have coming up:
Walk into any party and you will stun in this Nicole Miller Side Draped Strapless Dress ($284, down from $355). Preferably one where your ex is a guest.
For more conservative holiday parties and weddings, this Maggy London One Shoulder Dress ($128) is perfect. The longer hemline is great for black tie holiday parties, formal weddings and pretty much any event where you need to look like the classy lady you are.
If the wedding or holiday party is younger and hipper, this Aqua Shimmer Pleated Bodice Dress ($158.40, down from $198) is perfect. The metallic short style is flirty and festive.
Another elegant style, this Suzi Chin Maggy Boutique Stretch Satin Sheath Dress ($128) is perfect for formal and semi-formal parties and weddings.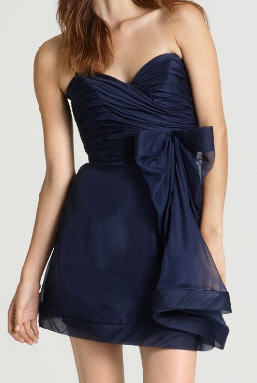 If the bride is cool, she will hook her bridesmaids up with these ABS by Allen Schwartz Strapless Flouncy Dresses ($330). The bow is not for the fashion faint of heart there – but if you go there, go all the way.
For more great bridesmaid solutions, check our guides to the best black bridesmaid dresses, cheap bridesmaid dresses, and long bridesmaid dresses.