Five years ago, green brides committed to the idea of wearing  eco-friendly gown were lucky to avoid walking down the aisle in something that didn't look like a hippie hemp disaster. Fortunately for all brides, there are now a plethora of green designers and gowns to choose from.
Here's just a few of our earth-friendly favorites, like new UK retailer Minna or "eco-couture" designer Adele Wechsler (left).
This "eco-luxe" UK label just introduced a fabulous wedding collection full of vintage-inspired gowns, and every one is created using organic, sustainable, and locally-produced textiles.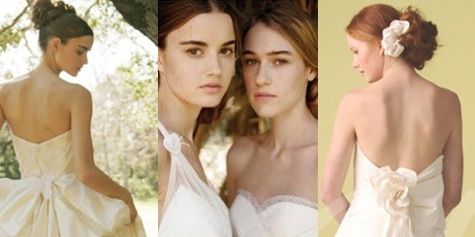 This Canadian designer is the pioneer of "eco-luxe". Wechsler uses fair-trade fabrics, and organic hemp silk to create the gorgeous gowns in her "eco-couture" collections, which run the gamut from clean and modern to whimsical and romantic.
Designer Chris Kole's fresh collection of beautiful, natural cotton, linen, and silk wedding dresses are handmade in the USA.
Can't find the green gown of your dreams? Design it yourself! You can create your custom gown piece by piece in Olivia Luca's Design Studio, and have it made with your choice of organic or fairtrade fabrics, like hemp silk, or hempcel.
Bozkilkov's elegant and contemporary "Natural Bridal Collection" is handcrafted in the US, and made using green, sustainable fabrics. On top of all that, this designer donates 5% of the profits from her line to environmental causes.
To organize your eco-friendly wedding gift registry, and peruse an extensive list of both local and national green wedding vendors, check out The Green Bride Guide!
Shop our guides to the best inexpensive wedding dresses, outdoor wedding dresses, and wedding dresses with sleeves.